MedStar Health Begins Vaccinating Frontline Workers for COVID-19 | MedStar Health
Vaccines are a shot of hope for those who've devoted the last 10 months battling the pandemic
Columbia, MD – MedStar Health has begun putting COVID-19 vaccines in the arms of frontline workers who have been caring for the area's sickest patients with the virus.
At MedStar Washington Hospital Center, Clint Pettit, MD, a palliative care physician, was the first at the hospital to receive the vaccine. "It's exciting," said Dr. Pettit right after getting his shot on December 16. "It's something I wanted to do so I let people know that it's ok, and to be protected."
"Day in and day out I got to see what this virus does to our patients," said Rachel Watkins, RN, a nursing director at MedStar Washington Hospital Center who also received the vaccine. "I just feel like this is the next step in combating this virus."
Staff who were vaccinated also received an appointment to come back in three weeks for the second shot required with the Pfizer vaccine.
Andrea Valdez, RN, is a labor and delivery nurse at MedStar Georgetown University Hospital and was the first person there to receive the COVID-19 vaccine. "To be the first person to get the vaccine today was very exciting, an honor. I felt moved. For me, aside from working with newborn babies and mothers, at home my mom has had recent cardiac surgery and I want to be able to protect her as well as I can."
The Pfizer vaccines first arrived at MedStar Washington Hospital Center and MedStar Georgetown University Hospital in the District on December 15. Both hospitals began vaccinating frontline works the next day.
"It's a hopeful day," said Ken Samet, president and CEO of MedStar Health who met with MedStar Georgetown associates receiving the first vaccines. "It's such a positive moment right now for everyone who has been working so hard through this challenging journey. I'm very proud of MedStar Health, of our 30-thousand associates who have allowed us to care for more COVID patients than anyone in the region, while also taking care of our non-COVID patients. It's a special day."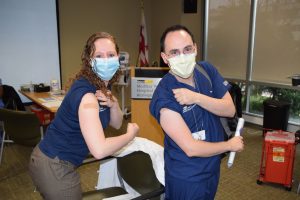 Two days later, front line associates in MedStar Health's Maryland hospitals began receiving the vaccine.
"It's having the opportunity to fix something," said Blein Yohannes, a patient advocate at MedStar Franklin Square Medical Center. "Since I've seen it happen to many families and within my own family people pass away from COVID, it's nice to be given the opportunity by MedStar to do that."
"This is a huge step for fighting the COVID-19 pandemic," said Chandralekha Banerjee, MD, chief of Infectious Diseases at MedStar Good Samaritan Hospital after being among the first to receive her shot. "If we can get the vaccine, we can protect everybody, protect ourselves, protect our patients and hopefully stop the spread of the disease."
"There's a lot of excitement," said Christina Hughes, MS, BSN, director of Healthcare System Preparedness for MedStar Health who has led coordination and logistics of the vaccine arrival and distribution. "I feel personally that I've been privileged to be leading this effort. To be involved in this momentous occasion for our hospitals and our communities and our country because we're doing something that is extraordinary and remarkable. This is a way to move forward, after all the suffering we've seen in so many families."
MedStar Health's pharmacy has worked front and center in the coordination of the vaccine since its teams oversee receiving the vials, as well as preparation and storage. "I feel privileged to be part of this momentous effort on behalf of MedStar Health," said Bonnie Levin PharmD, MBA and AVP of Pharmacy Services for MedStar Health. "I've read all the science and I believe it's both safe and effective and I'm going to be in line to get my shot. And my family is as well. We know that the more doses we can give, the sooner this pandemic will be over."
Veronica Reardon, RN, an emergency department nurse at MedStar Montgomery Medical Center was the first person there to receive the vaccine. "It's a great honor to get to be first. Hopefully, this is the light at the end of the tunnel."