MedStar Health Partners to Create Food Rx Program at MedStar Good Samaritan | MedStar Health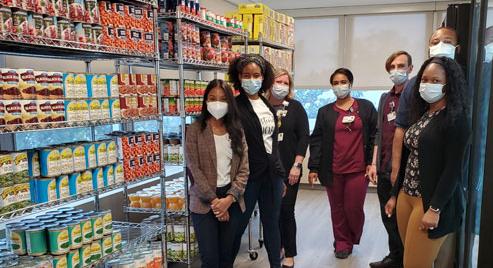 Healthy Food, Nutritional Counseling Provided Through Collaborative Care Program
Baltimore, MD - In a collaborative program unique to the state, MedStar Health will premiere Food Rx, an evidence-based medically tailored food and nutritional support program for patients with multiple complex chronic conditions, and/or food insecurity, who are referred through the Collaborative Care Program at MedStar Good Samaritan Hospital. The program is supported by a grant awarded earlier this year by the Maryland Community Health Resources Commission (CHRC).
Teaming with Maryland Food Bank, Hungry Harvest, Sodexo, and the American Heart Association, the program is designed to improve clinical outcomes for chronic disease, eliminate food barriers for vulnerable populations, and decrease racial and socioeconomic health disparities.
"The Community Health Resources Commission is thrilled to support this innovative program," commented Mark Luckner, CHRC Executive Director. "This community-based program will help bring much needed services and support to vulnerable residents impacted by food insecurity and will help support the state's overall goal of addressing diabetes."
"We know that food plays a huge role in one's overall health," said Lucas Carlson, MD, MPH, regional medical director for Care Transformation at MedStar Health. "For instance, if the patient with diabetes or heart failure is discharged from the hospital but does not have the ability to maintain a diet appropriate for their condition, they're at high risk of ending up back in the emergency department. Ultimately, food is medicine and is a necessary component of chronic disease management."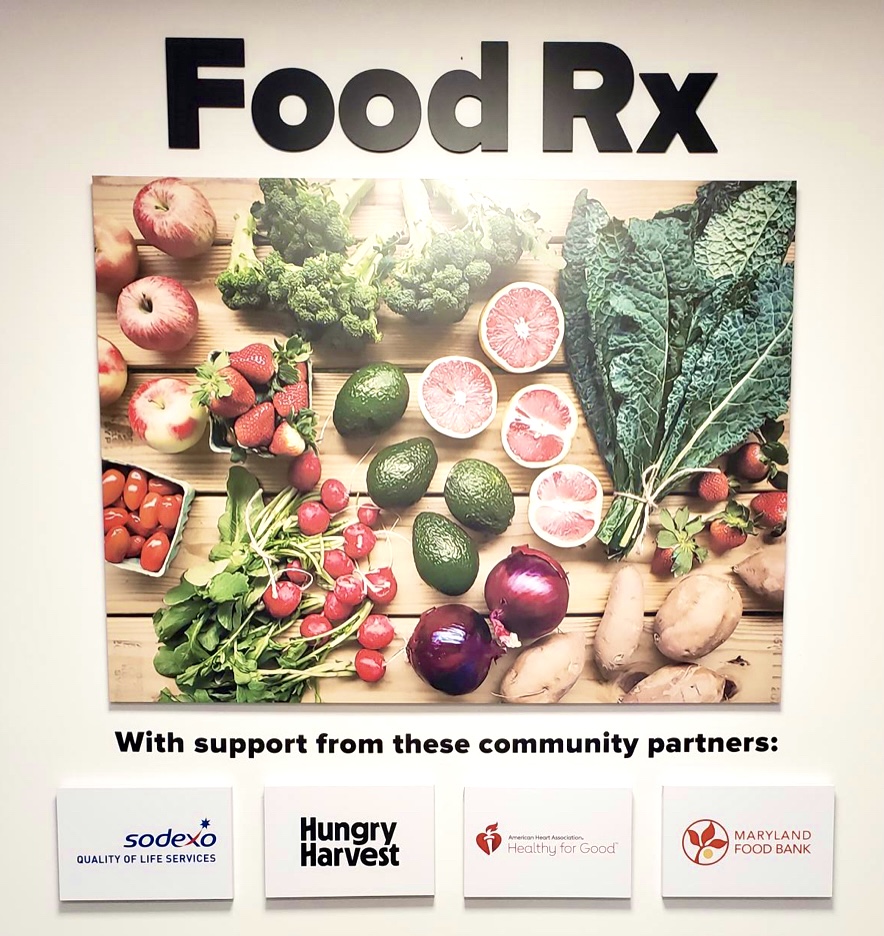 Located in 16,000-square-feet of newly renovated space on the hospital's second floor, the Collaborative Care Program (CCP) is an innovative new approach to coordinate primary and specialty care for patients living with multiple complex conditions. In the CCP, patients are evaluated and treated by an intensive core medical team meant to complement their longitudinal primary care. There, they are seen by the program Community Health Advocate and Dietician, who determines the patient's eligibility for Food Rx.
Once enrolled, patients will receive weekly shipments of fresh produce, including bread and eggs, through program partners, Hungry Harvest. Produce shipments will be titrated based on household size, ranging from 10 to 22 pounds of fresh produce per week.
"The MedStar Health FoodRx program perfectly marries near term compassionate care with long term strategies for sustained wellness," said Evan Lutz, of Hungry Harvest. "By supplying the fresh fruits and veggies patients need to create a healthy eating routine, they are not only providing exceptional care today, but also seeding healthier habits for positive, sustainable health outcomes for the future."
"Ensuring all Marylanders have access to healthy foods, regardless of income level, is a priority for us," said Nekeisia Booyer, the Maryland Food Bank's senior vice president of Programs. "We're grateful for the opportunity to collaborate on this program to help improve health outcomes for MedStar Health patients while bringing even more high-quality food into the hands and homes of those who need it most."
The Maryland Food Bank has partnered to help stock the program's on-site food pantry, which is embedded within the CCP clinic. Here the Food Rx dietician works with the patient to provide nutrition education and assists the patient in selecting non-perishable goods and frozen proteins, which are provided by Sodexo.
The Food Rx program will include direct education from the program dietician with support from the American Heart Association. This will include access to evidence-based seminar series, nutritional guidelines, and education events in partnership with the American Heart Association and it's Simple Cooking with Heart Kitchen, such as cooking classes/demonstrations and education for participants.
---
About MedStar Health
At MedStar Health, we use the best of our minds and the best of our hearts to serve our patients, those who care for them, and our communities. Our 30,000 associates and 4,700 affiliated physicians are committed to living this promise through our core SPIRIT values—Service, Patient first, Integrity, Respect, Innovation, and Teamwork—across our more than 300 locations including 10 hospitals, ambulatory, and urgent care centers. As the medical education and clinical partner of Georgetown University, MedStar Health is training future physician leaders to care for the whole person and is advancing care through the MedStar Health Research Institute. From our telemedicine and urgent care services to the region's largest home health agency, we're committed to providing high-quality health care that's also easy and convenient for our patients. At MedStar Health—It's how we treat people. Learn more at MedStarHealth.org.
About the Maryland Food Bank
The Maryland Food Bank (MFB) is a nonprofit hunger-relief organization dedicated to feeding people, strengthening communities, and ending hunger for more Marylanders. Since March 2020, the food bank's statewide food assistance network distributed the equivalent of 66 million meals in response to the COVID-19 pandemic. MFB will continue to meet the immediate needs of vulnerable communities while collaborating with partners to provide resources beyond food and address root causes of hunger so that more Marylanders can become financially stable and thrive. To learn more about the Maryland Food Bank, visit www.mdfoodbank.org.
About Maryland Community Health Resource Commission
The Maryland Community Health Resources Commission (CHRC) was created by the Maryland General Assembly in 2005 to expand access to health care services in underserved communities in Maryland. The CHRC is an independent commission operating within the Maryland Department of Health (MDH), whose 11 members are appointed by the Governor. Since its inception, the CHRC has awarded 347 grants totaling $85.9 million, supporting programs in every jurisdiction of the state. These programs have collectively served more than 504,000 Marylanders, and grants awarded by the CHRC have enabled grantees to leverage $31.8 million in additional federal and private/non-profit resources.