Non-Invasive Procedure to Repair Abdonimal Aortic Aneurysm Now Offered | MedStar Health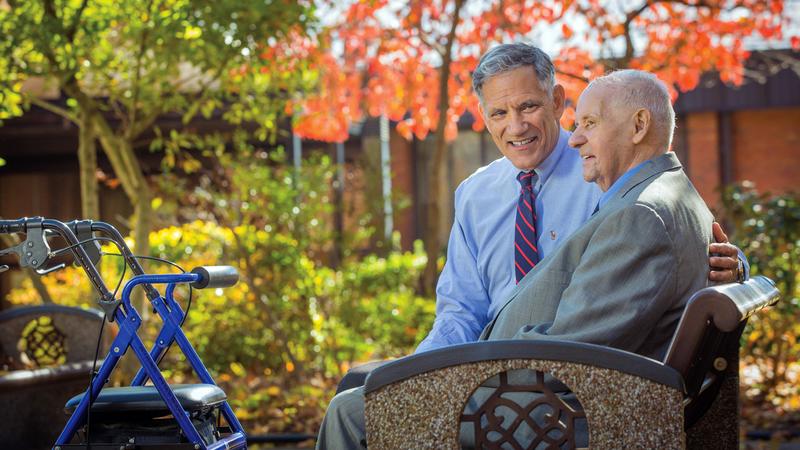 EVAR Procedure Can Save Time, Travel and Lives
A newer, non-invasive surgical procedure to repair an abdominal aortic aneurysm is now being offered at MedStar St. Mary's Hospital, saving patients both recovery and travel time. The repair procedure is known as EVAR or endovascular aneurysm repair.
According to Arthur Flatau III, MD, vascular surgeon at MedStar St. Mary's, an abdominal aortic aneurysm is a weakening in the body's main artery.  Repairing an abdominal aortic aneurysm used to require a painful incision from the breast bone to the pubic bone and an extensive, complicated recovery, including days in intensive care and, quite possibly, time spent on a ventilator. It also meant traveling to Washington, D.C., or Baltimore for the procedure.
Thanks to stent technology, the surgeon now makes only a one or two inch-long incision and places a catheter inside the patient's aorta. A device designed to support the artery from the inside and secure the weak artery is laced through the catheter.
"The recovery from an EVAR procedure is faster and much less painful than the traditional surgery," said Dr. Flatau. "A healthy patient can typically go home in the next day or two."
An aortic aneurysm may not cause symptoms until it begins to leak or expand. "A patient may happen to be undergoing diagnostic screenings for seemingly unrelated problems, such as back or kidney issues, before an aneurysm is detected," said Dr. Flatau. 
For this reason, MedStar St. Mary's offers free vascular screening programs twice a month at its medical office in Charlotte Hall, Maryland. During the ultrasound screenings, medical technicians look for carotid blockages or stenosis, aneurysms, and check the blood pressure of the arms and legs to ensure there are no blockages.
"I am pleased to work with MedStar St. Mary's Perioperative Team and Interventional Radiology Team to deliver noninvasive EVAR surgery and other vascular procedures and preventive measures closer to home for our Southern Maryland patients," said Dr. Flatau.
Now Open!
New Specialty Physicians Suite
The newly expanded Specialty Physicians at St. Mary's suite on the second floor of the hospital's Outpatient Pavilion is open. The combined suite of offices now encompasses an entire wing of the second floor, and offers additional exam, treatment and procedure rooms that allow for increased patient privacy. The space also includes a separate patient reception and waiting area as well as restrooms for patients.
The Specialty Physicians' suite serves the patients of the following physicians:
Do you suffer from vascular disease? 
Learn more about conditions and treatment options here.