Women Replacing Breast Implants with Their Own Tissue, a Growing Trend | MedStar Health
(Washington, D.C.,) – When Cynthia Davis of Virginia was diagnosed with breast cancer in 2015 she elected a double mastectomy with implants. Before her surgery she had chemo therapy. Radiation followed.
As she recovered and went back to her active and athletic lifestyle that included bicycling, yoga and weight lifting, Davis noticed that she was experiencing pain and irritation associated with her implants.
"The more active you are the more you use your chest wall," says Davis now age 60. "If you're not doing anything it doesn't bother you, but I went back to bike riding, the gym and yoga and the more I did, the more it bothered me."
In 2017, Davis saw an opportunity to try a new sport. Having rowed years earlier, she knew she enjoyed water sports. Last summer, she found and joined "GoPink!DC" - a dragon boat team made up of breast cancer survivors and supporters.
"The more I paddled with the team, the more uncomfortable my chest became. I realized that if I wanted to continue being active and do well on this team, I was going to have to do something about the implants."
Davis also noticed that cosmetically, because the implants were placed under her chest wall muscles that her breasts appeared to flex and there were certain yoga poses that were not possible because of her implants.
"A large part of my practice is fixing previous reconstructions with breast implants and replacing them with a woman's own tissue," says David H. Song, MD, Physician Executive Director of Plastic Surgery for MedStar Health and Chairman of Plastic Surgery at MedStar Georgetown University Hospital.
Davis went to see Dr. Song at MedStar Georgetown where he recommended a procedure that would replace her implants with her own tissue and make her more comfortable. The procedure Dr. Song recommended is called DIEP flap in which blood vessels called deep inferior epigastric perforators, as well as the skin and fat connected to them are removed from the lower abdomen and transplanted into the chest.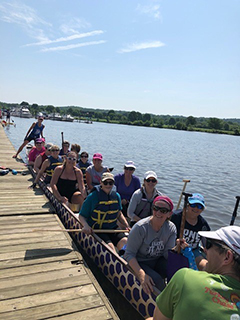 Davis had the surgery in March of 2018.
"I'm thrilled," says Davis.
"I woke up in recovery with the implants gone and when they asked me what my pain number was, I almost cried because I realized the pain in my chest was gone. Even with the stitches the pain was gone. I traded in my implants for a double DIEP."
Davis had the surgery on a Wednesday and went home from the hospital four days later.
The DIEP flap procedure is performed using a surface incision from hip to hip. Dr. Song says the use of a non-opioid pain medication called Exparel™ has been a "game changer."
"I believe that more than 90 percent of women needing breast reconstruction are candidates for a tissue-based procedure," says Dr. Song. "I can take tissue from the tummy, thigh, buttocks or back. In the case of a DIEP flap, patients get a tummy tuck and a breast reconstruction at the same time."
In addition to DIEP flap, there are as many as 4 additional procedures that Dr. Song performs that use a woman's own tissue for reconstruction.
(Video courtesy of Robin Barr)
Radiation therapy for breast cancer after reconstruction with implants is associated with complications.
"Radiated implants put women at greater risk of pain, discomfort, hardened breasts and even ruptured implants," says Dr. Song. "With radiation, the success rate for implants after five years is only about 65 percent. The life span of implants is 10-14 years; when using your own tissue, once you're done, you're done."
"I'm back to paddling with GoPink!DC twice a week," says Davis. "By the end of the summer I will be racing, and I'll be pain free."