When Others Gave Up, MedStar Georgetown Doctors Saved Her Life
If you are experiencing a medical emergency, please call 911 or seek care at an emergency room.
When June Shepherd spiked a fever and felt extremely weak, she thought she might have the flu. Her symptoms quickly worsened, so her family took her to a hospital near her home, but doctors couldn't find the cause of her symptoms. As she got sicker, they told her family there was nothing they could do, and she would most likely die. June was 68 years old.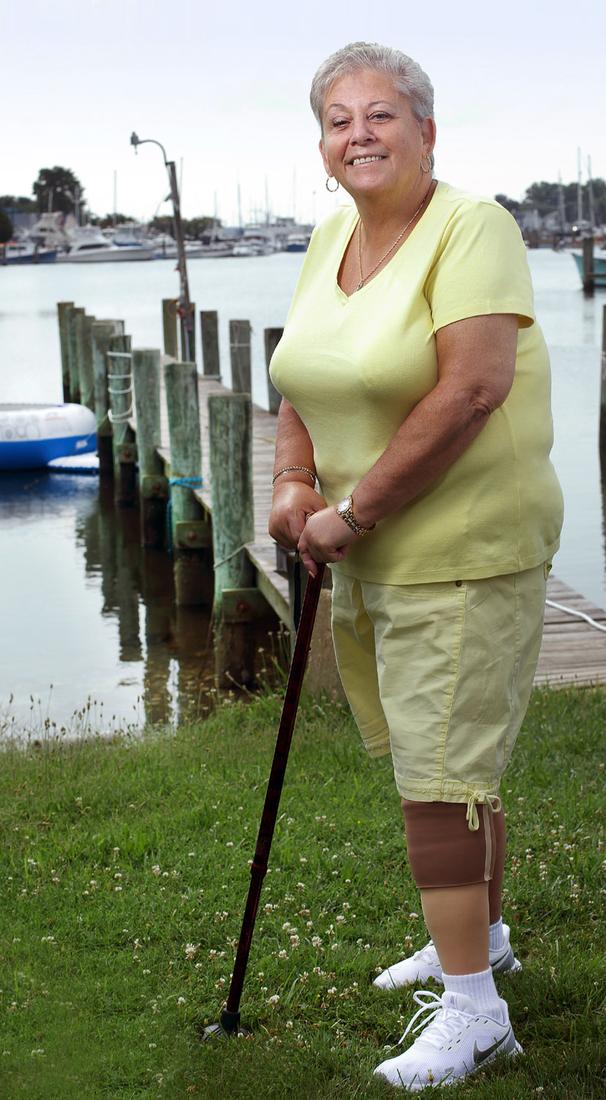 In a final effort to save her life, her family transferred her to MedStar Georgetown University Hospital. Christopher Attinger, MD, a board certified plastic surgeon and director of the Center for Wound Healing, and his colleagues diagnosed June with necrotizing fasciitis, an infection that began in an ulcer on the back of her leg. This type of infection destroys the soft tissue and spreads through the body very quickly. Her MedStar Georgetown doctors also determined she had a methicillin-resistant Staphylococcus aureus (MRSA) infection. MRSA, a contagious staph infection, is very difficult to treat and can be life-threatening.
Most physicians would have amputated June's leg to save her life. Dr. Attinger took a different approach. He carefully removed the damaged tissue, sparing the healthy tissue, so she would be able to walk normally.
"Our goal is to save limbs whenever possible," Dr. Attinger explains. After returning home, June was back to her normal routine. Unfortunately, soon after her surgery, she was diagnosed with stage 4 ovarian cancer and started chemotherapy. Partway through treatment, she noticed a blister on her foot and went to see Dr. Attinger. He discovered that chemotherapy had damaged the bones in her ankle. Now, she would need that amputation after all.
"I chose MedStar Georgetown because I knew I'd get the best care," she says.
Her instincts were spot on.
Dr. Attinger and his team's current data on survival and ambulation for patients with chronic disease are among the best in the world. "Our patients do better because they are able to walk after their amputation," he explains. "Currently 92% are ambulatory at three months."
The reason the majority of these patients are walking is not just the careful approach to surgically creating a leg that works well with a prosthetic and reattaching leg muscles so they remain strong. It's also the work of Dr. Attinger's colleague Grant Kleiber, MD, a board-certified plastic surgeon and chair of Plastic and Reconstructive Surgery at MedStar Washington Hospital Center.
As Dr. Kleiber performed June's amputation, he used a procedure called targeted muscle reinnervation (TMR). The nerves that delivered sensation to the amputated limb were transferred to nerves that control muscles that formerly moved June's foot and toes. Dr. Kleiber's surgical technique gives the nerves a pathway for growth and helps prevent pain and phantom sensations.
"MedStar Georgetown is one of only a few centers in the U.S. that uses this approach," says Dr. Kleiber. "We perform over 100 targeted muscle reinnervation (TMR) cases per year. Our patients have less pain, are better able to walk with a prosthetic, and use less opioid medication. They're walking about eight weeks after surgery."
Although June lives about two hours from MedStar Georgetown, she told her brother, "Don't take me to any other hospital. Dr. Attinger saved my life. Thanks to him and his team, I'm independent and able to clean my house and do yard work without help."
Visit MedStarGeorgetown.org/WoundCenter to learn more about our Functional Amputee program. To make an appointment wit hone of our specialists, call 202-444-9686.