A liver transplant brings a new lease on life and a surprising new friendship
If you are experiencing a medical emergency, please call 911 or seek care at an emergency room.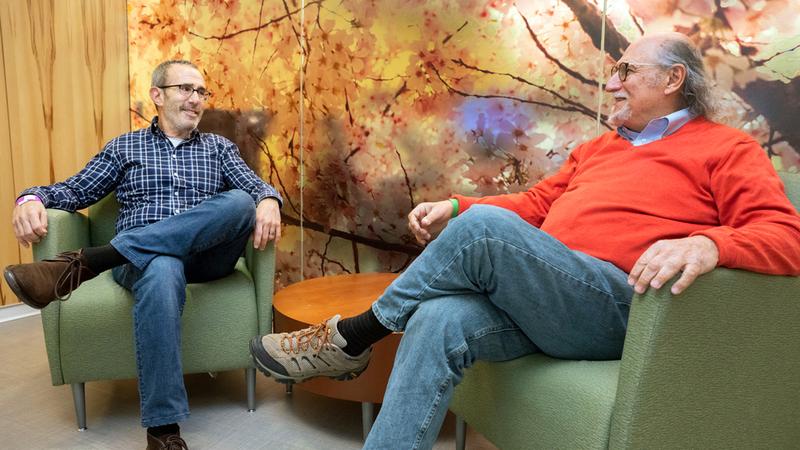 Gary Seiden, DDS, practiced dentistry in the Baltimore area and Washington, D.C., until he recently retired. Carlos Zigel, MD, chair emeritus of the Department of Medicine at MedStar Harbor Hospital, served the South Baltimore community as an internal medicine and palliative medicine specialist until he also retired recently.
The two men never crossed paths during their careers, but they both faced the same serious health problem—hepatocellular carcinoma, a type of liver cancer. When their hepatologists recommended a liver transplant as the best treatment for their condition, they both chose MedStar Georgetown Transplant Institute for their surgery.
Although Gary was listed for transplant with both the Transplant Institute and a Baltimore hospital, his experience with the two programs was very different. "At the Baltimore hospital, I felt like I was just one of hundreds of patients the transplant team was dealing with. When I went to MedStar Georgetown, it was another universe," he says. "As a healthcare provider, I know how you talk to your patients makes a tremendous difference. The Transplant Institute team was kind, supportive, and patiently answered all my questions."
Carlos had a similarly positive experience after listing for transplant with both the Transplant Institute and a different Baltimore hospital. "The transplant team at MedStar Georgetown truly has their act together," he explains. "They're like nothing I've ever seen. They were extremely reassuring and the whole process was seamless."
A life-changing connection made through a personal trainer.
Gary underwent transplant surgery first on July 4, 2020. The surgery was successful, and he was discharged from the hospital in just four days. Eleven days later, he was well enough to go to his summer home in Rehoboth, Delaware and was able to ride his bike about a month after surgery.
Meanwhile, Carlos' transplant team recommended that he lose some weight and increase his fitness level before his transplant to improve his outcome and recovery. He began twice-weekly training sessions with a personal trainer, and he's very glad he did. Not only did the trainer help Carlos get into his best shape in years, but he also connected him with a friend who had recently had a liver transplant and said he would be happy to share his experience with Carlos. That friend was Gary.
"Even though we haven't met in person because of the pandemic, Gary and I have developed a real relationship," says Carlos. "He became a guide for me and told me that the anticipation of the transplant was ten times worse than his actual experience with the transplant. It was extremely helpful to hear from another patient what to expect. We even talked while I was at the hospital getting ready for my transplant, and he gave me that extra boost of calm and confidence."
Carlos' liver transplant, performed in February 2021, was also a success and, like Gary, he was back home just four days after surgery. He's been going for regular walks with his wife and is looking forward to getting back to his workouts and traveling with his wife.
"The care I received at MedStar Georgetown was so awesome that I've become an ardent advocate for the program," says Gary. "I plan to volunteer to help support the transplant program and help other patients like Carlos and me."
Adds Dr. Rohit Satoskar, medical director of the Liver Transplant program, "One of the benefits of our program is the true partnership between the multidisciplinary care team and the patient. Like many patients facing liver transplantation, Gary was apprehensive at first. Our model of care put him at ease by answering his questions and allowed us to proceed together to achieve the best possible long-term outcome. We are grateful that he then paid it forward and helped Carlos and continues to share his experience with others."
Visit MedStarHealth.org/LiverTransplant to learn more about our transplant program. To schedule an appointment with one of our specialists, call 202-444-3700.