Stroke Patient Story: Daniel Williams
If you are experiencing a medical emergency, please call 911 or seek care at an emergency room.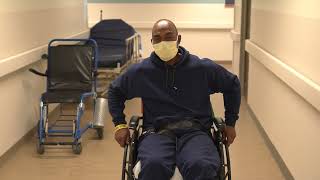 When Daniel Williams had a stroke, he was transported to MedStar Good Samaritan Hospital's Inpatient Rehabilitation Center for care. The stroke affected his ability to move and perform daily tasks.
With help from physical and occupational therapy, Daniel is now able to move his upper extremities again and perform daily activities. He's also getting some movement back in his legs!
Daniel is grateful to his team at MedStar Good Samaritan for giving him his life back.
Learn more at: https://www.medstarhealth.org/services/inpatient-rehabilitation
With the help of his physical and occupational therapists, Daniel Williams is getting his life back after a stroke.