State-of-the-Art Surgical Pavilion at MedStar Franklin Square Medical Center | MedStar Health
MedStar Franklin Square Medical Center
We're pleased to announce the opening of its brand new, 82,000-square-foot, state-of-the-art Surgical Pavilion. The facility officially opened its doors in August 2020, and is designed to revolutionize the process of surgical care for patients and their families. It represents the next generation of MedStar Franklin Square's unwavering commitment to the community and region.
A look inside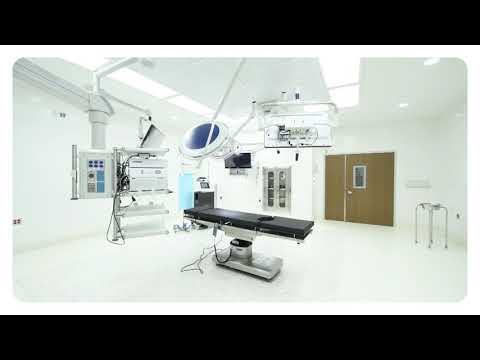 Every detail of the Surgical Pavilion was designed and built with patient experience and comfort in mind. It's warm, welcoming, and inviting. It's modern and sleek. And, it houses the latest, most innovative industry technologies, allowing for the merge of science and medicine to take place on the MedStar Franklin Square Medical Center campus, every single day.
Clinical features
Take one step inside MedStar Franklin Square's new $80 million Surgical Pavilion and you will immediately see and feel what sets us apart. The facility was designed and built to revolutionize surgical care, with features and functionalities that support what medicine looks like today, as well as how it will progress into the future.
Key features in our clinical space include:
14 spacious surgical suites, packed with the latest industry tools and technologies to optimize patient care, safety, and quality

1 "hybrid" operating room, featuring advanced imaging technology that allows an interventional cardiologist, radiologist, and vascular surgeon to collaborate and multi-task, all at one time, during a surgical case. Important to note – we are the only hospital in the State of Maryland, and among only a few in the U.S., to house this type of specialty surgical suite

Dedicated space for transplant and perfusion cases (to be introduced in the future)

State-of-the-art sterilization tools and processes

Robust video systems, integrated in the operative suites to facilitate virtual training opportunities for the hospital's surgical residency program

Private consultation rooms

A 600-foot concourse, connecting the Surgical Pavilion to the existing patient tower to streamline transport as patients are moved to the intensive care unit (ICU), their inpatient rooms, and other areas of the hospital, as needed
Key features in our common areas include:
Spacious waiting room, featuring a tranquil waterfall feature and many windows to allow natural light to stream in. Together, these design elements create an environment for families and other visitors that is warm, calm, soothing, and comfortable

Dedicated parking area (utilize Entrance #5 from Franklin Square Drive)

Patient pick-up and drop-off locations in close proximity to the facility entrance

Vending stations

Electronic device charging stations

Access to the 600-foot concourse leading to the existing patient tower, for those who wish to utilize the hospital cafeteria, coffee shop, gift shop, chapel, and other amenities
How can you help?
Make a philanthropic gift
to the Surgical Pavilion campaign or contact the philanthropy office at
443-777-7935
or