Home Medical Visits | MedStar House Call Program | MedStar Health
Promoting the health and dignity of frail elders
Many elders struggle with disability and severe chronic illness, and often have difficulty getting to the doctor's office. As a result, their health status may suffer, and lead to unnecessary ER visits, hospitalization, or nursing home care. In 1999, recognizing these needs of frail elders and their families, we created the MedStar House Call program to provide medical and social services that help elders remain in their homes with dignity.
The MedStar House Call Program is nationally recognized for quality and outcomes of our care. We care for patients at home, and also provide state-of-the-art hospital and specialty care. Our inpatient team directly cares for House Call patients who need emergency or acute hospital care. Our social services link patients and families to community resources, support caregivers through monthly support groups and weekly meditation calls.
In DC, our social workers also provide case management services to eligible patients in the Medicaid Elderly and Persons with Disability waiver program.
MedStar house call: A caregiver's story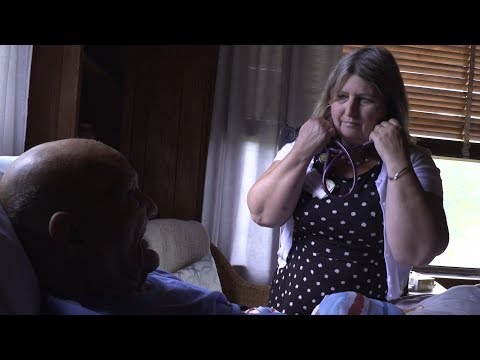 Our program
House calls are made by doctors and nurse practitioners for primary and urgent care

We offer a full range of diagnostic tests and treatments comparable to an urgent care center

Home delivery of medications and equipment

Coordination of home nursing, physical therapy, and hospice

On-call physician: 24 hours a day, seven days a week by phone

Mobile electronic health record (EHR)

Coordination of specialty care and procedures at MedStar Washington Hospital Center and MedStar Good Samaritan Hospital

In-home counseling and caregiver support by social workers and other staff

Coordination of in-home support services, such as home health aides, respite care, and financial assistance

(DC only) Case management for the Medicaid Elderly and Persons with Disabilities (EPD) Waiver
Hospital care and specialists
Our team coordinates emergency, hospital, and specialty care at MedStar Washington Hospital Center and MedStar Good Samaritan Hospital. Patients may keep their previous specialist doctors and we can work with them as needed. If new specialist care is required, we make a referral at MedStar Washington Hospital Center or MedStar Good Samaritan Hospital. Our office staff schedule the specialty appointment and can assist in arranging transportation to the appointment.
When House Call patients require hospitalization, either through the emergency department or a scheduled admission, our nurse practitioners and doctors arrange the admission, and our doctors care for you in the hospital. Our clinicians work with office staff to coordinate admissions to MedStar Washington Hospital Center's Geriatrics Unit or MedStar Good Samaritan Hospital depending on patient location. In DC, our physicians also provide Ortho-Geriatric hospital care to non-house call patients. This specialty service was created to ease complications and provide geriatric expertise to MWHC.
Social work services
Social worker services, if needed, include a licensed social worker who will provide care coordination services to our patients. Care coordination services include:
Psychosocial assessment

Development of an individual treatment plan

Information and referral to appropriate resources and supports

Education, emotional support and counseling to patients and families

Advocacy within service networks

Crisis intervention

Assists with identifying alternative placement as needed
Enrollment and insurance
To qualify for the MedStar House Call Program, patients must:
Be 65 years or older and have difficulty getting to the doctor's office

Have Medicare, Medicaid, or a managed care plan that the MedStar House Call Program accepts

Agree to give up their previous primary doctor in order to join the program

Live in a qualifying ZIP code
The office is open 8:30 a.m. to 4:30 p.m. Monday- Friday.
When calling about enrollment, please have the following information:
Patient's name, address, telephone number

Patient's date of birth and social security number

Patient's next of kin and emergency contact information

Patient's health insurance information (including type and group number)

Patient's current medical conditions and concerns

Ability to retrieve patient's recent medical records

Print and complete our Baltimore Intake Questionnaire form
As in a doctor's office, the primary health insurance (like Medicare Part B) covers 80 percent of visit fees, and the secondary insurance (or the patient) is billed for the remaining 20 percent.
Qualifying ZIP codes
To check if you live in a qualifying ZIP code, view the map below. Call our Washington, D.C., or Baltimore location to confirm MedStar House Call Program eligibility of your exact address.
Washington, D.C.,
Baltimore region
Washington, D.C., region team
Physicians
George Taler, MD
Stephanie Bruce, MD
Cesar Torres, MD
Linnea Pepper, MD
Nurse Practitioners
Robyn, Feely, CRNP
Nancy Sassa, CRNP
Michelle Sullivan, CRNP
Nurse
Kimberly Kamara, LPN
Social Workers
Gretchen Nordstrom, LICSW
Kellie Jones, LGSW
Ruth Shea, LICSW
Operations Manager
Beatrice Chisala, MHA
Care Coordinators
LaWanda Holeman
Sandra Mills
Carrie Carmon
Yvette Williams
Baltimore region team
Physicians
Jen Hayashi, MD
Elise Worley, DO
Nurse Practitioner
Dorothy Were, CRNP
Nurse
Sonja Stanton, RN, MSN
Social Worker
Marina Nellius, LMSW
Operations Manager
Shereen Greene, MBA
Care Coordinator
Taurshica Lee
Operational support
Executive Director
George Hennawai, MD
Interim
AVP Operations
Julie Beecher, MS, MPH
Outcomes Analyst
Edwin Zhao, MHA
Billing Coordinator
Shennane Butler
Request additional information
If you would like to receive more information about our services, submit your information and our office staff will send you additional information.
/Formstack Form/doctor-BanA/Scriban(9,66) : error : Unexpected exception while accessing `parameter[0]`
Contact us by phone
Baltimore Region
To learn more about our services in the Baltimore region, call us today.at 443-444-6100.
Washington, D.C., Region
To learn more about our services in the Washington, D.C., region, call us today at 202-877-0570