Home Medical Visits | MedStar House Call Program | MedStar Health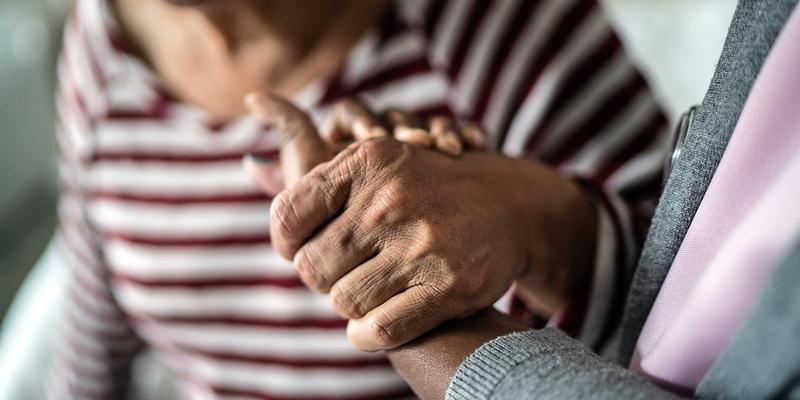 Promoting the health and dignity of frail elders
Many elders struggle with disability and severe chronic illness and have difficulty getting to the doctor's office. As a result, their health may suffer and lead to unnecessary ER visits, hospitalization, or nursing home care. In 1999, recognizing the needs of such elders and their families, we created the MedStar House Call program to provide full medical and social services that help elders remain in their homes with dignity. These teams now serve both Washington, D.C., and Baltimore, MD.
The MedStar House Call Program is nationally recognized for the quality and outcomes of our care. We serve patients at home with a team of geriatricians, nurse practitioners (NPs), social workers, office nurses, and coordinators. We make routine and urgent house calls (in-person or via telehealth with video or audio-only phone visits). Our medical staff is also available by phone 24/7 for urgent issues. We provide access to state-of-the-art hospital and specialty care. Additionally, our physician team follows our patients if and when they are admitted to the MedStar Washington Hospital Center.
The House Call program serves our neighbors in Washington, D.C., and Baltimore.
MedStar House Call Program
(operating under MedStar Total Elder Care, LLC)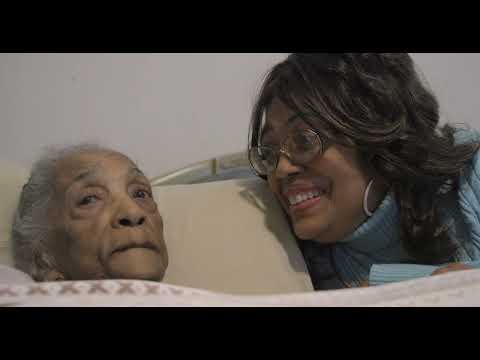 Our program services
Medical house calls and primary care by doctors and nurse practitioners with expertise in the care of older adults

Counseling and caregiver support by social workers and team staff

We offer tests and treatments at-home, and at the hospital as needed

Home delivery of most medications and equipment

Coordination of specialist care at MedStar Washington or MedStar Good Samaritan

Coordination of home nursing, rehab therapy, and hospice

Coordination of support services such as home aides and legal assistance

On-call physicians: 24 hours a day, 7 days a week (by phone)

Mobile electronic health record (EHR)

D.C. Neighborhood only – Case management for Medicaid Elderly Persons with Disabilities (EPD) Waiver
Hospital care and specialists
Our team coordinates emergency, hospital, and specialty care at MedStar Washington and MedStar Good Samaritan. Patients may keep their previous specialist doctors; we work with them as needed. We refer to MedStar Good Samaritan, MedStar Washington, for home-based podiatry or other new specialist care. If House Call patients require hospitalization, and 911 is not needed, our team can arrange transportation and admission to MedStar Good Samaritan or MedStar Washington when beds are available.
Social work services
Our dedicated team of social workers provides:
Psychosocial assessment

Care Coordination

Development of an individual treatment plan

Information and referral to community resources and supports

Caregiver education, support, and counseling

Advocacy to connect with other service networks and legal counseling

Crisis intervention

Assistance with identifying alternative living arrangements, as needed
Enrollment and insurance
To qualify for the MedStar House Call Program, patients must:
Be 65 years or older and have difficulty getting to the doctor's office

Have Medicare, Medicaid, or another participating insurance plan

Stop seeing their previous primary doctor and agree to have us take on that role following the first visit

Live in a qualifying ZIP code
Our office is open 8:30 a.m. to 4:30 p.m., Monday - Friday.
When calling about new patient enrollment, please have the following information:
Patient's name, address, telephone number

Patient's date of birth and social security number

Patient's next of kin and emergency contact information

Patient's health insurance information (including type and group number)

Patient's current medical conditions and concerns

Ability to retrieve patient's recent medical records

Baltimore neighbors, print and complete our Intake Questionnaire form
As in most doctor's offices, your main health insurance (such as Medicare) covers 80 percent of House Call visit fees, and any secondary insurance covers the other 20 percent. The patients who do not have any secondary insurance are responsible for the 20 percent co-pay.
View the map below to check if you live in a qualifying ZIP code. Call our Washington, D.C., or Baltimore location to confirm MedStar House Call Program eligibility at your exact address.
Washington, D.C.,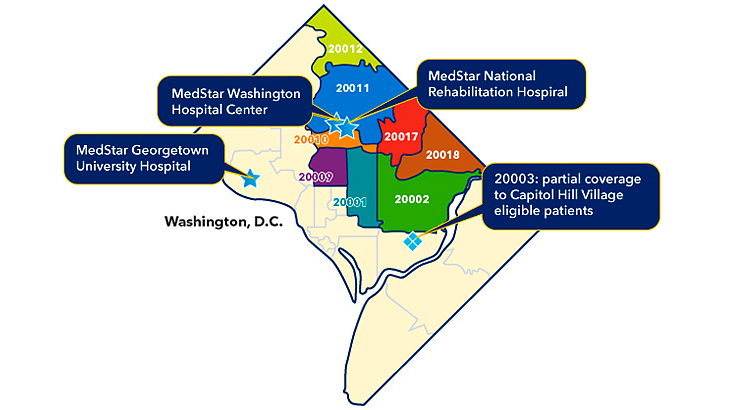 Baltimore region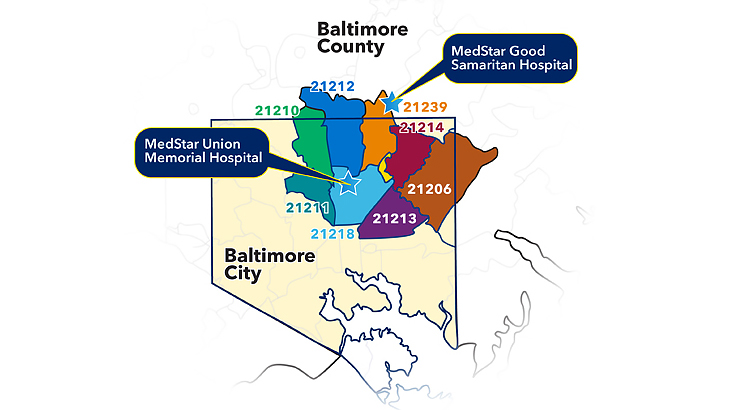 Washington, D.C., region team - 202-877-0570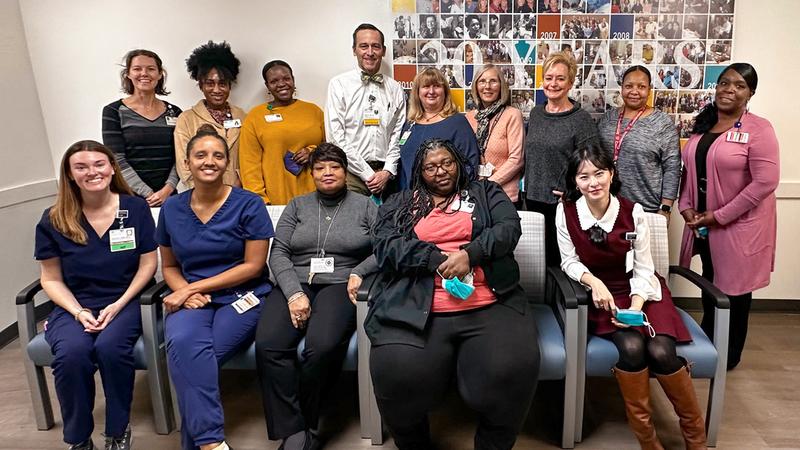 Physicians
Eric De Jonge, MD, – Section Director
Guy (Binny) Chang, MD

Nurse Practitioners
Nancy Sassa, CRNP - Chief
Alexandra (Caitlin) Geary, CRNP
Michelle Sullivan, CRNP

Office Nurse
Kendel Ogbeab, RN

Social Workers
Gretchen Nordstrom, LICSW - Chief
Kellie Jones, LICSW
Ruth Shea, LICSW

Operations Manager
Isi Koroma

Care Coordinators
LaWanda Holeman
Sandra Mills
Carrie Carmon
Yvette Williams
Baltimore region team – 443-444-6100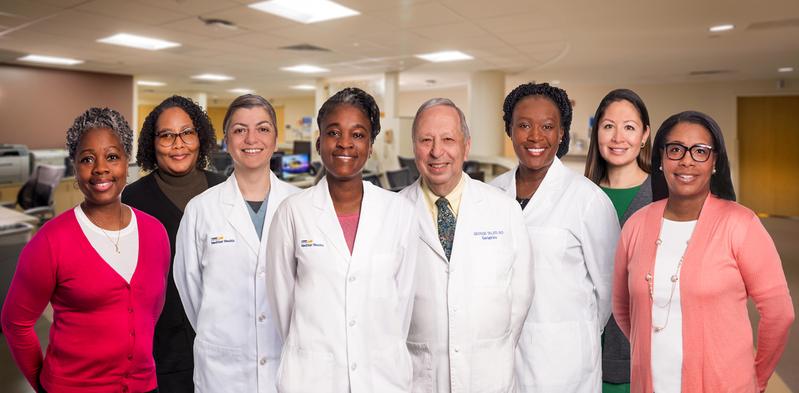 Physicians
George Taler, MD
Sharareh Badri, MD

Nurse Practitioner
Dorothy Were, CRNP
Adama Panda, CRNP

Nurse
Nerland Dimanche, RN, MSN

Social Worker
Marina Nellius, LMSW

Operations Director
Shereen Greene, MBA

Care Coordinator
Taurshica Lee
Operational support
Executive Director
George Hennawai, MD

AVP Operations
Julie Beecher, MS, MPH
Baltimore Neighborhood
To learn more about our services in the Baltimore region, call us today.at 443-444-6100.
Washington, D.C., Neighborhood
To learn more about our services in the Washington, D.C., region, call us today at 202-877-0570