Nursing at MedStar Washington Hospital Center
The Vizient/ AACN Nurse Residency ProgramTM at MedStar Washington Hospital Center is accredited by the Commission on Collegiate Nursing Education
MedStar Washington Hospital Center is an innovative teaching and acute care medical institution with a national reputation as a leader-particularly in the areas of cardiovascular, cancer, kidney disease and transplantation, neurosciences and in the emergency treatment of stroke, trauma and adult burn injury. We offer some of the best facilities in the area to work at including:
The Nancy and Harold Zirkin Heart & Vascular Hospital at MedStar Washington Hospital Center, the only dedicated cardiovascular facility in Washington, D.C.
Level I Trauma Center supported by three helicopters
The Burn Center, the region's only adult burn facility
Comprehensive Stroke Center, the region's first hospital to achieve the designation
Award-winning neonatal intensive care unit (NICU)
A Conversation with Our Nurses
Ever wondered what keeps doctors and nurses going when the going gets tough? Watch a candid conversation with four nurses regarding their personal thoughts and perceptions about being a nurse at MedStar Washington Hospital Center.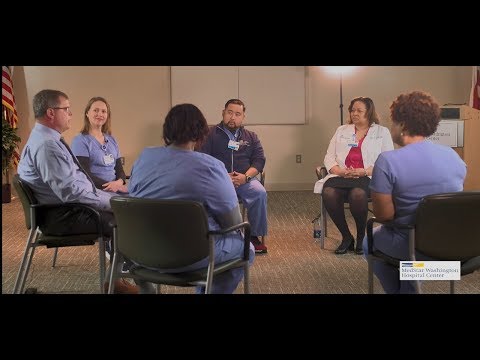 With 2,000 nurses at MedStar Washington Hospital Center, our nurses are encouraged to collaborate with physicians and healthcare professionals while being innovative and maintaining a culture of safety. MedStar Washington Hospital Center is also committed to advancing the careers of our nurses with advancements in technology, equipment, therapies and procedures. Some of the other programs and services that are offered include:
Tuition reimbursement program for education and conferences
Work schedule flexibility to accommodate our educational needs
The Center for Excellence in Nursing, one of the only dedicated professional development facilities for nurses in the country
A clinical advancement bonus program
A leadership academy for nurse managers to develop advanced skills
Dedicated nurse scientist support for nursing research and publishing
On-the-job support from an experienced Nurse Responder Team and managers who provide bedside assistance
If you are interested in practicing professional nursing in a collaborative, patient first environment focused on teaching and research, MedStar Washington Hospital Center is the place for you to find the right nursing opportunity for you. Whether you are an experienced nurse continuing your professional development or a new graduate searching for the right place to begin your career, we offer unparalleled opportunities to establish and build your career. We are the ideal place to practice professional nursing. Watch the video below to learn more about our Nurse Residency Program.
Nurse Residency Program at MedStar Washington Hospital Center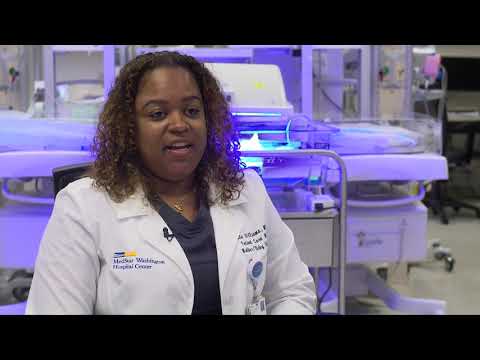 Message from Tonya R. Washington, MSN, RN
Chief Nursing Officer

MedStar Washington Hospital Center nurses have been providing exceptional nursing care to people in the nation's capital for over 60 years. Founded in 1958, the Hospital Center is the largest acute care teaching hospital in the District. Our hospital is one of the busiest hospitals in the country and is a recognized leader in cardiac, stroke and cancer care among others. It has always been one of the most exciting, dynamic and challenging place to practice nursing. That is what attracted me to the organization and what keeps me excited about it today.

As a Hospital Center nurse for more than 30 years, and now as the Chief Nurse Executive, I am very proud of the rich traditions and legacy of the department. Nurses at the Hospital Center practice both the art and science of nursing every day. Providing safe, highly competent care that is evidenced based is our priority. Our nurses strive to create a caring and healing environment that will make a critical difference for our patients and their families. Nurses are respected members of the health care team, and collaborate with physicians and other health care professionals to develop a plan of care that will meet the patient's needs, and promote the attainment of positive outcomes. The environment at the Hospital Center is one where innovation is supported, and opportunities to investigate and pursue new processes and technologies are encouraged.

The Hospital Center provides a challenging, exciting and supportive work environment for both new graduates and experienced nurses. The nursing leadership team is committed to building and sustaining a healthy work environment that promotes the growth and development of professional nurses, and furthers the science and art of nursing. I hope that you will consider joining our exceptional nursing team. Whether you are at the beginning of your career or looking for a new direction in your career, we have many opportunities to pursue your nursing passion.

About Tonya R. Washington

Tonya R. Washington, MSN, RN, is senior vice president and chief nursing officer, at MedStar Washington Hospital Center. Washington has played an important Nursing leadership role at the Hospital Center for more than 20 years, first joining as a clinical manager, and later, head nurse of Pulmonary Medicine, followed by her role as head nurse, Cardiology. She was promoted to senior nursing director for Medical Surgical Nursing in 2008, and became assistant vice president of Nursing in March 2010. She served as interim chief nursing officer from July 2010 to April 2011, when she was named vice president for Nursing Operations.

Washington has more than two decades of experience in key hospital service lines. Her contributions to the Hospital Center include the Pathway to Excellence® designation from the American Nurses Credentialing Center (ANCC) in 2017. Pathway-designated entities are considered among the best places for nurses to practice, and only 152 of 5,500 hospitals nationwide are Pathway-designated. Other recent accomplishments include securing national designations for Baby-Friendly® and Nurses Improving Care for Healthsystem Elders (NICHE), as well as accreditation of the hospital's Nurse Residency Program by the Commission on Collegiate Nursing Education.

Washington was a member of the inaugural cohort of the MedStar Leader of the Future: Nursing Leadership Development Program. She is a member of the District of Columbia Organization of Nurse Executives and the American Organization of Nurse Executives.
Nursing Mission, Vision and Theory
Nursing Mission
Through shared leadership and intelligent use of resources, the nursing team at MedStar Washington Hospital Center delivers safe, patient first care, utilizing compassion, knowledge and skill.
Nursing Vision
MedStar Washington Hospital Center is nationally recognized as a premier nursing organization, renown for innovations in achieving optimal patient care outcomes and for exemplary workforce development.
Nursing Theory
The Nursing Caring Council at MedStar Washington Hospital Center selected a nursing theory that incorporated the SPIRIT values and patient first philosophy of MedStar Washington Hospital Center.
The Theory of Human Caring, developed by Jean Watson, PhD, RN, HN-BC, FAAN, is utilized by all nurses at MedStar Washington Hospital Center. It's nurturing and holistic approach to patient care optimizes the patient experience while providing a rewarding relationship between nurse and patient. The nurses' role is one of both caring and healing, allowing the use of highly competent and technical skills to be delivered in a caring manner.
In caring for the patient, the nurse establishes a relationship with the patient. This relationship is demonstrated by the "caring moment." In the caring moment, the nurse and the patient's spirits are connected. The nurse is able to identify with the patient, and may relate his or her dilemma with personal life experience.
The theoretical framework is further defined by the ten "carative" factors, or caritas processes. They are the core framework for nursing practice.
Ten Caritas Processes
(Adapted from Resurrection Health)
Practice loving kindness
Instill faith and hope
Nurture individual spiritual beliefs and practices
Develop helping and trusting relationships
Promote and accept the expression of feelings
Use creative scientific problem solving methods for decision making
Teaching and learning addresses individual needs
Create a healing environment
Assist with physical emotional and spiritual human needs
Allow room for miracles
The Caring Council identified three key behaviors that nursing can use to demonstrate the Theory of Caring. The three behaviors are identified below, with examples of how to put these behaviors into practice.
Honor humanity

Assist with basic needs reverently and respectfully
Practice common courtesy

Caring connection

Establish a caring rapport with your patients and families
Respect co-workers
Practice caring language

Authentic presence

Have an authentic presence when interacting with others
Breathe deeply and clear your mind
Relax your body
Nursing Specialties
Our legacy as an innovative teaching and acute care medical institution has earned MedStar Washington Hospital Center a national reputation for our cardiovascular, cancer and neurosciences care, gastrointestinal disorders, endocrinology, Women's Services, kidney disease and transplantation care, and in the treatment of stroke, trauma and adult burn injury.

During fiscal year 2011 (FY11), the hospital had 411,514 outpatient and 40,192 inpatient visits, including 4,079 births. Regional medical facilities referred nearly 9,900 of their most complicated medical cases to the Hospital Center during that time.

We are the ideal place to practice professional nursing with a world of opportunities

We are proud of our exceptional team of nursing professionals, who work in a variety of specialties to provide the very best in health care.

Select a specialty you would like to know more about-or jump straight to our career listings to begin the application process.
For more information, please contact Human Resources at 202-877-7447


Specialties
Emergency Department and MedSTAR
(Medical Shock Trauma Acute Resuscitation)

The Emergency Department RN Residency offers extensive orientation for newly graduated nurses and nurses wishing to specialize in emergency nursing. We have an international reputation for the quality of care provided in our emergency department and trauma center, with more than 85,000+ visits in FY 2012. MedStar Washington Hospital Center is a national leader in emergency preparedness spearheading efforts to improve the National Capital Region's ability to respond to mass casualty incidents.

Emergency Department (ED)

The ED includes a triage area, 50-bay acute treatment area and nine-bed ambulatory care area. We are one of approximately 20 hospitals nationwide designated as a Primary Stroke Center by The Joint Commission.

MedSTAR (Medical Shock Trauma Acute Resuscitation)

The American College of Surgeons consistently recognizes the MedSTAR (Medical Shock Trauma Acute Resuscitation) Trauma program as one of the nation's best Level I shock/trauma units. MedSTAR It is a resource for transport and treatment of a wide spectrum of critical illnesses and injuries across the mid-Atlantic region.

Our flight and ground RN staff are trained to provide resuscitative emergency and critical care transport services. Nurses must have a minimum of two year's critical care experience to work in MedSTAR.

Physicians from all medical specialties are available on a 24-hour basis, including specialists in neurosurgery, oral and maxillofacial surgery; otolaryngology; plastic surgery; orthopaedics; urology; cardiovascular surgery; microvascular surgery; burn treatment; neonatology and obstetrics/gynecologyFacilities include six resuscitation areas, an operating room and equipment to assess, diagnose and treat life-threatening illnesses or injuries. The three MedSTAR teams, in-house 24 hours a day, including MedSTAR and intensive care nurses, two attending physicians, a team fellow, surgical residents, a respiratory therapist, a MedSTAR paramedic, a cardiovascular technician, a blood bank technician and an X-ray technician.

For more information, please contact Human Resources at 202-877-7447.

Medical-Surgical Services

Medical-Surgical nursing at MedStar Washington Hospital Center is challenging and provides our nurses with the opportunity to provide evidence based nursing care to a diverse patient population using leading-edge technology. Patient care is provided using an interdisciplinary approach involving the patient, nursing, medical staff, pharmacy, laboratory, pathology, respiratory therapy, spiritual care, nutritional services, rehabilitation and radiology.

We are one of only 2 hospitals in the District of Columbia, who has been designated by NICHE (Nurses Improving Care for Health System Elders) as providing excellent patient -centered, evidence-based geriatric care. Nurses on our Medical-Psychiatric unit receive specialized MANDT training and have the support of a full time psychiatric educator to assist in managing the unique needs of patients with both medical and mental health issues. Our nationally recognized Burn-Trauma unit cares for patients with traumatic and thermal injuries. The Burn-Trauma nursing team has presented at the American Burn Association annual meeting and is active in burn prevention efforts. Our Orthopedic unit uses an innovative team approach for the care of the patients in our joint replacement program. Patients are assessed before surgery by the surgeon, the Post Acute Care Coordinator, a rehab specialist and a home care nurse to develop a plan of care that spans the continuum of care. This collaboration has improved patient satisfaction and decreased the length of stay. Our transplant program is one of the busiest in the nation and has a success rate well above the national average.

Quality and safety are at the forefront of all that we do. Our medical-surgical nurses are dedicated to delivering care that will achieve the best possible outcomes for our patients. Each nursing unit closely monitors nurse sensitive indicators and core measures to assess the quality of the care that is delivered. A quarterly award is given to those units meeting or exceeding the benchmarks.

Our RN Residency offers a comprehensive education and orientation program. We are committed to supporting the professional development of all of our nurses and offer a generous benefits package to support your educational goals.

Medical Surgical Nursing

Inpatient Units

Our highly acute 195 bed medical and surgical units provide care to a population with a variety of multi-system acute and chronic medical conditions, as well as surgical intervention and care. The primary medical diagnoses are ESRD, pneumonia, CHF R/O tuberculosis, HIV and diabetes.

Select units have subspecialty foci of GI disorders, geriatrics, renal disease including renal transplants and diabetes. Many units have advanced care options such as telemetry and ventilators.

General Medicine:
34 bed unit providing care to patients with complex medical needs including ESRD, pneumonia, and HIV.

Medical Psychiatric:
32 bed medical unit with specializing in the care of patients with patients with both psychiatric and medical diagnoses.

Geriatrics:
35 bed medical unit specializing in the care of the geriatric patient with acute and chronic medical diagnoses.

General Surgery:
30 bed unit providing care to post-operative surgical patients. These include thyroid surgery, Gynecology surgery, laparoscopic surgery, and reconstructive surgery.

Kaiser:
34 bed medical unit providing care to Kaiser patients with complex medical-surgical problems.

General Surgery:
30 bed unit with subspecialties of transplant and orthopedics. Postoperative patients receiving either renal and/or pancreas transplant are cared for on this unit. Patients having orthopedic procedures such as knee or hip replacement and fracture repairs are also managed on this unit.

Step-down & Procedural Units

Pulmonary step-down:
30 bed unit specializing in the care of patients with complex pulmonary problems including ventilator dependent patients.

Burn/Trauma step-down:
30 bed unit specializing in the care of burn patients and patients with traumatic injuries (e.g. gunshot wounds, falls, motor vehicle accidents).

Hemodialysis:
provides hemodialysis services to inpatients requiring treatment. An average of 45 HD treatments are performed daily within the unit and/or at the patient's bedside.

Medical/Surgical Specialties - Inpatient Oncology

Medical Oncology:
30-bed unit provides care to a wide variety of cancer diagnoses. Patients receiving complex chemotherapy protocol treatments, myelosuppressed oncology patients following chemotherapy treatment and protocols and patients receiving radioactive iodine for thyroid cancer are seen on this unit.

Surgical Oncology:
30-bed unit provides care to general and surgical oncology patients with nursing sub specialties in the complex treatment and protocols of patients following gastrointestinal and gynecologic surgery, chemotherapy treatment, intraperitoneal chemotherapy, and a variety of surgical bariatric procedures.

For more information, please contact Human Resources at 202-877-7447.

Washington Cancer Institute

In FY10, we diagnosed more than 2,300 new cancer cases and had more than 85,000 outpatient visits. MedStar Washington Hospital Center performs more cancer-related procedures than any other hospital in the Washington, D.C., region. We use cutting-edge, evidence based technologies to detect, diagnose and treat cancer. Our services include surgical, radiation and chemotherapy treatments, a patient education and community support center, and access to other support services.

Oncology nurses provide care to patients with a wide variety of oncologic diagnoses and related disorders in inpatient and outpatient settings. As members of the healthcare team, we use an interdisciplinary, holistic approach in caring for our patients. Our Oncology Navigator Program uses specialized nurses to assist patients, families and care givers to navigate the health care system and to ensure that the patient is receiving quality care throughout the continuum of care. Our Medical Oncology practice has received the Quality Oncology Practice Initiative certification from the American Society of Clinical Oncology. This certification demonstrates a commitment to providing quality oncology care.

Our nurses are actively involved in the National Coalition for Oncology Navigators, the Oncology Nurse Advisory Board and Oncology Nursing Society. Our Clinical Specialist and Navigators have provided scholarly poster presentations at national forums and have published in scholarly journals.

If you wish to specialize in oncology, we offer a supportive educational environment, including a Chemotherapy and Biotherapy Certification course sponsored through the Oncology Nurse's Society. We are committed to supporting the professional development of all of our nurses and encourage all of our professional nursing staff to pursue professional certification. We offer a generous benefits package to support your educational goals.

Cancer Institute

Provides ambulatory diagnostic, treatment and supportive/palliative services to patients with a wide variety of oncologic disorders, particularly pre-operatively and post-operatively. Specific services include Breast Surgery, GI/Onc, Gyn/Onc, Orthopedic/Onc, Pain, Palliative Care, Melanoma and Urologic/Onc. The infusion center provides outpatient infusion services. The Department of Radiation Oncology provides inpatient and outpatient radiation therapy services for cancer patients at the Washington Cancer Institute.

Oncology Specialty Center

OSC sees patients with various oncology diagnoses for pre-operative and post-operative care. Types of patients seen in this clinic include thoracic, GI, Urological, Orthopaedic, Pain and palliative care, and Melanoma.

Women's Oncology Center

WOC sees patients with breast cancer and gynecological cancer.

Medical Oncology

Medical oncology sees patients with that require medical management for solid and non-solid tumors. Non-oncology hematology patients are also seen in this clinic.

Infusion Center

The 21 bay infusion clinic sees an average 40 patients per day. Patients receive chemotherapy, hydration, and blood transfusion. The Infusion center also performs bone-marrow biopsy.

Radiation Oncology

The busy Radiation oncology department sees on average 100 patients per day. This clinic provides services to both inpatient and outpatient.

For more information, please contact Human Resources at 202-877-7447.

MedStar Washington Hospital Center has a total of 33 operating suites supporting our extensive operative services.

Our RN Residency program in Perioperative Services is offered for RNs with one year of Med/Surg experience and no perioperative experience. The program to prepare an RN for the operating room consists of three weeks of classroom instruction, followed by six-eight months of clinical orientation. Nurses preparing to work in the preoperative and postoperative areas will attend 5 days of classroom instruction and approximately 10 weeks of clinical orientation covering both the preoperative and postoperative areas.

Main Operating Room and the Post-Anesthesia Care Recovery Room (PACU)

This area has 21 operating suites and 2 satellite operating suites. Perioperative Services perform 25,000 surgical cases annually. Many of the cases in the Main Operating Room are cutting edge, complex and include Trauma, Open Heart, Neurosurgery, Transplant, Orthopedics and Oncology. Other specialties include a state of the art Endovascular Suite and Robotics. The Post-Anesthesia Care Recovery Room (PACU), a leading edge space designed to support critical care nursing, is one of the few in the country with an acute care nurse practitioner practicing daily on the unit providing tremendous support to our nursing staff. It includes a 24/7 system with 17 bays to recover patients from surgery in the main operating room system. The majority of these patients go to a medical-surgical nursing unit or to intensive care after recovery. Care is coordinated and directed in a team oriented process.

Admission Testing Center

ATC provides preoperative assessment and testing for AM admit and outpatients who require anesthesia services, prior to their surgery/procedure date. This can include a history and physical, lab work, and ECG. In addition to skilled registered nurses and phlebotomists, the ATC staff includes advance clinicians (Nurse Practitioners and Physician Assistants) who are trained by the anesthesiology team to provide thorough and safe pre-anesthesia assessment and clearance. The ATC is open Monday through Friday for patient convenience.

Ambulatory Operating Room

Open Monday through Friday, the third floor unit includes eight operating rooms, a burn debridement room, two treatment rooms, preoperative preparation and recovery. Surgical specialties served in this area include (but are not limited to) renal vascular, urology, gynecology, burns and ophthalmology surgeries. It also houses a robot used for urology surgeries.

Same Day Surgery Recovery Room

This unit cares for both in-house and newly arriving patients with 18 preoperative preparation bays and 6 post-operative recovery bays. Our anesthesiology pain team works closely with the nursing staff to optimize pain management in the early postoperative period. Patients having same day surgery recover from anesthesia and, when appropriate, are prepared for discharge to home the same day. Same Day surgery nurse conduct postoperative phone calls within 48 hours of discharge to follow up on outpatient recovery.

Endoscopy Suite

The endoscopy suite has 8 procedure rooms. Serving a mix of inpatients and outpatients, this unit performs a variety of endoscopic and diagnostic procedures including colonoscopies, ERCP, EGD, bronchoscopies, hydrogen breath tests and motility studies.

Critical Care & Neurosciences

The MedStar Washington Hospital Center's Critical Care and Neuroscience department provides the most critically ill patients with expert care unsurpassed in the mid-Atlantic region. Every day, interdisciplinary teams collaborate and implement thoughtful, innovative medical and nursing care for patients with a variety of complex medical and surgical diagnoses. This high energy, high acuity department not only provides the best in patient care, it offers nurses the opportunity to experience the most challenging and exciting aspects of nursing.

The possibilities for professional growth are endless. Our nurse leaders support and encourage nurses to pursue their interests and professional goals. Access to educational programs either leading to specialty certification or an advanced degree is available. Our experienced nurse leaders, nurse educators and nurse researchers are available to mentor staff in public speaking, evidenced based research, and writing for publication. Whether you are a new or experienced nurse we believe you will be able to fulfill your career goals at MedStar Washington Hospital Center.

Our Critical Care & Neurosciences RN Residency offers individually-planned orientation for experienced nurses and newly graduated nurses wishing to specialize in critical care and neurosciences care.

Trauma
Neurology
Neurosurgical
Open heart
Vascular surgery
Medical and general surgery
Adult burns

Medical (MICU) and Surgical Intensive Care (SICU)

89 beds are dedicated to the care and treatment of high acuity, critically-ill trauma, neurosurgery, open heart, and medical and surgical patients.

Burn Intensive Critical Care

Renowned for pioneering advances in the treatment of serious burn injuries, MedStar Washington Hospital Center is the only adult burn center in the metropolitan area.
The 10-bed facility features a multidisciplinary team approach providing comprehensive care for burn victims. Any required surgical burn treatment is performed in a special area within the Burn ICU.

Stroke Center

The first JCO-certified Stroke Center in the Washington, D.C., area, we are the site of the NIH Stroke Program that offers the most advanced neurological evaluation and stroke care.
Acute stroke treatment protocols are available 24/7 with in-depth therapies and treatment options, including trials.

Clinical Research Studies

The units participate in 21 national and international multicenter clinical research studies.

Advanced Methods of Care

We provide expertise in advanced methods of critical care, including cardiac assist devices, CRRT, organ transplant, and advanced ventilator techniques (High Frequency Jet Ventilation, High Frequency Oscillator Ventilation, independent lung, and ECMO).

Intermediate Care Units

27 beds for surgical, medical and neurological patients are in these units. Patients in these areas require a higher level of support than provided by the general medical/surgical floors.

Image-guided Neurosurgery Center

The Image-guided Neurosurgery Center provides comprehensive, multidisciplinary care for patients requiring Stereotactic Radiosurgery with Gamma Knife, a minimally invasive alternative to conventional brain surgery. Gamma Knife allows safe and effective treatment for many types of intracranial tumors, vascular malformations and functional disorders with significantly reduced morbidity and mortality.

As an established leader in cardiovascular care for more than 50 years, the team at MedStar Heart & Vascular Institute at MedStar Washington Hospital Center performs more than 3,500 stress tests, 11,000 echocardiograms and 75,000 electrocardiograms each year. We are the busiest heart catheterization center in the United States, performing more than 19,000 procedures annually, and we lead the region in number of open heart surgeries per year.

The program, rated in the top 20 heart centers in the country by U.S .News & World Report offers patients highly specialized diagnostic tools and treatments and procedures for a variety of heart diseases and conditions. Patients from around the world are drawn to the excellent care and state-of-the-art diagnostic technology at MedStar Heart & Vascular Institute. Our nurses work tirelessly to provide world-class nursing and rehabilitative care for our heart and vascular patients, minimizing recovery times and returning patients to daily life faster. Providing a supportive and efficient treatment center for patients and families is a critical part of our mission.

The entire staff at MedStar Heart & Vascular Institute is dedicated to pushing the boundaries of heart and vascular care. That is why we have an unrivaled research capability, the Cardiovascular Research Institute, dedicated to uncovering best practices in heart and vascular care. A part of MedStar Health Research Institute, a regionally acclaimed hub of state-of-the-art research protocols and clinical trials, this facility is making strides toward better treatment and prevention for cardiovascular health.

MedStar Washington Hospital Center is the only hospital in Washington, D.C., and suburban Maryland to offer advanced heart failure patients a chance to improve their quality of life with the left ventricular assist device (LVAD). This mechanical circulatory assist device helps pump blood for an ailing heart. Surgeons implant the device inside the body and an external battery pack keeps the LVAD operational. Patients see an improved quality of life and can return to productive work and enjoyable activities. An LVAD might be an option for patients waiting for a heart transplant and those who are not candidates for a transplant. The Hospital Center is the first in the region to be certified and recertified the use of the LVAD by The Joint Commission. Outcomes for the LVAD program at the Hospital Center exceed national benchmarks.

MedStar Washington Hospital Center is one of two hospitals in the District to receive official notification that we earned the Quality Excellence Award from the Delmarva Foundation. The foundation only bestows this honor on hospitals that achieve a compliance score of 90 percent or higher - for three consecutive quarters in a calendar year - in 16 required clinical measures that fall under four clinical areas - heart attack, heart failure, surgical care improvement and pneumonia.

Our nurses in the MedStar Heart & Vascular Institute continually strive to provide safe, evidence based care that achieves quality patient outcomes. Several members of our team have presented both posters and lectures at both local and national nursing and critical care conferences. Our team includes nationally-published authors and researchers. We are committed to the ongoing professional development of our nurses and provide many opportunities for growth and development for both the new and experienced nurse. We are especially proud of our Cardiac Services RN Residency which offers a comprehensive education and orientation program.

Cardiac Services Nursing Specialties

Cardiovascular, vascular and thoracic surgery

Medical / post cardiac intervention

Advanced Heart failure

Procedural and Inpatient Units

Coronary Care Unit (CCU)
11-bed unit, specializing in the care of critically-ill patients post myocardial infarction (MI), with cardiogenic shock, congestive heart failure (CHF) and lethal arrhythmias.

Advanced technologies include CRRT, IABP Artic Sun and Impella devices.

Cardiovascular Recovery Room (CVRR)
12-bay recovery room providing care to patients in the immediate postoperative period following cardiovascular surgery.

The majority of the patients have undergone surgery for coronary artery bypass grafts (CABG) and valve repair/replacement. Advanced therapies include LVADs, , IABP, CRRT , ECMO and Arctic Sun.

Heart Failure and Transplant Unit
21-bed unit specializing in the care of the congestive heart failure with advanced therapy, including the left and right ventricular assist device (VAD), pre- and post- heart transplant patients and pulmonary hypertension patients.

Three types of FDA approved ventricular assist devices (VADs) available. A multidisciplinary approach is utilized to provide comprehensive care to the Advanced Heart Failure Patient.

Cardiac Catheterization and Electrophysiology Labs

Cardiac Catheterization
11 cardiac catheterization procedure labs, and pre- and post- procedure holding areas, performing more than 19,000 interventional heart procedures including percutaneous valve repairs and more than 1,800 open heart surgeries each year.

The Jesse Ball DuPont Fund has recognized Washington Hospital Center as one of the busiest cardiac catheterization programs in the country.

Electrophysiology (EP) Laboratory
Contains four labs, one tilt room and both invasive and noninvasive cardiology services. The EP lab is undergoing a multi-million dollar renovation which will open in 2013. Advanced EP technologies such as ICD placements, ablations and other treatments are performed.

Medical and Surgical Cardiology Units

Surgical Cardiology
30 cardiac surgical stepdown beds (4NW) includes post cardiac and thoracic surgical patients and 31 beds dedicated for surgical and interventional vascular care ( 4 F).

Nurses care for patients that have undergone acute surgical procedures that warrant astute clinical assessment skills and interventions.

Medical Cardiology
61 beds, with the majority patients admitted from the catheterization lab, the electrophysiology lab and the coronary care unit. The most frequent diagnoses are coronary artery disease (CAD), severe heart failure, resuscitation from sudden death, arrhythmias and conduction changes, PVD, carotid artery disease and patients awaiting heart transplantation. Patients require advanced treatment (e.g., IV vasoactive medications).

Short Stay Observation

4E is a 32 bed medical observation receives patients from the Emergency Department who require further diagnostic studies. Patients needing further care are admitted. Those who can be managed on an outpatient basis are discharged to home.

Women's and Infants' Services

Women's Services perform an average of 4,000 deliveries each year. With our nationally-recognized NICU, patients with high-risk pregnancies and complex circumstances receive expert, compassionate care. Our unique program, Special Moms and Special Babies, coordinates the delivery of mothers whose babies require more specialized care by Children's National Medical Center, including conjoined twins, cardiac abnormalities and other conditions requiring neonatal surgery immediately after delivery.

The Women's and Infants' Services team has been acclaimed for several evidence-based perinatal safety projects, including critical event team training, daily multi-disciplinary huddles and extensive advanced education for all patient care providers. Additionally, several members have presented innovative posters and given lectures at local and national nursing conferences, and this team includes nationally-published authors and researchers. The successful, interdisciplinary labor and delivery council provides shared governance, empowering unit staff to identify issues, then develop and implement strategies to improve all aspects of patient care.

Nursing residencies cover the spectrum of our women's and infants' services, and include AACN-courses in fetal monitoring and advanced practice strategies' modules, labor support, high-risk pregnancies and deliveries, circulating in the operating room, certification in neonatal resuscitation, breast feeding, postpartum care of mothers and normal neonates and care of preterm or sick neonates.

Labor and delivery

The labor and delivery suite consists of four observation/triage rooms, three observation/recovery rooms, 12 labor/delivery/recovery rooms, three operating rooms and one observation/recovery area with five bays. Nurses provide proficient, compassionate family-centered care for women 16 weeks pregnant and beyond. We provide comprehensive clinical care and support for antepartum, intrapartum, and postpartum patients with needs that range from uncomplicated to those with the most complex physical and emotional issues. These include patients with mild to severe preeclampsia, diabetes, kidney disease, cardiac disease, hematologic/oncologic disease, obesity, congenital disorders, etc.

Working collaboratively with Children's National Medical Center, our "Special Moms, Special Babies" program coordinates the deliveries of babies requiring the immediate attention of the specialists at CNMC.

We have an extensive bereavement program for patients and families experiencing fetal or neonatal loss. Our nurses are trained to circulate on surgical cases, including Caesarian sections, tubal ligations, and D and Cs, as well as recovering these patients, including those who have received general anesthesia.

Mother/Baby and High-Risk Antepartum

These inpatient units include 36-bed ante-partum and post-partum units and a 17-bed newborn nursery. Nurses provide both ante-partum and postpartum care on both units. We provide care for diabetic patients, preterm labor surveillance, gestational hypertension surveillance and other conditions that require acute or extended hospitalizations.

We offer an environment where there is a family centered focus with great emphasis on providing excellent support and education to the mother and family in the care and well being of the newborn. We provide excellent support and education in exclusively breastfeeding to provide the very best start for our smallest patients. The nursing staff is supported by the clinical expertise of Clinical Care Facilitators (CCF).

Newborn Nursery

The newborn nursery is used for normal newborns undergoing assessments and procedures (such as circumcision), as well as the care of newborns with hyperbilirubinemia & other minor complications.

Neonatal Intensive Care Unit
Level III NICU (Neonatal Intensive Care Unit) and Intermediate Care Nursery

There are 36-beds Level III NICU providing care for neonates with gestational age range from 23- weeks to full term (40+ weeks) neonates. The primary diagnosis is prematurity, respiratory distress, resulting in infants requiring ventilator support, incubator support, cardio-respiratory monitoring and frequent observation. Care is also provided to neonates with presumptive or diagnosed sepsis, aspiration pneumonia, gastrointestinal diseases, reflux, feeding difficulties and other disease processes.

Newborns are admitted from the Labor and Delivery Suite. Infants requiring surgical intervention are transported to Children's National Medical Center by their medical team. Siblings are allowed scheduled visits.

High Risk Perinatal Clinic

Our team of well-respected perinatologists, genetic specialists, sonographers and nurses provide highly-specialized outpatient care and consultation to women with medically and/or emotionally complicated pregnancies with dignity and respect.

OB-GYN Clinic

The OB-GYN clinic provides primary care and ambulatory diagnostic, treatment and education; pre/post natal services to normal and high risk pregnancies and OB-GYN care to women of all ages. Patients are referred as inpatients, by their physician or make an appointment on their own.

The OB-GYN services include colposcopy, infertility, family planning, post menopausal and urogynecology services. The OB-GYN clinic provides services to high risk groups, such as gestational diabetics and those with HIV infection.

For more information. please contact Human Resources at 202-877-7447.

Nurses are a critical member of the multidisciplinary team in the Ambulatory Care Areas. Nursing care is provided by the clinical nurse coordinators who coordinate assessment and care of patients, and supervise the Medical Assistants who provide much of the direct patient care. The clinical nurse coordinators assess and educate patients, troubleshoot problems, coordinate care for patients and serve as a liaison between clinical staff and patients and community resources. Other services provided by referral include nutritional assessment and counseling, psychiatric assessment and counseling, MedStar Health Home Care, home infusion, PT, OT and speech therapy. Nurses assist with specialized procedures which are performed in the clinic areas such as IV infusions of iron and infliximab, endocrine testing, and oral surgery procedures.

Patient education is an important component of care provided in the ambulatory care, with most education provided one-to-one, based on assessment of patient needs and possible barriers to learning. Services also include patient education and information packets, resource materials and support group information. Group classes for diabetic patients are provided in the Medical Ambulatory Clinic, which are linked to the inpatient and home care diabetic teaching program. Preoperative education is provided in the Surgical Clinic. The transplant clinic provides specialized education and patient support groups.

Ambulatory Care

Provides diagnostic and therapeutic services, interdisciplinary care coordinator, patient education and community support services, and palliative and supportive care.

Medical and Medical Specialties Clinics

Provides interdisciplinary primary care for adult patients in the ambulatory arena. In addition to the general medical clinics, there are specialty clinics for Rheumatology, Geriatrics, Endocrinology, Cardiology, Pulmonary, Nephrology, Infectious Disease, and Gastroenterology. A special team approach has been established for managing the care of patients with the diagnoses of CHF, Stroke, Diabetes, and HIV.

Oral Surgery Clinic

Provides comprehensive oral surgery health care that includes evaluation, immediate care, pre- and post-operative care out-patients. The range of services extends from the management of simple tooth abscesses to the replacement of teeth with dental implants, to the treatment of severe facial infections, facial trauma, facial malformation, and tumors of the jaw.

Surgical Clinic

The surgical clinics provide management of those patients that are pre- and post-surgical procedures, as well as ambulatory diagnostic, treatment and education to patients with a variety of problems. The surgical clinic offers programs in orthopedics, general surgery, urology, bariatric plastics, ostomy, neurosurgery, vascular, podiatry, trauma and pain.

ENT Clinic

The ENT Clinic provides surgical pre and postoperative follow-up and ambulatory diagnostic; treatment and education. Patient's ages range from adult to geriatric adult. Patients are referred with a wide variety of ear, nose and throat problems. Many patients have multiple or chronic medical and social problems, which experience frequent hospitalizations, and are followed in more than one clinic at MedStar Washington Hospital Center

Transplant Clinic

Provides care for both pre and post transplant patients. The multidisciplinary team provides:

Recipient evaluation, education and preparation for kidney transplantation.
Living donor evaluation and advocacy, education and preparation for kidney donation.
Recipient follow-up care, education and services.
Patient registration on the national waiting list.
Clinical coordination with organ procurement organizations to obtain suitable organs for recipients.
Professional and community education programs regarding transplant and organ donation.
Patient support group, advocacy and community involvement.

For more information. please contact Human Resources at 202-877-7447.
Quality Safety and Education
The Department of Nursing is focused on ensuring that professional nurses have the support and resources to practice safe, evidenced based nursing care. Whether you are a new graduate or an experienced professional you will be supported from your first day of employment at MedStar Washington Hospital Center.
Our nurse leaders and nurse educators have developed orientation programs that are tailored to meet each nurse's needs.

Our new graduate residency program is evidence based. Each new graduate is assigned a clinical coach who will provide mentorship and guidance throughout the year long program. The new graduate will attend monthly 8 hour classes during the first three months and will have the ability to practice new skills in a safe clinical simulation environment. Following the first 12 week period, the new graduate will be ready to assume an independent patient assignment, but will still have a mentor and will attend monthly classes to help the transition of becoming a professional nurse.

Our experienced nurses may be hired into one of our bridge programs: Critical Care, Emergency Department, Women's and Infants, or Perioperative. These programs are modeled after those developed by the professional associations. Each nurse will be assigned a coach. Each program has a didactic component, many including online modules, hands on skills and simulation exercises. The Perioperative Bridge program is 6 to 12 months in length. The length of the Critical Care, Emergency Department and Women's and Infants programs is dependent upon the nurses' clinical performance and may be shortened or extended as their ability warrants. Nurses hired into specialty areas (e.g. cardiac catheterization lab, EP lab, hemodialysis, interventional radiology) will receive a personalized orientation based upon their prior experience.

Experienced nurse educators are critical to ensuring the success of all the orientation programs. They are available to the new hire not only during the orientation process, but afterwards as well. In addition, all of our professional nurses can expect to receive support both during and following orientation from our nursing leaders, including the nursing director, assistant nursing director, clinical care facilitator, nurse educator and clinical specialist.

Clinical Quality and Safety

Our focus on safe, quality care is unrelenting. There are many available decision support tools which support the nurse in providing safe, quality patient care. These include our electronic medical record, Mosby Skills and Consult, and other online resources to develop a plan of care. Professional development opportunities include access to on line continuing education modules, SiTEL online courses, access to the clinical simulation center, and on-site courses. Additionally, clinical nurses receive reimbursement for conferences and generous tuition reimbursement for college courses leading to an advanced degree.

There are many roles that support the development of the clinical nurse and help ensure the delivery of competent, caring, collaborative and innovative care.

The nursing care delivery model at MedStar Washington Hospital Center uses clinical nurse experts or Clinical Care Facilitators (CCF) to ensure that the care received by the patient is safe and achieves the highest outcomes. The CCF functions in three specific roles: clinical leader, clinical mentor, and lateral integrator.

The CCF collaborates with all members of the health care team and supports nurses at the point of care to develop a personalized plan of care for each patient. The clinical care facilitator is in a unique position to not only influence patient outcomes but to be a role model and positively influence the practice of nursing.

The Clinical Specialist is service line based and is responsible for ensuring that clinical nursing practice is current and evidence-based. The clinical specialist assesses clinical practice standards and clinical programs, monitors emerging technologies and practices and then collaborates with the health care team to implement new standards, programs and practices. In addition, the clinical specialist monitors nurse sensitive indicators and develops corrective action plans to address areas of concern. The clinical specialist is always available as a consultant to the nurse at the point of care.

The Nurse Researcher works collaboratively with nurses in a variety of practice settings as well as the clinical specialists and the Nursing Research Council to ensure that nursing practice is evidence based. He or she also serves as a resource to nurses interested in developing original nursing research.

Performance improvement and regulatory/accreditation compliance are essential to ensuring safe, quality care.Quality Specialists are charged with ensuring that nurses at the bedside are familiar with the regulatory/accreditation requirements and are knowledgeable about the policies and practices that have been put into place to ensure compliance. In addition, nurses are actively involved in performance improvement teams charged with reducing harm to our patients.

The Nursing Informaticists support nursing practice through the implementation and development of tools used at the point of care, including the electronic medical record.
Schools of Nursing Collaborations
MedStar Washington Hospital Center is committed to the nursing profession and has a long history of providing clinical experiences to undergraduate and graduate nursing students. To this end, the Hospital Center is receptive to providing clinical opportunities to staff/nurses who are pursuing higher degrees and to schools of nursing pursuing affiliations with our institution.
MedStar Washington Hospital Center Nurses Seeking Practicum Experience provides information for nurses employed at the Hospital Center who are enrolled in graduate programs for clinical specialists, administration, education, and informatics. Learn more about the practicum experience at the Hospital Center.
Please note that if you are a MedStar Washington Hospital Center staff nurse enrolled in NP, CRNA or CNM programs you should arrange your clinical hours through GME (Graduate Medical Education).
External Schools of Nursing provides information for schools of nursing that are interested in pursuing an affiliation agreement with the Hospital Center and schools of nursing with affiliation agreements with the Hospital Center that are requesting clinical site placement at the Hospital Center.
To begin the process of securing a practicum experience at MedStar Washington Hospital Center, you must determine whether the Hospital Center has an affiliation agreement with the school of nursing that you are attending.

Please see below for list of Hospital Center existing affiliation agreements with schools of nursing.

Catholic University of America
Chamberlain College of Nursing
George Mason University
Georgetown University
Howard University
Johns Hopkins University
Loyola University New Orleans
Marymount University
Trinity Washington University
Vanderbilt University
Washington Adventist University

Existing Affiliation Agreements

If you are attending a school with an existing affiliation agreement, we can proceed with processing your request. Please send the following information to schoolcollaborations@medstar.net:

Name of the school of nursing
Course information/syllabus
Number of required clinical hours
Approximate start date

If you wish to request a specific individual at the Hospital Center as your mentor/preceptor please send this information as well. Wait until you receive a response from us before contacting a mentor/preceptor. We will finalize your request with the mentor/preceptor then you can contact him or her.

Please allow at least 4 to 6 weeks for this process.

If the school of nursing you attend is not listed on the Existing Contract list, please contact us at schoolcollaborations@medstar.net.

Please note: If no contract exists, establishing a contract will take at least 4-6 months.

Seeking Collaborations

Schools of nursing that wish to establish affiliation agreements with MedStar Washington Hospital Center need to answer the following questions and submit answers by email to schoolcollaborations@medstar.net:

Is your nursing program accredited by the NLN (NLNAC) and /or AACN (CCNE)?
Are you pursuing clinical experiences for BSN or MSN students?
Do you require master prepared faculty nursing supervision for your undergraduate nursing students? (Faculty should have MSN or BSN with MBA or MPH)
For senior preceptorship, do you have nursing faculty oversight with faculty site visits?
For graduate students, do you have either master prepared or doctorate nursing faculty oversight? ( i.e. faculty member communicates directly with preceptor a minimum of 3 times during the preceptorship)

Please note: Your request/affiliation agreement may take up to 6 months to complete.

While the Hospital Center welcomes your requests and is committed to being a premier site for school placements, your affiliation does not guarantee placement.

Requesting Placement

Requests for clinical placement must be submitted in advance on or before the designated due dates.

Fall semester requests: May 1st
Spring semester requests: October 1st
Summer semester requests: February 1st

Requests [pdf] must be submitted to schoolcollaborations@medstar.net by the school clinical coordinator.

The Hospital Center will notify schools of nursing about available clinical sites within 30 days of the designated due date.

Please insure that school clinical coordinator and clinical faculty are familiar with the Hospital Center Faculty/Nursing Guidelines for Clinical Rotations Policy [pdf].

Clinical coordinators must download and complete the Certification of Student Requirements and Confidentiality Statement forms and submit it to schoolcollaborations@medstar.net.

Please insure that clinical faculty and nursing students have completed all requirements. A Checklist is provided within the Faculty/Nursing Guidelines policy.

All required clinical clearance information and must be completed prior to entering clinical site.

Failure to submit documents in advance will result in dismissal of part or all of clinical group including clinical instructor from the Hospital Center campus.

Please refer to Timeline tool (in policy) for dates to complete pre-entry tasks and verification. Adhering to the timeline is essential to secure clinical placement. Failure to meet any deadline may jeopardize placement.

Clinical Faculty Orientation

Faculty orientation is held twice per year (once prior to Fall and to Spring semesters).

Faculty orientation is mandatory for all clinical faculty and must be repeated every 2 years.

The Hospital Center will communicate with clinical coordinators regarding orientation dates and enrolling clinical faculty in orientation.

Please direct any questions to schoolcollaborations@medstar.net
MedStar Washington Hospital Center's Nurse Residency program provides support to new graduates as they transition to professional practice. The program is designed to provide each nurse with the tools necessary to deliver safe, effective, and competent high-quality patient care.
The Nurse Residency program is managed by experienced clinical educators who facilitate both classroom and clinical orientation components. Our dedicated educators provide participants with an exceptional level of individualized attention throughout the residency program.
Program Objectives
Bridge gaps in graduate nurses' clinical skill set
Connect book knowledge to real-life clinical challenges
Ensure ongoing support from leadership and peers
Incorporate evidence-based practice into patient care
Develop professional communication strategies for collaborative practice
The Residency Program Includes:
Classroom instruction specific to the clinical area using a focused case study approach to learning
Use of clinical simulation to foster effective critical thinking skills
Clinical preceptorship under the guidance of an experienced clinical coach
Ongoing continuing education and professional development opportunities
Dedicated nurse educators are available both during and following the program
For more information, please contact Human Resources at 202-877-7441.
Senior Nursing Leadership
Tonya Washington, MSN, RN, NEA-BC

Senior Vice President, Chief Nursing Officer

Tonya R. Washington, MSN, RN, is senior vice president and chief nursing officer, MedStar Washington Hospital Center. Washington has played an important Nursing leadership role at the Hospital Center for more than 20 years, first joining as a clinical manager, and later, head nurse of Pulmonary Medicine, followed by her role as head nurse, Cardiology. She was promoted to senior nursing director for Medical Surgical Nursing in 2008, and became assistant vice president of Nursing in March 2010. She served as interim chief nursing officer from July 2010 to April 2011, when she was named vice president for Nursing Operations.

Washington has more than two decades of experience in key hospital service lines. Her contributions to the Hospital Center include the Pathway to Excellence® designation from the American Nurses Credentialing Center (ANCC) in 2017. Pathway-designated entities are considered among the best places for nurses to practice, and only 152 of 5,500 hospitals nationwide are Pathway-designated. Other recent accomplishments include securing national designations for Baby-Friendly® and Nurses Improving Care for Healthsystem Elders (NICHE), as well as accreditation of the hospital's Nurse Residency Program by the Commission on Collegiate Nursing Education.

Washington was a member of the inaugural cohort of the MedStar Leader of the Future: Nursing Leadership Development Program. She is a member of the District of Columbia Organization of Nurse Executives and the American Organization of Nurse Executives.

Vice President, Nursing Operations

Ariam Yitbarek, MS, BSN, received her BSN from the University of Maryland and her MS in Health Systems Management from George Mason University. Her primary area of expertise is in interventional cardiology, cardiothoracic surgery, heart failure, heart transplant and medical-surgical nursing. Ariam has 15 years of experience as a nurse. She started her career as a staff nurse at Mercy Hospital in Baltimore. She came to MedStar Washington Hospital Center in 1998 to work on the Cardiac Surgery Step-down Unit. She was promoted to Clinical Manager in 1999, and became a nursing director of 4E in 2004. She became senior nursing director of Medical-Surgical Services and Medical-Surgical Specialties in 2009. In 2013, Ariam assumed responsibilities in a new area, Women's & Infants' Services and Ambulatory Nursing. She has since assumed additional responsibilities, adding Emergency Department to her scope of service in 2017. Ariam is a member of the Association of Nurse Executives, American Academy of Ambulatory Care Nursing and Association of Women's Health, Obstetric and Neonatal Nurses.

Michael Clarke, MBA, BSN, RN-BC, NEA-BC

Vice President, Nursing Excellence and Organizational Transformation

Michael Clarke, MBA, BSN, RN-BC, NEA-BC, is the Vice President, Nursing Excellence and Organizational Transformation.

Clarke came to nursing as a second career after 10 years of project management experience in the financial services industry. His clinical expertise includes cardiac surgery, heart failure, medical cardiology and interventional cardiology. He began his nursing career at MedStar Washington Hospital Center on the Cardiac Surgery Step-down Unit. In 2013, Clarke became an Assistant Nursing Director and was later promoted to Nursing Director of the Medical Cardiology and Cardiac Observation units.

As Director of Nursing Professional Development for MedStar Washington Hospital Center since 2015, Clarke played a vital role in leading the organization's Nurse Residency Program to a successful accreditation by the Commission on Collegiate Nursing Education (CCNE). He also oversaw the modernization and expansion of the Center for Excellence in Nursing to include high fidelity simulation, a state-of-the-art Operating Room Simulation space, and the renovation of the Center for Excellence in Nursing Auditorium.

Clarke holds a Bachelor of Science in Nursing (BSN) from Georgetown University and a Master of Business Administration (MBA) from Indiana University South Bend. He is certified as a Nurse Executive and in Nursing Professional Development by the American Nurses Credentialing Center. He was recognized as an Aresty Scholar for his commitment to professional development by the Aresty Institute of Executive Education at Wharton, University of Pennsylvania.

Sara Groff, MSN, CMSRN, RN-BC

Senior Nursing Director, Surgical and Oncology Services

Sara Groff, MSN, CMSRN, RN-BC, is the Senior Nursing Director for Oncology and Surgical Services. Her responsibilities include oversight over nursing operations and clinical practice of all inpatient surgical and oncology specialty nursing units, IV therapy, and partnering with our dialysis services team.

Groff has been with MedStar Washington Hospital Center for more than nine years, serving as a frontline clinical nurse, unit-based leader in Medical-Surgical nursing, and, most recently, as the Nursing Professional Practice Program Specialist in Nursing Professional Development. In that role, Groff identified opportunities for ongoing leader and staff development and for enhancing the nurse practice environment. Groff led the Hospital Center to becoming the first acute care hospital in Washington, D.C. to achieve the American Nurses Credentialing Center's Pathway to Excellence® designation in 2017. In addition, she served as the collaborative governance facilitator for the Professional Development Council and is a member of the healthcare equality task force.

Groff earned her MSN in Innovative Nursing Practice in 2018 from Drexel University in Philadelphia. She is a member of the Academy of Medical-Surgical Nurses, the Mennonite Health Fellowship, and the Association for Nursing Professional Development. Sara received her Bachelors of Science in Nursing with a focus in conflict studies from Goshen College in 2009.

Janice North Saale, MSN, RN

Senior Nursing Director, Critical Care, Neurosciences & Emergency Services

Janice North Saale, MSN, RN, is senior nursing director, Critical Care, Neurosciences, and Emergency Services at MedStar Washington Hospital Center. She is responsible for resource and capacity management in the Department of Nursing, and oversees nursing supervisor and nurse responder teams.

Nursing is a second career for Saale, who first earned a BA in Journalism and Mass Communication from Drake University. She spent several years in hospital and corporate communications and public affairs roles before earning a BSN from the University of Maryland in 2002.

Saale came to the Hospital Center in 2003. Her nursing expertise includes critical care nursing and leadership. She has served as a critical care educator and manager, inaugurating the clinical care facilitator role for the ICUs at the Hospital Center. She was appointed nursing director of the neurological ICU and Stroke Center in 2010, and moved into the Senior Director role in 2015.

Saale earned an MSN from Loyola University in New Orleans in 2014, with a focus on healthcare systems management.

Rachel Watkins, MBA, BSN, RN, PCCN

Senior Nursing Director, Medical and Behavioral Health Services

Rachel Watkins, MBA, BSN, RN, PCCN, is the senior nursing director, Medical and Behavioral Health Services, at MedStar Washington Hospital Center. She is responsible for overseeing the operational and clinical performance of the Medical and Behavioral Health division, which includes seven medical units and four surgical units. She also has oversight for dialysis services and behavioral health.

Watkins began her nursing career in the MedStar Washington Emergency Department, where she piloted a program that cross-trained emergency nurses for working in the Level 1 Trauma Center. She also worked as a critical care nurse and as a forensic nurse examiner, collecting forensic medical evidence and serving as an expert witness in court. She moved into nursing leadership at MedStar Washington in 2015, serving on several units including as the interim nursing director for Medical Behavioral unit 2C, before becoming the nursing director of medical unit 4C, which was the only dedicated COVID-19 unit throughout the pandemic.

Watkins has developed and published research on strategies for nurse retention and engagement. She won Washingtonian magazine's Excellence in Nursing Award in 2021 and the Nurses' Choice Exceptional Nurse Leader Award in 2018. She currently serves on the Board of Directors of the District of Columbia Forensic Nurse Examiners, where she chairs the committee on diversity, equality and inclusion.
Watkins holds a Bachelor of Science in Nursing degree from Villanova University and a Master in Business Administration from the University of Maryland Global Campus. She completed the MedStar Health Nurse Leader Development Program in 2020.

Karen Wyche Latham, MSN, BSN, RN

Senior Nursing Director, Resource and Capacity Management

Karen Wyche Latham, MSN, BSN, RN, is the Senior Nursing Director for Resource Management at MedStar Washington Hospital Center. She is responsible for patient care services, all Nursing Office operations, supplemental staffing and oversees the RN, unit clerk and patient care technician float pools. She also oversees capacity management.

Originally from Cleveland, Ohio, Wyche Latham spent a portion of her career at the renowned Cleveland Clinic before relocating to the Washington, D.C. area and beginning her career at the Hospital Center as a medical surgical nurse on Unit 2D in 1995. Her experience includes perioperative services, and she opened the first Short Stay Unit in 1998. In 2007, Wyche Latham transitioned to the Nursing Supervisor role, where she spent several years learning operations and was instrumental in the initial design of the Biocontainment Unit, developed in 2015 in response to worldwide concern about caring for patients with Ebola. In 2014, Wyche Latham assumed the role of Nursing Director of Capacity Management, and assumed responsibility for Nursing Office operations, supplemental staffing and patient care services. In 2016, she was awarded a Nurse Manager Fellowship by the American Organization of Nurse Executives (AONE) and the Leader of the Quarter Award from the MedStar Washington Hospital Center Board of Directors.

Wyche Latham received her BSN from the University of Toledo and her MSN from George Mason University. She is a member of the American Organization of Nurse Executives and Sigma Theta Tau International, Honor Society of Nursing.

Cassandra Lawrence, MSN, RN

Senior Nursing Director, Perioperative Services

Yelena V. Tuerk, DNP, MBA, RN, NEA-BC, CNRN

Senior Nursing Director, Women's & Infants' Services and Ambulatory Care