Oncological Surgeons | MedStar Health
The best cancer hospitals combine compassionate, expert care with cutting-edge treatments. At MedStar Health, patients enjoy the best of both worlds. If you or a loved one requires surgery for cancer, you want the most experienced doctors and state-of-the-art treatment options. Our surgical oncology team is composed of leaders in their field, and each board-certified team member has undergone several years of specialty training to become highly specialized in cancer surgery.
Our surgical oncologists participate in cutting-edge clinical trials and have helped to develop some of the most advanced procedures used today. Our team performs specialized treatment procedures, such as cytoreductive surgery with hyperthermic intraperitoneal chemotherapy (HIPEC), a treatment option performed in only a few hospitals in the country and the world.
The surgical oncology team at MedStar Health works together and with a multidisciplinary team of expert specialists to develop the best possible treatment plan for your individual case. Our treatment recommendations are based on the latest research, and we work with you and your family to ensure that your course of treatment is right for you.
Our surgical oncology team welcomes the opportunity to provide a second opinion, if you receive a diagnosis elsewhere. .
Services we offer
Intraoperative heated chemotherapy/hyperthermic intraperitoneal chemotherapy (HIPEC): One of the most advanced treatments available today, HIPEC is a heated, highly concentrated chemotherapy treatment that is delivered directly to your abdomen during surgery. Unlike traditional chemotherapy, which travels throughout your body, HIPEC delivers chemotherapy to your abdomen only, allowing for higher doses.
Cytoreductive surgery: During this surgical procedure, your specialist removes part of a malignant tumor that cannot be completely removed. The procedure helps to enhance the effectiveness of radiation or chemotherapy.
Cancers we treat
Peritoneal surface malignancies/peritoneal carcinomatosis
Appendix cancer
Advanced colon cancer/stage IV colon cancer
Advanced gastric cancer
Mesothelioma
Sarcoma
Gastrointestinal malignancies

See case study
Meet Dr. Ihemelandu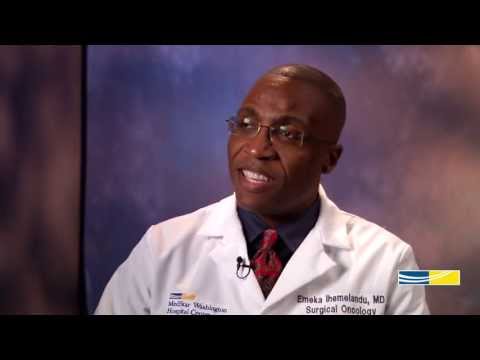 Expert oncology care
Getting the care you need starts with seeing one of our oncologists.