Pancreas Transplant Evaluation & Process | MedStar Health

Why choose MedStar Georgetown Transplant Institute for your pancreas transplant?
The MedStar Georgetown Transplant Institute pancreas transplant program is a national leader in pancreas and combined pancreas and kidney transplants for people with type 1 and type 2 diabetes.
A leader in volumes and outcomes: Ranked in the top 10 of all U.S. programs every year in number of transplants performed and outcomes
Experience and expertise: Dedicated team of experienced pancreas transplant surgeons who are internationally known experts in the field
More experience and success treating complex patients: Successfully treated many patients turned away by other programs
Shorter wait times: Wait times shorter than other programs for kidney/pancreas and pancreas transplantation
More transplants for patients with type 2 diabetes: Perform more pancreas transplants and combined pancreas and kidney transplants for patients with type 2 diabetes than other programs
A center of excellence for pancreas transplantation for most insurance networks: And the only Kaiser referral center in the Mid-Atlantic region
Understanding pancreas transplantation
Your pancreas is the organ located behind the lower part of your stomach. One of its main jobs is to make insulin, a hormone that regulates the levels of glucose (sugar) in your body.
When your pancreas no longer works properly, your doctor may recommend pancreas transplantation. This procedure is used to treat type 1 and type 2 diabetes that has not been successfully controlled with medical treatment and is causing complications such as damage to your kidneys, nerves, and eyes or frequent dangerous low blood sugar levels (hypoglycemia).
Pancreas transplant evaluation
Before you can be listed for pancreas transplantation, you'll go through an evaluation to assess whether pancreas transplant is a good option for you. The evaluation includes:
Education about the benefits and details of pancreas transplantation and a meeting with our transplant physicians to answer your questions
Review of your medical history
Physical examination
Psychosocial evaluation with a transplant social worker to make sure you'll have the support you need during and after the transplant process
Meeting with our financial counselor to make sure you are fully covered for your transplant and post-transplant expenses
Blood tests for tissue typing and antibody screening and to check the function of your heart, liver, and immune system, and screen for certain diseases
Heart tests
Chest X-ray
Dental exam
Cancer screenings
Gynecological exam for women
Nutrition evaluation
Additional testing may be needed, depending on your health and other conditions you're living with.
After a successful evaluation, you will be placed on the transplant waiting list and you'll be notified that you're on the list. During your time on the waitlist, it's important to keep yourself as healthy as possible.
Pancreas transplant surgery
During the surgery, the surgeon places the donor pancreas in the right side of your abdomen and connects it to other organs. A piece of the small intestine comes attached to the donor pancreas. This is sewn to your small intestine so digestive enzymes from the donor pancreas can drain into your small intestine, helping with digestion.
The surgeon does not remove your original pancreas. It remains in place to help with digestion. After the transplant, your new pancreas makes insulin, so you no longer need to take insulin.
Combined kidney and pancreas transplant
For people with kidney failure caused by diabetes, a combined kidney-pancreas transplant may be an option. During the operation, surgeons simultaneously transplant a kidney and a pancreas into the patient.
Following combined kidney and pancreas transplantation, the kidney will filter waste so you no longer need dialysis. The transplanted pancreas will produce insulin to control the diabetes and protect the new kidney, helping it to work better and last longer.
Recovery after surgery
After surgery, you'll go to the inpatient transplant unit where you'll take medicines to prevent infections and rejection of your new pancreas. Your doctor will check for possible problems such as clotting, major bleeding, or pancreatitis.
Your pain will be controlled with medications, and we will do everything we can to make sure you are as comfortable as possible. Most transplant patients have a significant reduction in pain during the first few days after surgery.
During your hospital stay, you learn how manage your everyday care and keep your new organ healthy. You will be encouraged to get out of bed at least three times a day and walk around your room and the halls. This increases your circulation and helps healing.
You need to stay in the local area for four to six weeks after discharge for monitoring.
After they recover from pancreas or combined pancreas and kidney transplant, most patients report that not only their health, but also their quality of life improve a great deal compared to life before their transplant.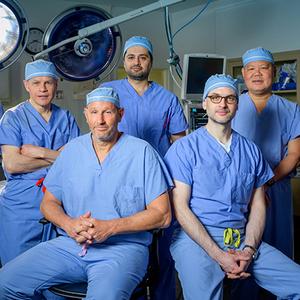 Pancreas transplant team
Getting the care you need starts with seeing one of our providers.
Additional information
Transplant clinic lab hours
Monday: 7:30 am to 4 pm
Tuesday: 7:30 am to 4 pm
Wednesday: 9 am to 6 pm
Thursday: 7:30 am to 4 pm
Friday: 7 am to 3:30 pm
Research and clinical trials
Research is a critical part of what we do at MedStar Georgetown University Hospital. Learn more about our research on treating and managing advanced disease and transplantation surgery.
Patient resources
Videos
Marhea Ruzanic's story

Ask Dr. Abrams

Celebrating a new life without diabetes