Small Bowel Transplant |Center for Intestinal Care and Transplant |MedStar Health
Small bowel transplant at the Center for Intestinal Care and Transplant
The Center for Intestinal Care and Transplant at MedStar Health, the only program in the nation's capital and one of only a few Medicare-approved centers nationwide, offers new and successful surgical and medical options for adults and children suffering from disabling and life-threatening intestinal disorders and liver disease. Once considered experimental, intestinal transplantation is now an important surgical therapy.
To learn more, please call 202-444-0766.
About the Center for Intestinal Care and Transplant at MedStar Health
Patients with small bowel disease may need to consider a small bowel transplant or intestinal surgery. In a small bowel transplant, the diseased portion of the small intestine is removed and replaced with a healthy small intestine from a donor. This procedure can be life-saving for patients with irreversible intestinal failure that has become life-threatening. Learn more about small bowel disease.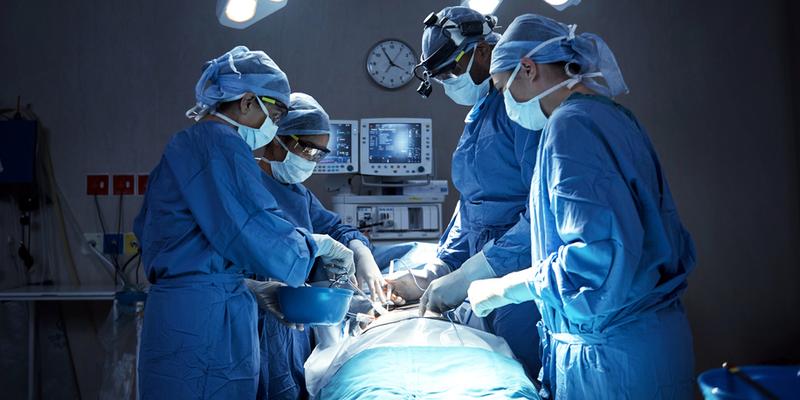 Why choose MedStar Health for my small bowel transplant?
Expertise: Our small bowel transplant team performs approximately 20% of all small bowel transplants in the U.S.

Teamwork: Our staff displays remarkable teamwork and offers patients the best possible care from a transplant team of different health professionals.

Availability A transplant surgeon is on call 24 hours a day, seven days a week to evaluate organs for potential transplantation.

Outcomes: Adult patient one-year survival rate is 79.71%, compared to 77.15% nationally. Pediatric patient one-year survival is 94.12%, in contrast to 84.59% nationally.
Evaluation - small bowel transplant
Evaluation is a necessary stage of the transplant process, as it is used to determine a patient's eligibility for the procedure. MedStar Health's intestinal transplant team conducts a thorough evaluation that covers a span of three to five days. During the assessment, the team reviews the patient's medical history, conducts a physical assessment, and performs a series of tests.
Learn more about the small bowel transplant evaluation process.
Small bowel transplant process
During a small bowel transplant, the small intestine is surgically removed and replaced with a healthy organ. The blood vessels of the patient and donor intestine are connected to establish a blood supply to the transplanted intestine. The donor intestine is then linked with the patient's gastrointestinal tract.
Ileostomy
An ileostomy is performed to allow body waste to pass directly out of the body and empty into a pouch. It surgically creates an opening through which the ileum, a section of the small intestine, is brought up through the abdominal wall. In time, most patients are able to have the ileostomy closed.
Small bowel transplant recovery
Most small bowel recipients spend several weeks in the hospital. Physicians closely monitor small bowel recipients for signs of organ rejection, infection, or other complications.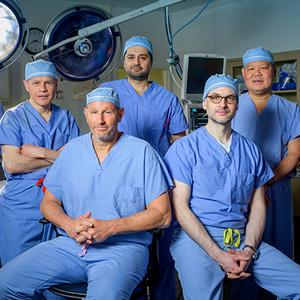 Expert transplant care
Getting the care you need starts with seeing one of our transplant specialists.
Frequently asked questions
What is intestinal failure?

Intestinal failure is the loss of the absorptive capacity of the small bowel. A common cause for children is short gut syndrome, a congenital disorder in which an infant's intestine is too short or underdeveloped to allow normal food digestion. Among other causes are abdominal trauma, Crohn's disease, thrombotic disorders, and surgical adhesions.

What causes intestinal failure?

Intestinal failure can be caused by disease or by trauma, which affects how the intestine absorbs nutrients or moves food through the intestinal tract. If the intestine structure is damaged, or there is a problem with the blood supply to the intestine, a transplant may be necessary to repair the damage and restore proper functioning.

What is small bowel transplant and how does it help the patient?

Small bowel transplant is the transplantation of an intestine to an individual with irreversible intestinal failure. The purpose of this transplant is to restore intestinal function. It is used to treat intestinal failure when other treatments, such as parenteral nutrition (intravenous tube feeding or TPN), are not successful.

What are the survival rates for small bowel transplants?

The three-year survival rate for intestinal transplant patients is 70 percent and greater.

How is small bowel transplantation performed?

Small bowel transplantation can be performed in one of three ways: alone, in combination with the liver or multi-visceral (i.e., with one or more of the following: liver, pancreas, stomach, duodenum, intestine, and colon).

How can I qualify for small bowel transplantation?

The individual must have none of the following for any small bowel transplantation:

Life expectancy of fewer than five years due to age-related debilitation and co-morbidities

Ability to ingest oral nutrition

Unresectable malignancy

Serious, uncontrolled psychiatric illness that would hinder following directions with any stage of the transplant process

Neurologic illness independent of the disease process being treated

Drug or alcohol addiction

HIV (positive)

Active and/or life-threatening infection

Severe body/organ system disease unrelated to transplanted organ

Compromised cardio-pulmonary function unrelated to transplanted organ

Inability or unwillingness of the individual or legal guardian to give signed consent and to comply with regular follow-up requirements
Patient stories
Freedom to Dance: Emily Parks' Story

Emily had relied on IV nutrition therapy her entire life, until, at age 28, she received an isolated small bowel transplant at MedStar Georgetown Transplant Institute. After college, she moved to the D.C. area and came to MedStar Georgetown to continue receiving her total parenteral nutrition (TPN) solution. Through genetic testing, Dr. Suki Subramanian and her team found a genetic mutation that was impacting how Emily's smooth muscle digested food. Following a successful transplant at MGTI, Emily is enjoying more freedom, comfort, and even ballroom dancing.

Intestinal Transplant for Aggressive Crohn's Disease: Katie Silva-Mendez's Story

Katie Silva-Mendez was diagnosed with an aggressive type of Crohn's disease. After 29 surgeries, she was referred to hospice. Unwilling to give up, she traveled from her home state of Nevada to be cared for by the experts at MedStar Georgetown Transplant Institute which has the largest intestinal transplant program in the United States. She received a small and large bowel transplant and says she feels like a new person, living and eating pain-free.
Additional information
Click here to learn about the small bowel transplantation support group.
How can I qualify for small bowel transplantation?
Our goal is to provide you with all the information you need to undergo a healthy small bowel transplantation process. Our program is based on the patient's physical, emotional, and spiritual needs and welcomes the active participation of family members throughout the transplant process.
Transplant clinic lab hours
Monday: 7:30 a.m. to 4 p.m.
Tuesday: 7:30 a.m. to 4 p.m.
Wednesday: 9 a.m. to 6 p.m.
Thursday: 7:30 a.m. to 4 p.m.
Friday: 7 a.m. to 3:30 p.m.
Patient resources
Research & clinical trials
Research is a critical part of what we do at MedStar Health. Learn more about our research on treating and managing advanced disease and transplantation surgery.
Keeping your organ healthy
The transplant process is a long and complicated one. Now that your healthy small bowel is functioning inside your body, you must assume responsibility for your everyday care.