Services & Expertise | MedStar Health SiTEL
Clinical education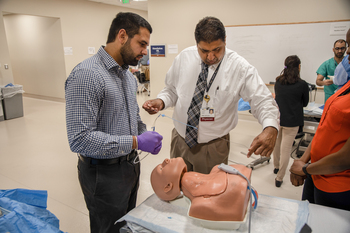 Our Clinical Education team designs experiential learning activities that promote patient safety, improve clinical outcomes, and foster positive patient experiences. Our educators collaborate closely with the MedStar Health SiTEL simulation team as well as clinical subject matter experts to design, develop, implement, and evaluate meaningful learning programs for healthcare professionals.
Using knowledge of the clinical domain, educators emphasize realism in simulations, making sure learning experiences reflect the working environment of our associates. In addition, our educators help leaders build their own expertise through train-the-trainer programs and faculty development events.
Educators are certified through the Society for Simulation in Healthcare (SSH) to support the development of scenario-based activities, which teach lessons on procedural-based skills as well as communication, teamwork, and collaboration.
Clinical Education also supports the accreditation of MedStar Health SiTEL programs and simulation centers, ensuring MedStar Health is recognized as a national leader in professional education.
Continuing professional education
MedStar Health's Department of Continuing Professional Education develops and certifies credentialed education opportunities that are designed by and for healthcare teams. Our continuing education conferences bring renowned experts to the Washington, D.C. area for dynamic events designed for healthcare professionals in all roles and at all levels. The Interprofessional Continuing Education (IPCE) program at MedStar Health supports education, scholarship, and innovation across our system.
Interested in attending Continuing Professional Education events? Find information about upcoming conferences via the CPE portal.
Simulation programs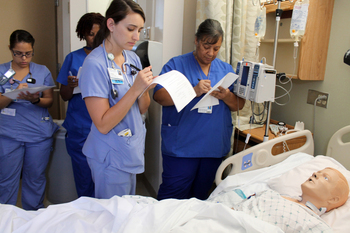 Designed to strengthen confidence and promote competence, MedStar SiTEL's simulation education provides hands-on learning opportunities for clinical and non-clinical healthcare professionals of all roles, specialties, and levels of experience.
Through close partnership with subject matter experts, our educators and simulation specialists create and deliver a variety of realistic, high-impact learning experiences in a safe training environment. Scenario-based exercises focus on mastering technical skills, practicing protocols, applying clinical decision making, and developing communication and interpersonal skills.
Our state-of-the-art simulation facilities offer dedicated experiential learning space designed and equipped to accurately reflect the clinical environment of our care facilities. MedStar SiTEL also operates the Mobile Simulation Lab and provides in situ services in MedStar Health hospitals and care facilities, making learning more accessible across the health system.
Learning research and design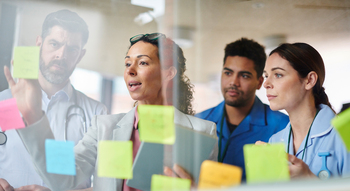 Our Learning Research and Design team develops original learning content tailored to create specific educational solutions for professionals and patients.
Our instructional design experts work alongside healthcare teams to identify learning objectives and create and deliver experiences that meet learner needs, enhancing performance and patient experience.
Thoughtful education design merged with the creative power of writers, artists, and photographers ensures learning is both engaging and effective for health professionals in all roles.
Creative capabilities include graphic design, video production, and photography, as well as serious games development for desktop, mobile, and extended reality platforms. MedStar Health SiTEL also offers expertise in measurement and analysis of learning outcomes.
Learning technologies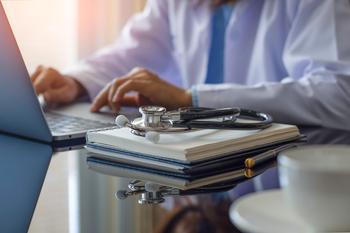 The Learning Technologies group builds and maintains custom learning solutions that power healthcare education. Using broad expertise of developers, engineers, and other technical roles, Learning Technologies applies an insights-driven approach to creating an engaging user experience across all of MedStar Health's interactive educational platforms. This includes SiTELMS, a learning management platform where MedStar Health associates can access thousands of e-learning courses and scheduled classroom and live experiential training. Each year, MedStar Health associates complete more than 1 million online and live learning experiences using SiTELMS.
Core services of Learning Technologies include network and system administration, development for web and mobile platforms, system integration, performance data capture and analysis, quality assurance, and product management. Learning Technologies also oversees project intake requests for MedStar Health SiTEL. The Learning Technologies team also collaborates with strategic partners across MedStar Health to create tools that improve performance and enhance patient care.
Outreach coordinators
Often the first point of contact for education requests from across the health system, our Outreach Services team helps team leaders and educators make the most of MedStar Health SiTEL resources.
The outreach coordinators work across all MedStar Health facilities, building relationships with key decision makers and identifying training opportunities that can improve patient outcomes through enhanced performance of our healthcare professionals.
Using their knowledge of the MedStar Health landscape, outreach coordinators also provide consultations and participate in action-planning and goal-setting sessions with individual entities, sharing success stories from across the system to help solve common challenges.
In addition to consulting with stakeholders and identifying their needs, the Outreach Services team provides SiTELMS training for all roles, offers technical and functional support for live and online courses, and refines source materials to optimize the education process for the clients' workforce.
Need assistance with an education request? Please contact Outreach Services: oc_team@email.sitel.org
Request a MedStar Health SiTEL resource
If you have an idea, suggestion, or request for any educational, training, or enrichment program or resource, send a request to the MedStar Health SiTEL team.