Patient & Visitor Information | MedStar Harbor Hospital | MedStar Health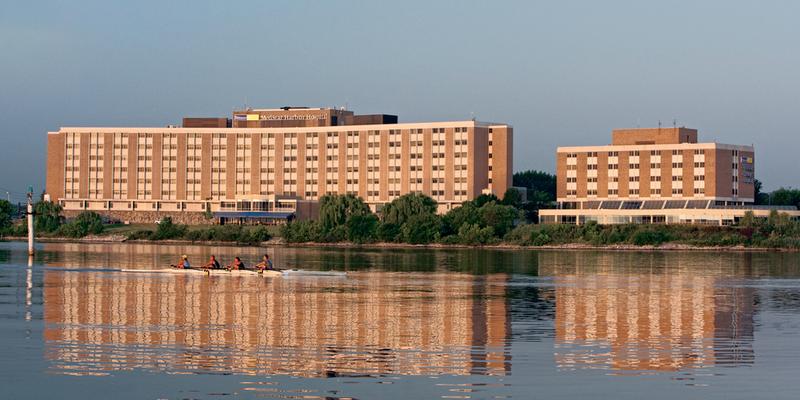 Bringing patient-centered philosophy to life
After more than a century of healing, MedStar Harbor Hospital is a mainstay in the community, serving patients from Baltimore City and Anne Arundel, Baltimore, and Howard counties at our convenient waterside location, with the services of a large regional medical center in a smaller, more personal environment.
MedStar Harbor Hospital is an anchor in the community. Specially designed patient care areas have brought our patient-centered philosophy to life. Nursing hubs are located along each hallway, bringing nurses in closer contact with their patients. Public areas and inpatient rooms feature a home-like feel and upscale décor. It's that kind of "un-hospital-like" healing atmosphere and mindset that makes MedStar Harbor Hospital different.
General information
Gift shop
Duckies Courtyard and Gift Shop is located on the first floor, across from the chapel. We offer specialty hot beverages, along with a variety of hot and cold meals, light-fare, and desserts. To reach the Gift Shop call, 410-350-3501.
Hours of operation – Monday-Sunday: 6:30 a.m. to 9 p.m.
Wi-Fi Internet access and cell phones
Patients and visitors can select "MedStarGuest" as their Wi-Fi resource under Settings and connect by accepting the Acceptable Use Policy. We are pleased to provide this voucher-free Wi-Fi access to give patients and visitors convenient and secure access to connect with family and friends during their time at the hospital.
Please avoid cell phone use in the lobby.
Chapel and pastoral services
Patients and families seeking a quiet place for prayer and solace are encouraged to use the hospital's chapel located off of the hospital lobby. If you would like pastoral care, ask your nurse to contact the hospital's on-call clergy.
Hand washing
Good hand hygiene is the number one way to protect our patients. All inpatient rooms have an alcohol hand rub so healthcare providers can perform hand hygiene before and after every patient contact. We encourage family and visitors to use our alcohol hand rub as a quick alternative to hand washing before and after they visit their loved one.
General Inpatient and ICU Visitation

10 a.m. to 9 p.m.
Exceptions for visitors outside this timeframe are authorized by the nurse supervisor or the care team.
Two visitors allowed per patient.
Children 12 and under must be accompanied by an adult.

24 hours
One visitor is allowed per patient.
Children 12 and under must be accompanied by an adult.

COVID-19 and PUI Inpatient Visitation

Upon the discretion of the care team and the nurse supervisor, a patient can have two visitors with appropriate PPE donned from 10 a.m. to 9 p.m.
Parking
Free parking for patients and visitors is available on the upper north and south parking lots. The upper north patient parking lot is accessible from Cherry Hill Road. The parking lot is adjacent to the Emergency department entrance and the Outpatient Building.
Handicapped spaces are available for easy and quick access. Parking for patient and visitor overflow is located on the upper south parking lot. This lot is accessible from Reedbird Avenue. Click here to view the MedStar Harbor Hospital parking lot map.
ATM
A Bank of America ATM is located on the first floor next to the chapel.
Protective Services
We cannot assume responsibility for personal items, so please leave valuables such as jewelry and credit cards at home. If you come to the hospital with any valuable personal belongings:
Send valuables home with a family member, or;
Have your nurse contact the unit's patient care coordinator during regular business hours to have your valuables placed in a safe in the cashier's office.

After regular business hours contact Protective Services by calling 410-350-3333, 24 hours a day, 7 days a week.
Vending machine
Vending machines are located on the ground floor near the Café, on the first floor by the emergency department, in the Women and Infants' Center, in the Same Day Surgery waiting areas, and in the ICU waiting area.
Smoking policy
MedStar Harbor Hospital is a tobacco-free campus.
Nutrition services
The Food and Nutrition Services department at MedStar Harbor Hospital is dedicated to providing wholesome, nutritious meals in compliance with your physician's orders. We offer a varied menu from which you may make meal selections.
Patient mealtimes
Breakfast – 7:30 a.m. to 9 a.m.
Lunch – 11:30 a.m. to 1 p.m.
Dinner – 4:30 a.m. to 6 p.m.
If a special test or procedure coincides with a mealtime, we will arrange to bring your meal at a more convenient time.
Kosher meals: If you would like to receive kosher meals, we can provide your meal from an authorized supplier. If this option interests you, please inform your nurse.
Dietitian available: A clinical dietitian is available Monday through Friday from 8:30 a.m. to 5 p.m. to answer questions about your diet and to provide nutritional education.
Cafe
The Café is located on the ground floor. We offer an extensive menu including full hot meals, light-fare, beverages, and desserts. Hours of operation:
Monday to Friday:
Breakfast: 6:30 a.m. to 10 a.m.
Lunch: 11 a.m. to 2:30 p.m.