Physicians, Scientists, Researchers, Educators, and Students Celebrate Science and Academia at the 11th Annual MedStar Health – Georgetown University Research & Education Symposium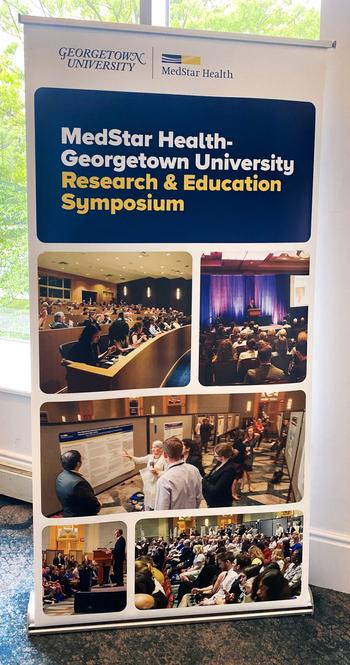 WASHINGTON – Today, more than 1,000 physicians, scientists, researchers, educators, students, residents/fellows, professors, collaborative partners, executives, and other members of the academic community attended the 2023 MedStar Health-Georgetown University Research & Education Symposium. Co-hosted by MedStar Health and Georgetown University Medical Center, the full-day event showcased more than 350 juried poster presentations, dozens of oral presentations, an educational colloquium, and numerous academic workshops.
It culminated with a keynote address by Eliseo J. Pérez-Stable, MD, Director of the National Institute on Minority Health and Health Disparities (NIMHD) at the National Institutes of Health.
"Today's event was a testament to our role as an academic health system, bringing together varying perspectives and great minds dedicated to advancing the health of our community through research, education, and innovation," said Neil J. Weissman, MD, FACC, FASE, chief scientific officer at MedStar Health and president of MedStar Health Research Institute. "Every day, our talented clinicians, expert scientists, and ambitious residents and fellows work to answer some of the most pressing questions in medicine. It's amazing to see all that passion come together for a day of discussion, discovery, and community."
Open to all members of the greater research and academic community, the Symposium offered attendees the opportunity to connect with researchers, educators, and other collaborators, and learn more about MedStar Health and Georgetown University's academic health system partnership.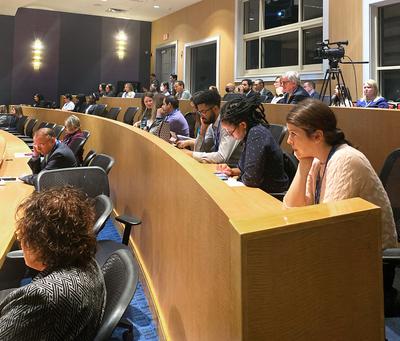 "It was deeply meaningful to witness so many of our colleagues assembled under one roof knowing we all passionately share a common goal -- improving human health," said Edward B. Healton, MD, MPH, Executive Vice President for Health Sciences at Georgetown University. "I commend our academic community for their participation including the robust display of research excellence and the dedication to exploring ways to improve our learning environments."
During the Symposium, nine residents from across the system were recognized for their outstanding research featured in their poster and oral presentations:
First Place:
"Statewide Data on Surgical Ablation for Atrial Fibrillation: The Data Provide a Path Forward"
Jin Kook Kang, MD (PGY-3, Surgery)
"Admission BNP Level and Postpartum Blood Pressure Prior to Discharge"
Rebecca Chornock, MD (PGY-7, Maternal-Fetal Medicine)
"EEG Correlates of Motor Function Recovery During the Critical Period Window Post Stroke"
Syed Qadri, MD (PGY-2, Physical Medicine &Rehabilitation)
Second Place:
"Use of COVID-19 prevention therapy Evusheld in patients with multiple sclerosis: A retrospective observational study"
Amy Safadi, MD (PGY-5, Neurology)
"Factors Associated with Delays in Definitive Resection for Colon Cancer"
Timothy Holleran, MD (PGY-4, Surgery)
"The Impact of COVID-19 and Vaccination Status on Outcomes in Head and Neck Cancer Patients"
James Johns, MD (PGY-3, ENT)
Third Place:
"Can We Stop the Bleed? A Pilot Study Using a Geographic Information System to Train Violence Intervention Specialists in Washington, DC."
James Wallace, MD (PGY-7, Trauma)
"Exploring Genetic Causes of Paratubal Cyst Formation in the Setting of PCOS"
Nishita Patel, MD (PGY-4, Obstetrics and Gynecology)
"The digital divide in the use of social media among cancer survivors"
Joseph Atarere, MD (PGY-1, Internal Medicine)
Attendees also participated in Georgetown University Medical Center's Center for Innovation and Leadership in Education (CENTILE) Colloquium for Educators in the Health Professions, which featured presentations from faculty, staff, and trainees, as well as a plenary session focused on the learning environment.
Other main stage speakers included Stephen Evans, MD, chief medical officer, MedStar Health and Jamie S. Padmore, DM, MSc, vice president, academic affairs, MedStar Health and professor and Senior Associate Dean for Medical Education, Georgetown University Medical Center.
To read more about this year's event, please visit MedStarHealth.org/Symposium.