MedStar Health – Georgetown University Research & Education Symposium
SAVE THE DATE! The 2024 Symposium will be held on Monday, April 29th at the Bethesda North Marriott Hotel & Conference Center.
See below for additional details. Mark your calendars now to join us!
2023 MedStar Georgetown Symposium video
Hosted by the MedStar Health Research Institute, MedStar Health Academic Affairs, and Georgetown University Medical Center, the MedStar Health-Georgetown University Research and Education Symposium is open to all members of the research and education community interested in learning more about scholarship at MedStar Health and Georgetown. The symposium brings together the MedStar Health and Georgetown University communities to celebrate the breadth of our academic pursuits. The event offers the opportunity to connect with researchers, educators, residents, executive leaders, and collaborative partners from across the region and our system to build meaningful relationships to further advance the health of our community.
2024 Symposium Event Details
We are thrilled to host the 2024 MedStar Health – Georgetown University Research & Education Symposium on April 24, 2024. We look forward to bringing together investigators, educators, executive leaders, associates, and collaborative partners from across our academic health system to share their research and build meaningful relationships to further advance health for our community.
Location:
Bethesda North Marriott Hotel & Conference Center
5701 Marinelli Road, North Bethesda, MD 20852
Event Schedule:
Additional details coming soon.
Important Information for Researchers:
All MedStar Health and Georgetown physicians, nurses, researchers, staff, residents, and fellows are encouraged to submit abstracts. Only selected abstracts will be presented as posters during the event. Poster selection will be determined by the Scientific Review Committee.  

More information on submitting abstracts will be available soon.
Key Dates:
Abstract submission opens – January 10, 2024
Abstract submission closes – February 5 2024
Presenter selection announcements – Week of March 19, 2024
Registration:
Event registration will open up in late February / early March. Please note that this event is limited to MedStar Health and Georgetown University associates and invited guests.
2023 Symposium: Our largest event yet!
More than 1,000 members of our academic community attended the 2023 MedStar Health–Georgetown University Research & Education Symposium on May 8, 2023 – our first in-person Symposium in four years! The event featured 350+ juried poster presentations, plus numerous oral presentations and academic workshops. This year's theme was health equity.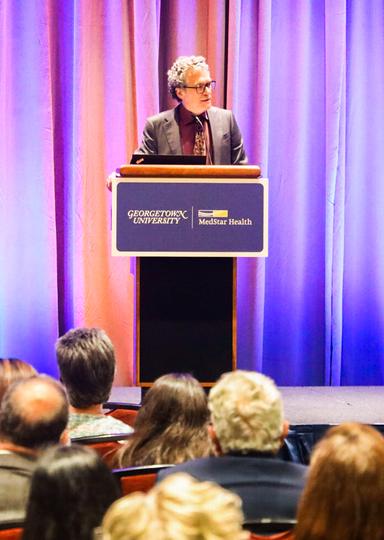 Highlights included a keynote address by Eliseo J. Pérez-Stable, MD, Director of the National Institute on Minority Health and Health Disparities (NIMHD) at the National Institutes of Health. Other main stage speakers were Stephen R.T. Evans, MD, executive vice president for Medical Affairs and chief medical officer for MedStar Health, Neil J. Weissman, MD, president of MedStar Health Research Institute and chief scientific officer for MedStar Health, and Jamie S. Padmore, DM, vice president of Academic Affairs at MedStar Health.
The day began with Georgetown University's Center for Innovation and Leadership in Education (CENTILE) Colloquium for Educators in Health Professions, with more than 215 scholars in attendance. In the afternoon, more attendees joined for professional workshops on academic topics including research statistics, institutional review board, and curriculum design. This was followed by resident and fellow oral presentations, presentations from two MedStar Health Research Scholars, Victoria Lai, MD, MS, FACS, and Leila Shobab, MD, and a showcase of peer-reviewed abstract presentations in the main ballroom. The Symposium closed with a reception hosted by MedStar Health Philanthropy.


Awards & Recognitions
Numerous awards were presented at the Symposium. Nine residents and fellows were recognized for outstanding research in oral and poster presentations:
First Place:
"Statewide Data on Surgical Ablation for Atrial Fibrillation: The Data Provide a Path Forward"
Jin Kook Kang, MD (PGY-3, Surgery)
"Admission BNP Level and Postpartum Blood Pressure Prior to Discharge"
Rebecca Chornock, MD (PGY-7, Maternal-Fetal Medicine)
"EEG Correlates of Motor Function Recovery During the Critical Period Window Post Stroke"
Syed Qadri, MD (PGY-2, Physical Medicine &Rehabilitation)
Second Place:
"Use of COVID-19 prevention therapy Evusheld in patients with multiple sclerosis: A retrospective observational study"
Amy Safadi, MD (PGY-5, Neurology)
"Factors Associated with Delays in Definitive Resection for Colon Cancer"
Timothy Holleran, MD (PGY-4, Surgery)
"The Impact of COVID-19 and Vaccination Status on Outcomes in Head and Neck Cancer Patients"
James Johns, MD (PGY-3, ENT)
Third Place:
"Can We Stop the Bleed? A Pilot Study Using a Geographic Information System to Train Violence Intervention Specialists in Washington, DC."
James Wallace, MD (PGY-7, Trauma)
"Exploring Genetic Causes of Paratubal Cyst Formation in the Setting of PCOS"
Nishita Patel, MD (PGY-4, Obstetrics and Gynecology)
"The digital divide in the use of social media among cancer survivors"
Joseph Atarere, MD (PGY-1, Internal Medicine)
Krista White, PhD, RN, CCRN-K, CNE, Lisa Ruth-Sahd, MSN, EdD, and Peggy Slota, MN, DNP, from the Georgetown University School of Nursing, received the 2023 CENTILE Colloquium Best Oral Abstract Award.
Special thanks
The event was a success, thanks to the dedicated planning committee and chairs.
2023 Symposium Chairs were Carlo Tornatore, MD, and Stephanie Detterline, MD. Aarthi Shenoy, MD, was chair of the Scientific Review Committee. Aviad Haramati, PhD, was chair of the Education Committee.
Past Symposia
To view all posters, presentations and videos from the 2021 MedStar Health-Georgetown University Research Symposium and CENTILE'S Colloquium for Educators in the Health Professions, please visit here
Please note an email address ending in @medstar.net or @gunet.georgetown.edu is required to access this information.