Clinical Research Support Services | MedStar Health
Paving the way forward
From bench to bedside and into the community, associates across MedStar Health work to advance the scientific understanding of disease and point the way toward better and more effective treatments, with support of the MedStar Health Research Institute (MHRI).
Educational and clinical research programs
MHRI offers in-person and online educational opportunities to enhance the research knowledge and practices of our investigators and associates.
Research Integrity and Human Research Protection Program
The MedStar Health Research Institute Office of Research Integrity serves as the institution's executive agency for human research policy, oversight, education and training, IRB management, and extramural relations.
The Office of Research Integrity and the Human Research Protection Program work together as a cohesive system to support MedStar's commitment to protecting the rights and welfare of human subjects from research risks.
Major components
HRPP - Human Research Protection Program MHRI has established a system-wide Human Research Protection Program (HRPP) to oversee research conducted with human subjects. The HRPP seeks to ensure that all human research conducted under the auspices of MedStar Health is ethically and methodologically sound as required under public law and, most importantly, as expected by the public trust.

IACUC - Institutional Animal Care and Use Committee The IACUC is responsible for the initial and continuing reviewing of all research studies involving animals done at any MedStar Institution.

IBC - Institutional Biosafety Committee The IBC reviews and monitors all research activities involving infectious agents, hazardous chemicals, recombinant DNA, and genetically altered organisms and agents.
Research development
Our Office of Research Development, Planning & Communication develops and enhances MedStar's research infrastructure. It also helps to increase the amount of research activity taking place at MedStar by:
Fostering system-wide collaborations among investigators
Identifying strategic funding opportunities
Developing partnerships with external third party organizations and
Creating business plans to help enhance MedStar's diverse and robust research programs
Joining the research
Our staff works with individual investigators to help achieve short- and long-term research objectives. Upon joining MedStar or expressing interest in becoming involved in research, please contact Research@medstar.net and let us know your research interest areas.
We will then introduce you to your Scientific Center Administrator (SCA), a central point of contact for all administrative and operational research needs, who will provide you with an orientation to the Research Institute and how to get started using our services.
Educational and collaborative events
In an effort to enhance the research knowledge and practices of MedStar investigators and associates, the Office of Research Development, Planning & Communications also supports several educational and collaborative events throughout the year, including bi-annual MedStar Investigators Orientation sessions, Research Grand Rounds, and the annual MedStar Research Symposium.
Questions? Contact the Research Development, Planning & Communication staff by email at Research@medstar.net.
Contracts and grants management
The Office of Contracts and Grants Management, reports to the Assistant Vice President of Research Administration, supporting and administering all sponsored research for the MedStar Health System.
The department supports research administration by developing standard operating procedures for grant proposals and contract submissions, ensuring compliance with local, state, and federal regulations, as well as providing and facilitating funding opportunities to researchers across the MedStar System.
Administrative representatives
Contracts and Grants Management represents the Institute in:
Obtaining final institutional signature on proposals/contracts
Negotiating terms and conditions for all contracts, grants, subcontracts, and other award mechanisms
Functioning as the liaison and administrative representative to all external sponsors on issues relevant to sponsored programs administered by MedStar Health Research Institute
Services
Maintain a database of all sponsored research projects.
Contract negotiation and budgeting.
Develop subcontract agreements.
Approve of all confidentiality/non-disclosure agreements.
Prepare and negotiate master agreements and pricing arrangements.
Act as liaison between sponsor, Scientific Center Administrator/Department, Principal Investigator, and Finance.
Assist with budget preparation and development of cost proposals for sponsored research programs.
Review and approve all contractual agreements related to sponsored research.
Prepare/collate proposals (including NCE, Supplements, etc.) and submit to the approving agency/sponsor.
Facilitate administrative close-out of all completed sponsored research projects.
OCGM @ MedStar Health Research Institute
6525 Belcrest Road., Suite 700
Hyattsville, MD 20782
P: 301-560-7300
Resident research support
Our goal is to help residents experience the research process from the conception of research ideas to the publication of the results. Below are several resources that are available to residents through the Medstar Health Research Institute.
We encourage residents to work closely with MedStar faculty mentors who can provide first hand research experience. To learn more about MedStar's researchers and scientists, please visit our Principal Investigator search portal.
Principles and Practice of Clinical Research
Principles and Practice of Clinical Research is a web-based, remote learning program that provides introductory training in clinical research by focusing on epidemiologic methods, study design, protocol preparation, patient monitoring, quality assurance, and FDA issues. This is a certificate program and the textbook is free of charge to house staff. Registration for the course opens each year in October. Contact your local Graduate Medical Education office or research@medstar.net with questions.
Biostatistics and Bioinformatics Support
Biostatical and Bioinformatics support is provided to residents and fellows at no cost through MedStar Graduate Medical Education support and funding.
Through the MedStar Health Research Institute, residents and fellows are offered support in:
Research design, to include refinement of research ideas, Specification of aims and hypotheses
Selection of data collection methods
Sample size calculation
Statistical analysis plan
Data extraction from electronic medical records
Data analysis
Reporting of the results and abstract and manuscript preparation
If you are a current resident and want to request support, please fill out a Biostatistics and Bioinformatics Initial Request Form.
Surgical Resident Research Program
The MedStar-Georgetown Surgical Outcomes Research Center (MG-SORC), MedStar Health Research Institute (MHRI), and MedStar Health Academic Affairs are pleased to offer a combined research development and bio-statistical support program.
This program is designed to support the development of MedStar surgical residents in the MedStar Washington region (MGUH and MWHC surgical residency programs) pursuing careers focused on clinical, basic science, translational and medical education research in academic surgery. Learn more about this program on the MG-SORC website.
Intramural grant opportunities
At MedStar Health, we are committed to creating an academic health system that values and supports research. We realize that this does not happen overnight and that our clinical research activity, impact, and importance will be enhanced by ongoing efforts to build multi-disciplinary and cross-institutional partnerships.
Below are several intramural grant funding opportunities that will be available this year. Each one has been developed to foster collaboration, support new investigators, enhance care to our communities, and continue to advance health.
Request for proposals
Individual Requests for Proposals (RFPs) will be disseminated for each opportunity. If you have any question about these grants or other aspects of research at MedStar, please email research@medstar.net.
Annual MedStar Research Symposium
Hosted by the MedStar Health Research Institute, MedStar Health Academic Affairs, and Georgetown University Medical Center, the MedStar Health-Georgetown University Research Symposium is open to all members of the research and education community interested in learning more about scholarship at MedStar and Georgetown.
The Symposium offers the opportunity to connect with researchers, educators, residents, executive leaders, and collaborative partners from across the region and our system to build meaningful relationships to further advance the health of our community.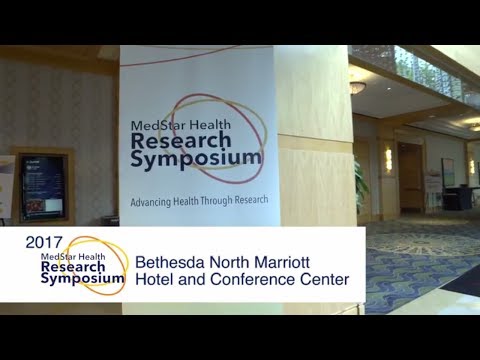 Georgetown-Howard Universities Center for Clinical and Translational Science
The Georgetown-Howard Universities Center for Clinical and Translational Science (GHUCCTS) is a multi-institutional consortium of medical research institutions forged from a desire to promote clinical research and translational science. As a MedStar Investigator, many resources are available to you as part of the MedStar/GHUCCTS partnership. This partnership further expands our resources to a broader network of expertise and collaboration.
Research Compliance
The Research Compliance Program (RCP) is administered by the MedStar Health Office of Corporate Business Integrity, which supports and promotes ethical research practices throughout the entire MedStar Health system. The RCP serves the MedStar research community by:
Coordinating system-wide research compliance policy and procedure development
Providing comprehensive regulatory guidance to the research community
Developing training and education; auditing and monitoring
Ensuring that MedStar investigators are compliant with federal, state, and local laws and regulations, as well as with MedStar policies
Research Compliance Program
The Research Compliance Program covers the following areas: