MedStar Health Announces Emily Briton as Sixth President of MedStar Montgomery Medical Center
Briton joins the Olney-based hospital from MedStar Washington Hospital Center, where she served as COO and Senior Vice President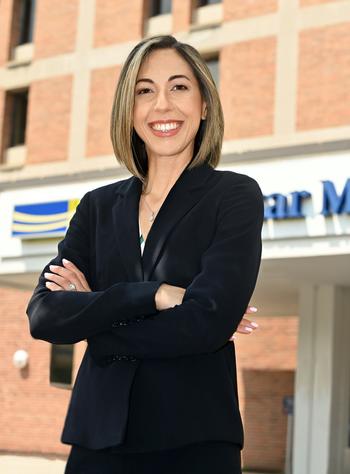 OLNEY, Md. (June 26, 2023)
— MedStar Health announced that Emily Briton will be the newest president of MedStar Montgomery Medical Center and senior vice president, MedStar Health as of July 1, 2023. Briton previously held several leadership roles within the MedStar Health system, most recently serving as chief operating officer and senior vice president at MedStar Washington Hospital Center in Washington D.C.
"It is a tremendous honor to be joining MedStar Montgomery Medical Center in this exciting role," said Briton, a longtime resident of Montgomery County. "We have important work ahead of us, bringing high-quality personalized care to our community and continuing our mission to be the trusted leader in caring for people and advancing health."
The announcement follows news of the appointment of President Thomas J. Senker, FACHE, as the next president of MedStar Union Memorial Hospital and MedStar Good Samaritan Hospital, also effective July 1, 2023.
"I want to thank T.J. for his leadership, and I am eager to continue this great hospital's long- standing mission," said Briton.
"I am thrilled for Emily to step into the role as president of MedStar Montgomery Medical Center," said Senker. "Emily is an immensely talented leader, and I have great confidence that she will continue to move the organization forward for the benefit of our community."
Senker's tenure has yielded numerous accomplishments for the medical center. Chief among these are groundbreaking facility openings and service enhancements, including the Center for Successful Aging and Women's Health and Outpatient Radiology at Olney, in 2019 and 2021 respectively. Additionally, he oversaw great philanthropic progress through community partnerships, including a $2M gift from the Women's Board at MedStar Montgomery Medical Center, a $1.8M estate donation from Robert (Bobby) E. Lee Smith Jr., and a $250K gift from Sandy Spring Bank.
Briton enters the role as an accomplished and seasoned leader in her own right. In the Greater Washington community, her honors include the Jewish Federation of Greater Washington's Capital Chai Award, membership in Leadership Greater Washington Class of 2023 and America's Essential Hospitals 2023 Women's Leadership Academy.
Outside of her professional role, Briton guest lectures at the George Washington University Milton School of Public Health. She holds a Master of Health Administration from George Washington University and Bachelor of Science in kinesiology from The University of Texas. In addition, she serves as a member of the American College of Healthcare Executives.
For information about MedStar Montgomery, visit: https://www.medstarhealth.org/locations/medstar-montgomery-medical-center.