Major Milestone : MedStar Heart & Vascular Institute Performs 100th Watchman Procedure | MedStar Health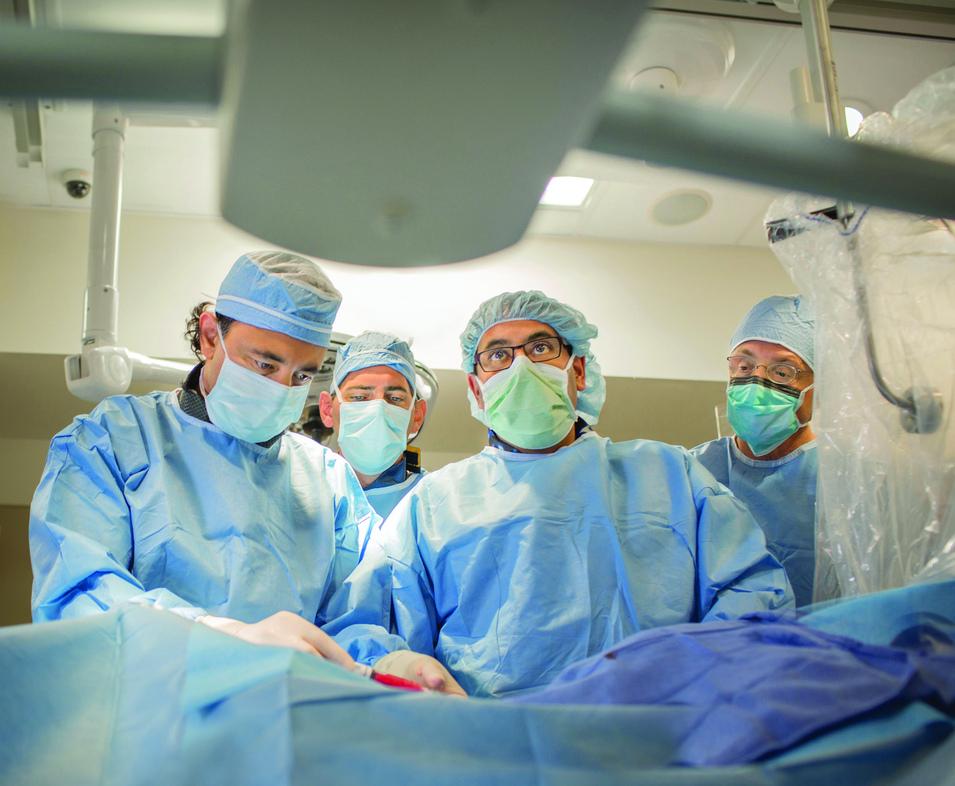 Baltimore, Md., January 26, 2017 – June Kraft of Perry Hall, Md., became a high stroke risk when she stopped taking daily blood thinners because of colitis. But thanks to WATCHMAN™, a stroke-reducing device that she received last year at MedStar Heart & Vascular Institute, she's off the drugs, and she no longer suffers from the side effects caused by the blood thinners.
Currently, MedStar Union Memorial Hospital and MedStar Washington Hospital Center in D.C., offer the device to patients who have atrial fibrillation (A-fib), an abnormal heart rhythm that causes a fast and erratic heartbeat. The two facilities have performed a total of 100 procedures since the WATCHMAN was FDA-approved in March 2015, more than any other institution from Delaware to South Carolina to date.
WATCHMAN is designed for certain patients with A-fib who are at high risk for both stroke and bleeding from long-term use of blood thinners. WATCHMAN is implanted like a heart stent, by means of a narrow tube inserted through a small incision in the upper leg. Essentially a mesh filter, it closes off the left atrial appendage (LAA), the small sub-chamber in the heart responsible for formation of harmful blood clots. By closing off the LAA, the risk of stroke is reduced, and after 45 days, patients may be able to stop taking blood-thinning medication altogether.
"Twenty percent of all strokes occur in patients with A-fib, and A-fib-related strokes are more frequently fatal and disabling," said cardiac electrophysiologist Manish Shah, MD, director, Clinical Cardiac Electrophysiology Fellowship Training Program at MedStar Washington Hospital Center. "For patients seeking an alternative to blood-thinning medicine such as warfarin, the WATCHMAN offers a potentially life-changing stroke risk treatment option, freeing them from the prolonged use of warfarin therapy."
On the research front, several clinical trials are underway, exploring alternative devices for closure of the left atrial appendage. "The fact that we'll have these studies running concurrently is a testament to MedStar Heart & Vascular Institute's great research infrastructure and safety record that'll benefit patients," added John Wang, MD, chief of Cardiovascular Catheterization Lab at MedStar Union Memorial Hospital.
If the trials are successful, the new devices could fulfill a unique niche, and expand the number of patients who may be eligible for implant in the future.
About the MedStar Heart & Vascular Institute
MedStar Heart & Vascular Institute is a network of highly acclaimed and nationally recognized cardiac experts and care programs spanning all 10 MedStar Health hospitals in the mid-Atlantic region. In the Baltimore area, MedStar Heart & Vascular Institute experts are accessible at MedStar Franklin Square Medical Center, MedStar Good Samaritan Hospital, MedStar Harbor Hospital, MedStar Union Memorial Hospital, and more than a dozen community locations. MedStar Heart & Vascular Institute at MedStar Union Memorial Hospital is allied with the Cleveland Clinic, the nation's #1 heart program, giving patients accelerated access to the most advanced research, technologies and techniques in cardiology and cardiac surgery. This alliance also strengthens excellent clinical care and enables high-level collaboration on research.
About MedStar Union Memorial Hospital
MedStar Union Memorial Hospital is a not-for-profit, 223-bed acute care teaching hospital with a strong emphasis on cardiac care, orthopaedics and sports medicine. With roots stemming back to 1854, MedStar Union Memorial has provided high quality care for 160 years. As one of the region's top specialty hospitals, MedStar Union Memorial is home to: The Curtis National Hand Center, the only hand center designated by Congress as The National Center for the Treatment of Hand and Upper Extremity; MedStar Heart & Vascular Institute, a premier cardiovascular program in the mid-Atlantic, aligned with Cleveland Clinic Heart and Vascular Institute, the nation's #1 heart program; and MedStar Union Memorial Orthopaedics and Sports Medicine, the oldest hospital based Sports Medicine Program in Maryland (founded in 1979). In addition, MedStar Union Memorial offers a comprehensive range of inpatient and outpatient services including oncology, diabetes and endocrinology, general surgery, thoracic surgery, vascular surgery and palliative care. For more information, visit MedStarUnionMemorial.org.
About MedStar Health
MedStar Health is a not-for-profit health system dedicated to caring for people in Maryland and the Washington, D.C., region, while advancing the practice of medicine through education, innovation and research. MedStar's 30,000 associates, 6,000 affiliated physicians, 10 hospitals, ambulatory care and urgent care centers, and the MedStar Health Research Institute are recognized regionally and nationally for excellence in medical care. As the medical education and clinical partner of Georgetown University, MedStar trains more than 1,100 medical residents annually. MedStar Health's patient-first philosophy combines care, compassion and clinical excellence with an emphasis on customer service. For more information, visit MedStarHealth.org.