MedStar Health first in world to use 3D navigation for minimally invasive spine surgery
Dr. Mesfin A. Lemma applies newest technology on spinal fusion at MedStar Union Memorial.
BALTIMORE – Mesfin A. Lemma, MD became the first surgeon in the world to perform robotic spine surgery using the Excelsius3D™ 3-in-1 intelligent, intraoperative imaging system at MedStar Union Memorial Hospital.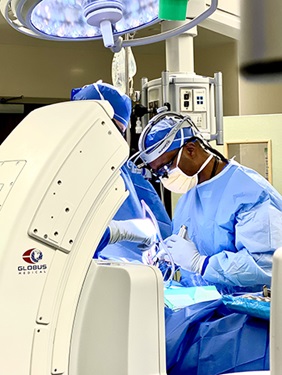 The sophisticated yet mobile imaging platform, approved by the FDA in August, uses a 360-degree cone beam CT, fluoroscopy, and high-resolution digital radiography to eliminate the need for multiple imaging systems in one procedure, thereby minimizing the time patients are under anesthesia in the operating room, and allowing for pin-point accuracy with real-time views during surgery. The surgery was performed May 10th.
"I am very proud to be part of the spine surgery team at Medstar Union Memorial Hospital where our surgeons have over 100 years of combined surgical experience in treating the most complex spinal conditions," said Dr. Lemma, MedStar Health division chief of spine surgery and director of minimally invasive spine surgery at MedStar Union Memorial Hospital. "Adding the new 3D navigation system to our robotic platform demonstrates our commitment to providing patients with the highest possible level of care using the most precise and accurate implant technology."
"MedStar Health administration made a tremendous commitment years ago to acquire eight total joint robots and three spine robots," added said Paul McAfee, MD, MBA, spine surgeon with the MedStar Orthopaedic Institute. "This allows us to integrate the best robotic platform in the United States. This new system seamlessly interfaces with our Excelsius robotic platform to provide real 21st century, cutting-edge technology for our patients and place the MedStar Orthopaedic Institute at Union Memorial Hospital at the frontier of spine care."
"We are excited and proud to offer it to our patients," Dr. McAfee said.
To learn more about MedStar Health's spine surgery program, click here.