Vigilance—and CyberKnife®—Save the Day for Prostate Cancer Survivor
If you are experiencing a medical emergency, please call 911 or seek care at an emergency room.
Back in 2013, George Joiner of Glen Arden, Maryland, came upon a MedStar Health ad in the Washington Post depicting two men who were best friends. Both had been diagnosed with prostate cancer, and the headline said, "Five quick CyberKnife® treatments saved them both." "Now that caught my eye," says George. And well, it should have.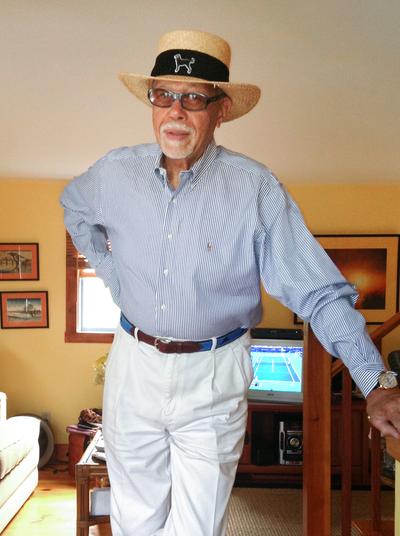 George was 74, and his own prostate cancer diagnosis had just been confirmed. It wasn't a surprise. "I'd been tracking my PSA for 25 years because prostate cancer runs in my family. When my PSA went above four, it was time to do something." Figuring "something" out was the hard part. Like most men, George was concerned that certain treatments could impact urinary, bowel, or sexual functioning. "I wanted the cancer to be gone," he says, "but I didn't want to lose a sense of myself."
George recalls what caught his attention in the ad. "Those two guys looked happy and comfortable. It said the treatment was painless, non-surgical, had no downtime, and minimal side effects. I wanted to learn more."
George was encouraged to learn that CyberKnife was a type of radiation that did not involve "going under the knife" at all. Plus, the leading CyberKnife practitioners on the east coast were right nearby. George was referred to Sean Collins, MD, director of the CyberKnife Prostate program at MedStar Georgetown University Hospital. George also liked that his CyberKnife therapy would only require a few treatments, as opposed to the 40 with traditional radiation. "I had five treatments given every other day for about 35 minutes. After each treatment, I felt fine, and I would get back in my car and drive home."
Nearly nine years later, George's PSA is 0.1. He has no major side effects, he feels great, and leads a vibrant life. Every year he sees Dr. Collins, who says, "My philosophy is that it's not enough to simply cure someone. You have to cure them and make sure they don't have adverse side effects. We're going to treat you and interact with you for the rest of your life, so if anything comes up, we take care of it."
George rates his MedStar Georgetown team as A+++. "They make you feel welcome," he says. They also get high marks from Dr. Collins. "Prostate cancer is a team sport. Here at MedStar Georgetown we have the best urologists, the best medical oncologists, the best radiation oncology department, and the most experienced therapists and physicists. We've treated nearly than 2000 patients with the CyberKnife over the past 15 years, so when you come here you can be confident that you're getting the best CyberKnife therapy in the world."
Dr. Collins also praises for George Joiner. "George was very wise to continually monitor his PSA, since he was in a high-risk category for prostate cancer based on his age, race, and family history. Staying on top of that saved his life." African American men are 1.6 times more likely to get prostate cancer than men of any other race. George urges all men to "keep an eye out for free screenings and clinics and take advantage of them. Ask your doctor to check your PSA, and do the exam." His best advice? "Pay attention."
To schedule an appointment with one of our specialists, call 202-444-4639. If you would like to learn more about CyberKnife at MedStar Georgetown, please click here.