Interventional Pulmonology – MedStar Health
Interventional pulmonology offers minimally invasive diagnostic, therapeutic, and palliative procedures in patients with pulmonary nodules, lung cancer, airways malignancies, benign airways disease, pleural disease, and complicated asthma.
Advanced diagnostic bronchoscopy
Electromagnetic navigation diagnostic bronchoscopy (Super D)
Convex probe endobronchial ultrasound (EBUS)
Peripheral endobronchial ultrasound (RP-EBUS)
Airway ultrasound (RP-EBUS)
Fluoroscopy
Therapeutic bronchoscopy and interventional pulmonology treatment
Central airway disease
Rigid bronchoscopy
Balloon bronchoscopy
Argon plasma coagulation
Cryotherapy
Endobronchial electrosurgery
Endobronchial mitomycin-C to delay airway restenosis
Endobronchial steroid injection for inflammatory diseases
Foreign body removal
Stent placement (i.e., hybrid and silicone stents)
Stent removal/surveillance
Fiducial placement for CyberKnife Therapy
Pleural disease
Medical thoracoscopy, pleural biopsies, diagnosis and management of recurrent pleural effusions
Pleurodesis via talc clurry and poudrage
Tunneled pleural catheter
Thoracentesis +/- thoracic ultrasound guidance
Lung cancer
Advanced or complex cases of asthma
Bronchial thermoplasty, a safe outpatient bronchoscopy procedure that uses mild heat to reduce excessive smooth muscle in the airways, which helps reduce severe asthma attacks.
Video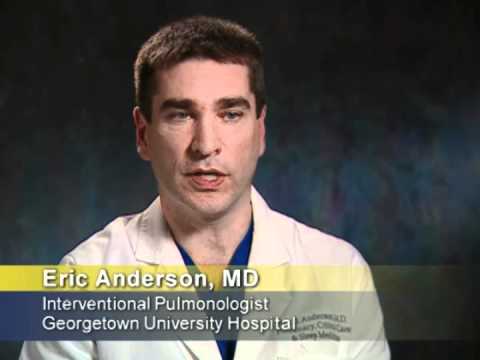 Additional procedures
Percutaneous dilatational tracheostomy
Expert pulmonology care
Getting the care you need starts with seeing one of our pulmonologists.