Lung Cancer Screening | Eligibility & Types | MedStar Health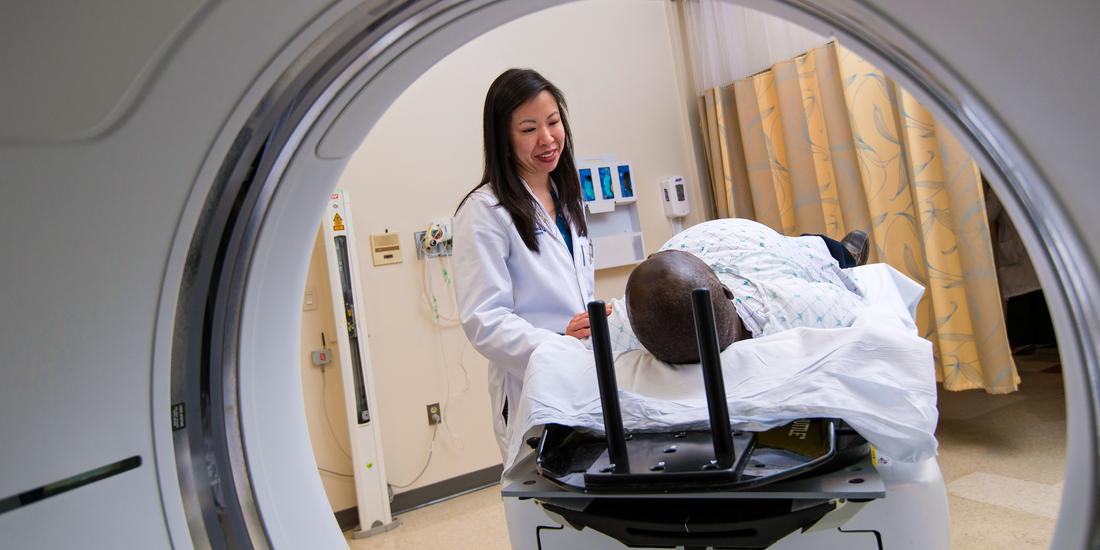 A low-dose CT scan can detect lung cancer early while it's still curable.
Lung cancer is the leading cause of cancer-related deaths in the U.S., accounting for nearly 25 percent of all cancer deaths, according to the American Cancer Society. Often, people with lung cancer don't know they have the disease because symptoms don't appear until advanced stages. And unlike other types of cancer that can sometimes be felt, you can't feel any "lumps" in the lungs.
Fortunately, advances in lung cancer screening and early detection are improving lung cancer mortality. Now, screenings make it easier than ever to find signs of cancer early when there are more treatment options and better survival rates. Our expert medical teams can determine if you're at high risk of developing lung cancer. If you qualify for an annual lung cancer screening test, it is often covered by insurance. A low-dose computed tomography (CT) scan is a quick, non-invasive scan that can provide valuable—and even lifesaving—information about your health.
When you get screened at MedStar Health, you'll benefit from:
Convenient scheduling: We offer multiple locations throughout Washington, D.C., and Maryland and flexible appointment times.

A team of experts: If you require follow-up care, nationally renowned lung cancer doctors are here to help. Together, we will go through a shared decision-making process that considers all treatment options with compassion.

Accredited screening programs: Many screening sites are designated as a Center of Excellence for Lung Cancer Screening by the American College of Radiology (ACR)—a testament to our commitment to the highest level of care.

Better quality of life: We offer tobacco cessation for those at high risk of cancer, so you don't have to quit alone.

Personalized guidance: Our lung nurse navigators and nurse practitioners have specialized training and experience in caring for patients with lung conditions. They serve as your primary point of contact and can help you access all of the clinical resources you need, from questions about your care to ordering diagnostic tests.
Screening eligibility
When you know your lung cancer risk, you can do something about it before it's too late.
A yearly lung cancer screening is only recommended for those considered to have a high risk of developing lung cancer, including current and former smokers. The Centers for Medicare and Medicaid (CMS) recently expanded coverage for updated lung cancer screening guidelines which recommend an annual screening test for individuals who meet all of the following criteria:
Between ages 50 and 77 (some insurances may cover up to 80)
20 pack-year smoking history (A smoking history equal to smoking a pack of cigarettes per day for 20 years or smoking two packs a day for 10 years)
Current smoker or a former smoker who quit smoking less than 15 years ago
No signs or symptoms of lung cancer, such as shortness of breath, coughing up blood, unexplained fevers, chills, or weight loss (a doctor can determine if another condition is causing these symptoms)
These new guidelines lower the screening starting age and pack-year smoking history to detect non-small cell lung cancer even earlier. Some private insurance companies have been offering coverage for these updated guidelines, while others are still in the process of adopting these recommendations from the U.S. Preventive Services Task Force (USPSTF). Your health insurance plan can confirm your coverage, and we can also help advocate for coverage if you qualify based on the new guidelines.
A written doctor's order is needed, so talk to your primary care provider if you think you may qualify for a screening. If you do not have a primary care provider, you can also contact us to schedule a shared-decision making visit, which will help us determine if you are eligible for a lung cancer screening. If you have a sporadic smoking history, please call to see if you qualify for a screening.
Types of lung cancer screenings
A low-dose CT scan uses advanced x-ray technology to take detailed images of the lungs.
A low-dose CT scan is the most common lung cancer screening test that uses far less radiation exposure than a traditional CT scan. During this cancer screening, x-rays create 2D images of your lungs from multiple angles. Our experts analyze these images for any early signs of cancer or abnormalities long before symptoms appear. These images are so detailed that they can pick up tiny spots, called lung nodules, which may be less than half an inch in size or as small as a pencil point. Lung nodules may not be cancerous, but it's important that we track them over time to ensure they don't develop into lung cancer.
That's why it's important to begin screening for lung cancer as soon as you are eligible. Early detection is critical to improving your survival rate. In fact, if you get an LDCT screening once a year, you can improve your survival rate by at least 20 percent.
There are other benefits to lung screenings, too. Because we scan from the top of the throat to the top of the kidneys, we can identify any abnormalities in the heart, liver, and other nearby organs. This helps us address anything concerning that may not have otherwise been caught.
Watch: Mahsa Mohebtash, MD, Medical Oncologist, Chief of Medical Oncology and Hematology at MedStar Union Memorial Hospital, discusses tests current and former smokers can use for screening lung cancer during Lung House Calls on WMAR Channel 2.
What to expect
Patients will first meet with a nurse practitioner to discuss their medical and smoking history to see if they qualify for an annual lung cancer screening. During this shared decision-making visit, your care team will explain the benefits and risks of getting screened so you can make the best decision possible for yourself.
If you decide to schedule an LDCT scan, we'll help you make the appointment and many times, we can do so on the same day. During the screening, you'll lay down on a table that passes through a CT machine. It's completely painless and takes around 15 minutes. We may ask you to hold your breath occasionally to ensure quality pictures.
If a CT scan shows a lung nodule, prompt evaluation could save your life.
If your scan reveals an abnormal spot, called a lung nodule, we offer fast evaluation and personalized treatment. A lung nodule is a mass of tissue that has formed in a place where it should not be. Many times lung nodules are harmless, but in some cases, lung nodules can turn out to be cancer. That's why it's important to seek follow-up testing to accurately diagnose and monitor lung nodules.
At MedStar Health, our experts will work quickly to evaluate your lung nodules and develop a plan for your lung health. Through our dedicated Lung Nodule Clinics, you'll receive the most comprehensive and personalized care from the moment an imaging test reveals something abnormal in your lungs.
When you schedule your initial visit, we'll ask you a few questions about your chest scans. If you received your lung cancer screening test results outside of MedStar Health, we'll also request those be sent to us for review.
During your appointment, our multidisciplinary team of lung specialists will:
Discuss your medical history
Review your CT images
Calculate your risks
Establish a personalized lung health plan that may include:

Performing surgical and/or non-surgical biopsies
Conducting additional advanced diagnostic procedures
Scheduling follow-up imaging and appointments to ensure close monitoring
All results are reviewed by our multidisciplinary team of experts, including board-certified thoracic surgeons, radiologists, interventional pulmonologists, medical oncologists, and radiation oncologists. Your team will tailor a management plan unique to you based on the best studies available.
Blog: Should I Be Worried About a Lung Nodule?
Tobacco cessation support
Smoking is still the number one cause of lung cancer, which is why we offer comprehensive support services to help you quit. Even if you've been smoking for decades, you can lower your risk by quitting today. We're here to help you, from virtual smoking cessation classes to prescriptions covered by insurance.
Explore our free, virtual Tobacco Cessation classes
5 Tips to quit smoking
It's never too late to stop smoking. Having a plan to handle cravings in the first few weeks is the best way to ensure you're set up to successfully kick the habit for good. Here are a few tips to help you become tobacco-free:
Pick a quit date within the next 30 days.
Share your plans with family, friends, and co-workers who can encourage you.
Expect challenges and determine how you will resist the things that trigger your urge to smoke.
Enlist the help of your doctor who can recommend medications or nicotine replacements to ease withdrawal symptoms.
Consider counseling, either in a group or as an individual, to understand why you smoke and identify healthier alternatives to handle withdrawal and stress.
Watch: Want to quit smoking? MedStar Health tobacco treatment specialist and lung cancer survivor Pam Trombero discusses smoking cessation tips on Fox 45 WBFF.
Looking for expert cancer care?
With multiple locations throughout the region, patients have access to many of the nation's renowned cancer specialists offering high quality care, second opinions and a chance for better outcomes close to where they live and work. Georgetown Lombardi Comprehensive Cancer, one of the nation's comprehensive cancer centers designated by the National Cancer Institute (NCI), serves as the research engine allowing patients access to clinical trials that often lead to breakthroughs in cancer care.