Bariatric Surgery | Support and Services | MedStar Health
Staying put at home due to COVID-19? It is the perfect time to take the first step toward achieving your weight loss goals. Preparing for bariatric surgery takes some time, and now, patients can complete the entire process from home.
Start by taking the informational seminar (required) online. After that, we will schedule your first appointment with the doctor "virtually." And all classes that are part of the preparation process can be completed online. It's really that easy!
Weight loss surgery is, in many ways, the beginning of a personal journey to health. To give patients the greatest chance of succeeding, MedStar Health's bariatric surgery program offers a range of pre- and post-surgical support services.
Before being accepted into the program, patients receive nutrition counselling, psychiatric evaluation, and cardiopulmonary testing, where appropriate.
To help patients make the lifestyle changes they need to ensure long-term weight loss, the hospital offers a variety of post-surgical support services, including weight management education, nutrition counselling, cardiac risk reduction services, and a support group led by a health professional experienced in bariatric surgery. We'll show you how to prepare for surgery.
What to expect before surgery
Before your surgery, you will need to follow these guidelines:
Receive preoperative tests and lab work ordered by your surgeon to clear you for surgery.
Stop smoking or drinking alcohol a minimum of one month prior to surgery.
Begin a calorie-controlled, high-protein diet two weeks prior to surgery.
Stop taking aspirin or arthritis medications one week prior to surgery, as they interfere with the clotting of blood, vital for healing after surgery. Please consult your surgeon prior to any medication changes.
What to expect after surgery
Your surgeon will discuss your individualized postoperative plan. This may include referrals to nutritionists, exercise programs, psychotherapists, and/or support groups, and is essential for a successful outcome and recovery.
Eating after surgery
Directly after surgery, you will be on a strict liquid diet, transitioning to a soft and then regular diet, as instructed by your doctor. Moving to more solid food will be determined by your own individual progress. After surgery some patients may experience food intolerance and changes in gastrointestinal functions. MedStar Health nutritionists can guide you in planning the appropriate meals and diet.
Other post-surgery concerns
After many months of losing weight, you may have excess skin. Once your weight has stabilized, you may wish to talk with your surgeon about undergoing plastic or cosmetic surgery.
Members of our bariatric team also assist with your recovery care needs. Our team will be available to answer any questions you have regarding:
Diet
Navigating social activities (eating at restaurants, drinking alcohol)
Physical activity and exercise
Plastic surgery
Physical therapy
Returning to work
Supplements
Weight loss plateaus
Support groups
In-home bariatric care
MedStar Health Visiting Nurse Association (VNA) helps people heal in the comfort of their own home. As the largest homecare provider in the region, we offer expert care and compassionate support to patients recovering from weight loss surgery or living with obesity. Our comprehensive program helps patients achieve and maintain a healthier life.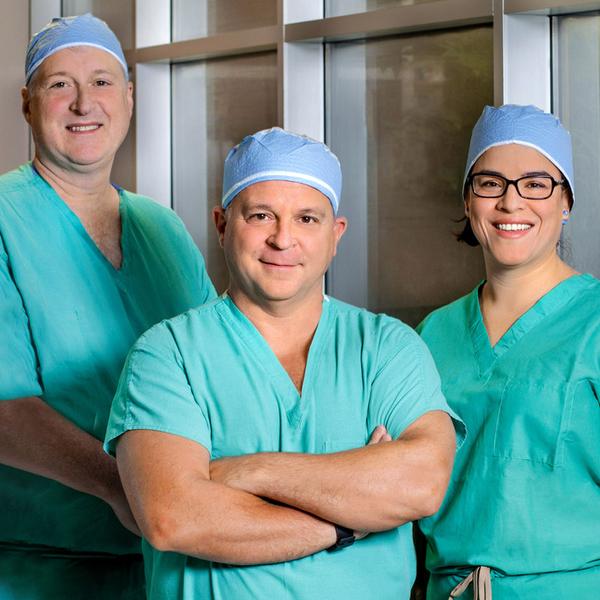 Expert bariatric care
Getting the care you need starts with seeing one of our bariatric surgeons.