Bariatric & Other Types of Weight Loss Surgery | MedStar Health
Christopher You, MD, Bariatric Surgeon with the da Vinci® Surgical System
To meet the needs of as many patients as possible in the region, we offer several types of bariatric surgery in Baltimore and Washington, D.C., The majority of weight loss surgeries use a robotic technique, which is considered minimally invasive. Bariatric robotic surgery usually results in a shorter hospital stay, faster recovery, smaller scars, and less pain than open surgical procedures.
The different types of bariatric surgery in MedStar Health include:
Additionally, our bariatric surgery centers offer a number of outpatient procedures, including the vBloc, which controls appetite through the placement of a device on the vagus nerve and OverStitch, which is available for patients who experience weight gain following bariatric surgery.
We stress that robotic weight loss surgery and outpatient treatments are simply tools available to support an individual who is on a journey toward better health and wellness. It is important that patients who seek our care understand that lifestyle changes are a critically important part of the process, and their ability to be successful. We support that process by offering a wide range of resources for our patients, including weight management education, nutritional counseling, exercise guidance, cardiac risk services, and a support group.
Laparoscopic gastric banding, commonly known as Lap-Band®, is the least extreme surgical option. During Lap-Band System™ surgery, an adjustable gastric band is placed around the upper part of the stomach. The band creates a smaller stomach pouch, decreasing the amount that can be ingested at any one time, as well as the time it takes for the smaller stomach pouch to empty. These bands are adjusted in a minor office procedure, until optimal weight loss is achieved.
The LAP-BAND® system procedure
The LAP-BAND® system reduces stomach capacity, restricting the amount of food an individual can consume at one time. The procedure involves placement of an adjustment band around the upper part of a patient's stomach. The band itself can be adjusted gradually through a minor outpatient office procedure, until optimal weight loss is achieved.
Without any stomach cutting or stapling, the LAP-BAND® system reduces your stomach's capacity, restricting the amount of food you are able to eat at one time. You feel full faster and stay full longer, so you wind up eating less. This FDA approved device was developed in collaboration with leading bariatric surgeons and is specially designed with OMNIFORM® technology — with pre-curved sections (or pillows) that conform to fit your body better, minimizing leaks due to creases or folds. This offers a 360° inflation area for an even distribution of pressure, more secure placement, and complete coverage of stomach anatomy.
During a sleeve gastrectomy, the size of the stomach to approximately 15 percent of its original size. What remains is a thin, vertical sleeve, capable of ingesting a significantly decreased amount of food. Additionally, the hormone responsible for signalling hunger is removed.
The length of time of the surgery varies. One study found that the average operative time was 1 to 2 hours and the average hospital stay was 1 day. Patients usually return to normal activities in 2 weeks and are fully recovered in 3 weeks.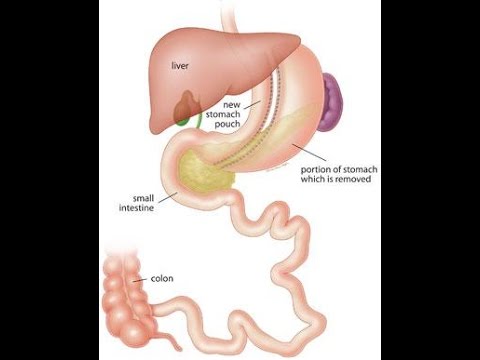 This procedure is ideal for individuals whose excess weight and weight-related medical conditions threaten to shorten their lives. During gastric bypass surgery, the stomach is divided to make a small pouch, then attached to a portion of the intestine, to bypass the larger stomach and the first part of the smaller intestine. The surgery changes the absorption rate of food, as well as decreasing the amount that can be ingested.
There are two approaches to Roux-en-Y gastric bypass surgery available: open and laparoscopic. With laparoscopic gastric bypass surgery, small incisions are made in the abdomen that allow for access to the stomach and intestines. This allows patients to avoid large incisions in the abdomen. However, some patients may require an open procedure based on their weight, body shape and medical history. With the open procedure, the surgical team uses a large incision. After the incisions are made, the surgical team then decreases the size of the stomach.
Learn more
Patient information
Bariatric surgery program
Nutrition education center
Expert bariatric care
Getting the care you need starts with seeing one of our bariatric surgeons.