Pulmonary Hypertension – Specialists & Program | MedStar Health
Comprehensive care for this complex disease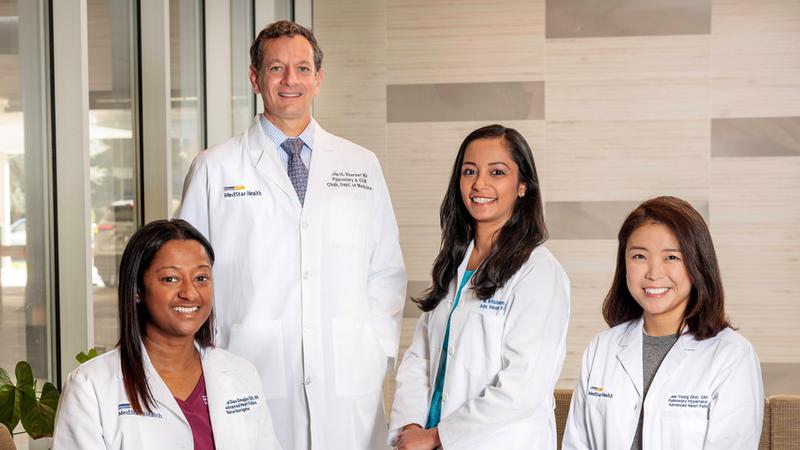 (l to r) Pulmonologist Julian Chung, MD; Cardiologist Raymond Young II, MD; Pulmonologist John Sherner, MD; Regional Director of Pulmonary Hypertension Program and Advanced Heart Failure Specialist Mrinalini Krishnan, MD; and Advanced Heart Failure Nurse Navigator Julie Dias-Douglas, BSN, RN
Pulmonary hypertension (PH) is a complex medical condition that warrants early identification and prompt diagnosis. Recognizing this disease process early can be the difference between a poor and successful patient outcome. Our multi-disciplinary team consists of cardiologists and pulmonologists offering the benefit of shared perspectives and inter-disciplinary collaboration. We work closely with referring primary care physicians, cardiologists, pulmonologists, rheumatologists, hematologists, and infectious disease specialists to screen any patients suspected of having PH and co-manage them through their disease process.
Our team has streamlined the diagnostic work-up for patients suspected to have pulmonary hypertension in order to evaluate them in a timely manner and provide appropriate medications and therapy accordingly – see "Tests" and "Treatments" in the left navigation bar.
Our partnership with the National Institutes of Health means our patients have access to cutting-edge diagnostic testing and clinical trials. We also partner with the Pulmonary Hypertension Association to provide patients and their caretakers with much needed support during treatment. For the majority of patients with PAH where there remains no cure, our team utilizes an array of medications to alleviate strain on the right side of heart and prevent right heart failure and death. With our team's expertise and close monitoring, patients with pulmonary hypertension can now live for many years on currently available medications and delay the need for lung transplantation. For more information about the MedStar Health Pulmonary Hypertension Program, please call (202) 877-2339.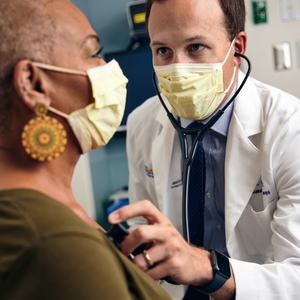 Expert cardiology care
Getting the care you need starts with seeing one of our cardiologists.
Tests
An array of bloodwork is done to evaluate for underlying medical conditions that may be causing or contributing to pulmonary hypertension – this includes tests to screen of thyroid function, infectious diseases including hepatitis and HIV, blood disorders, drug testing, and auto-immune disorders including lupus, rheumatoid arthritis and scleroderma.
Cardiac Catheterization (Right Heart)
Right heart catheterization is a procedure required to diagnose pulmonary hypertension. This is done by guiding a thin, flexible tube called a catheter through blood vessels into the heart and pulmonary arteries and measuring pressures.
Cardiopulmonary Stress Test
Cardiopulmonary exercise stress testing is a non-invasive exercise test to evaluate if a person is limited by their heart, their lungs or deconditioning.
Computerized Tomography (CT) Scan
The computerized tomography scan uses X-rays to create three-dimensional images of your heart, blood vessels, and lungs. High-resolution CT scans can evaluate for interstitial lung disease and lung scarring.
Echocardiogram
An echocardiogram uses high-frequency sound waves to create images of your heart. This test can show the size and function of the heart as well as estimate pressures within the heart.
Liver Ultrasound
A liver ultrasound uses high-frequency sound waves to create images of your liver and evaluate blood flow in the blood vessels within the liver.
Magnetic Resonance Imaging (MRI)
Magnetic resonance imaging is a combination of radio waves, magnets, and computer technology to create images of your heart, blood vessels, and lungs. This test can show the size and function of the heart.
Pulmonary Function Test
A non-invasive breathing test to determine how well the lungs are working and the extent of any pulmonary impairment.
Six-Minute Walk Test
A six-minute walk test assesses the distance a person can walk over 6 minutes, while monitoring blood pressure, heart rate and oxygen levels. This test provides objective information about a person's functional capacity.
Sleep study
A sleep study uses an Electroencephalogram (EEG) to diagnose sleep apnea and other sleep disorders.
VQ Scan
A scan, combined with an x-ray of the chest, that measures both air flow and blood flow in the lungs, and can help detect the presence of blood clots in the lungs.
Treatments
Medical management
Once the diagnosis and cause of pulmonary hypertension is confirmed, our team utilizes specialized vasodilator medications to treat PH. Periodic clinic visits with testing including echocardiograms, six-minute walk tests and bloodwork also help risk-stratify patients for prompt adjustment and escalation of their therapies as needed.
Surgical intervention
Patients with Chronic Thromboembolic Pulmonary Hypertension (CTEPH) may benefit from pulmonary endarterectomy or angioplasty, which can be curative. If patients do not improve significantly with vasodilator medications, they may require referral for consideration of lung and heart transplantation.