CyberKnife Therapy Targets Prostate Cancer With Fewer Treatments Five vs 40
If you are experiencing a medical emergency, please call 911 or seek care at an emergency room.
​
CyberKnife therapy can treat prostate cancer in just five treatments—compared to the approximately 40 treatments needed with traditional radiation therapy.
Sixty-eight-year-old David Viglione was glad to learn about this treatment option when his elevated PSA level and subsequent biopsy confirmed his prostate cancer diagnosis. David was looking for a therapy to match his active life: no downtime, a speedy recovery and few side effects.
"That's when my wife convinced me to go to MedStar Georgetown University Hospital and ask about CyberKnife treatment," David says.
CyberKnife is a radiation therapy procedure performed with no anesthesia—and no hospitalization. It targets tumors using highly precise, directed radiation, with minimal damage to surrounding healthy tissue. CyberKnife is also the only system that adjusts for patient or tumor movement during treatment, making it especially suitable for the prostate. Each session takes less than one hour, and patients are home the same day.
MedStar Georgetown was the first hospital on the East Coast to offer the technology and is among the world's most experienced CyberKnife sites, especially for the treatment of prostate cancer, with more than 1,100 procedures performed.
"CyberKnife is a very sophisticated computer technology that allows us to directly target the prostate, while limiting harm to surrounding healthy tissue," explains Sean Collins, MD, a radiation oncologist at MedStar Georgetown. "Standard radiation therapy uses low-dose radiation and requires treatment five days a week for up to nine weeks. With CyberKnife, patients receive just five treatments of high-dose radiation during a one- to two-week period," he adds.
CyberKnife can be a good treatment option for patients who have early- stage or localized tumors, have a lesion or tumor that is untreatable by surgery or standard radiation options, are elderly or in compromised health, are on certain medications such as blood thinners or have other health concerns.
"David had an intermediate-risk prostate cancer and was a good candidate for the procedure," says Dr. Collins. "Because he is a very active man—working full time, traveling and going to the gym routinely—he wanted a way to treat his cancer that would not disrupt his busy life."
Prior to the procedure, gold markers the size of a grain of rice are implanted into the prostate, and magnetic resonance imaging (MRI) is used to visualize the prostate and surrounding structures. CyberKnife uses a combination of robotics, image guidance systems and computers to deliver highly concentrated doses of radiation to the prostate. The markers serve as a guide to ensure that the system's robotic arm emits the high- energy beams of radiation precisely to the prostate.
Now six years later, David calls himself the "poster child" for CyberKnife. "I'm proof that prostate cancer is not the end of your life. MedStar Georgetown gave me options and allowed me to make personal choices based on my goals," he says. "CyberKnife killed my cancer. I still work part time, play racquetball, travel and enjoy watching my children and grandchildren grow—all thanks to my team at MedStar Georgetown."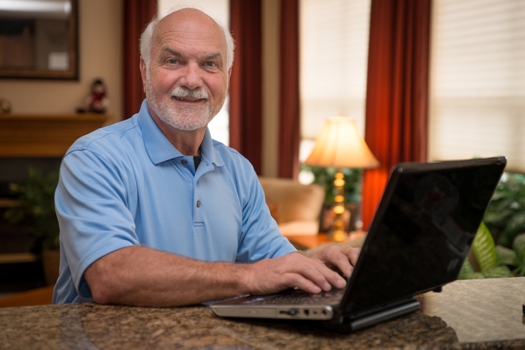 ​
Stay up to date and subscribe to our blog