Kidney and Pancreas Transplants Cure Type 1 Diabetes
If you are experiencing a medical emergency, please call 911 or seek care at an emergency room.
Since he was diagnosed with type 1 diabetes at age 11, 44-year-old Ben Wall has worked hard to keep the disease from preventing him from living the life he wanted to live.
Type 1 diabetes is a chronic condition caused when the pancreas produces little or no insulin, a hormone used to regulate blood sugar. The disease can often be managed by taking insulin, monitoring blood sugar, maintaining a careful diet, and leading a healthy lifestyle.
Ben has always taken his health seriously. He and his wife, Kate, have been strict vegans for 15 years and love to walk and bike. Yet, despite the couple's healthy habits, Ben began to experience more serious diabetic complications about ten years ago. Foot wounds that would not heal, a problem Ben first experienced in his teens, grew worse, making it more difficult to be on his feet. His foot joints degenerated, requiring amputation.
Kate watched Ben's health with increasing concern. "Each time Ben faced a new complication, we were waiting for the other shoe to drop," she says. "As his condition got more complicated, it felt like it was just raining shoes."
Eventually, Ben's diabetes caused kidney failure, a serious condition that requires dialysis or a kidney transplant. According to the National Institutes of Health (NIH), about one out of four adults with diabetes will develop kidney disease. 
Ben underwent dialysis, a treatment that saved his life but left him feeling drained. Several of his family members and friends volunteered to donate a kidney. Only 10 to 15 percent of patients seeking a kidney
transplant have a living donor. Transplants from a living donor last longest and work best.
It turned out that the best donor match was right under Ben's own roof: Kate. She was more than happy to donate her kidney to her husband. "I love Ben and wanted to do everything I could to help him get healthier," she says.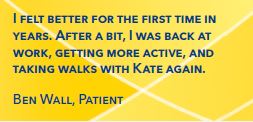 The MedStar Georgetown Transplant Institute is the fifth largest program in the country for overall volume of kidney and pancreatic transplants. Peter Abrams, MD, director of Pancreas and Islet Cell Transplantation, performed the kidney transplant surgery once Ben was cleared for transplant.
The surgery was extremely successful, with Ben's kidney function returning to normal within just two days. "I felt better for the first time in years," he says. "After a bit, I was back at work, getting more active, and taking walks with Kate again."
However, another surgery was required to keep him healthy. "Diabetes begins to injure the new kidney as soon as it's transplanted," explains Dr. Abrams. "A pancreas transplant, which restores normal glucose regulation, can actually cure diabetes. A healthy pancreas would protect Ben's new kidney and prevent the development of further diabetic complications."
When Ben had fully recovered from his kidney transplant, Dr. Abrams performed the pancreas transplant with an organ from a deceased donor. The MedStar Georgetown Transplant Institute performs more pancreas transplants than any other program in the region and achieves patient survival rates that exceed the national average. After recovery, Ben is feeling like his old self again. "I just keep feeling better and better. With my diabetes cured, I don't need to test my blood sugar or use insulin. I feel free," he says. 
Kate is thrilled to see Ben doing so well. "Ben was very sick for a long time and now I feel like he's whole again. His experience shows that there's hope in the most dire circumstances. We're so grateful to the team at MedStar Georgetown. They put us back on the path to a better, healthier life."
Meet Peter Abrams, MD
Dr. Abrams is director of Pancreas and Islet Cell Transplantation at MedStar Georgetown University Hospital. Watch Dr. Abrams discuss kidney and pancreas transplant surgery.
Stay up to date and subscribe to our blog