Research Partnering with D.C. Mothers to Help Stop Preventable Birthing Harms.
If you are experiencing a medical emergency, please call 911 or seek care at an emergency room.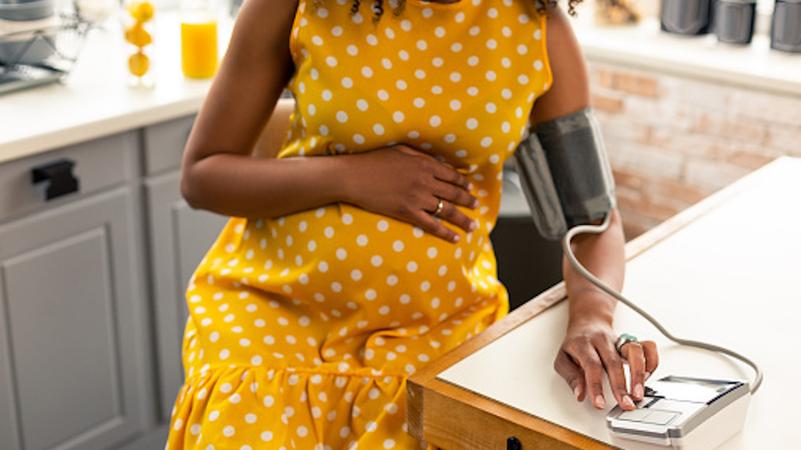 This article was written by Karey M. Sutton, Ph.D.
New research shows mothers/birthing individuals are at risk of maternal harm regardless of racial or ethnic background, and despite their traumatic effects, many patient harm events go unrecognized.
The maternal mortality rate in the U.S. continues to be more than three times the rate of other wealthy nations at 23.8 deaths per 100,000 total live births. The crisis is more than twice as bad for Black mothers in the U.S., 55.3 of whom die per 100,000 live births.
According to research from the U.S. Centers for Disease Control and Prevention's Maternal Mortality Review Committee, more than 80% of pregnancy-related deaths between 2017 and 2019 were preventable. Leading causes included mental health conditions such as suicide and substance use disorder-related overdose, bleeding, heart conditions, and infection.
As part of MedStar Health's D.C. Safe Babies Safe Moms initiative, our researchers are working to understand the lived experiences of mothers so we can help prevent future patient safety events. Through qualitative research, we collected mothers/birthing individuals' stories of childbirth, prenatal, and postpartum experiences.
It's called The Mother's Voice Project because listening to the lived experiences of mothers/birthing individuals can help contextualize what we know from statistical data, giving a voice to those who have suffered and a stronger push toward action.
Survey results: Harm is universal but unequal.
Building on the groundbreaking work of MedStar Health's D.C. Safe Babies Safe Moms initiative, our study began with a survey distributed to people who had given birth in 2017 or 2018 at MedStar Washington Hospital Center or MedStar Georgetown University Hospital.

Among the critical preliminary results of our survey is that women, regardless of their racial and ethnic background, are experiencing maternal harm events. Many of these events have not been flagged in the record-keeping system. This helps us understand that our definition of what constitutes harm is based on the perception of providers, not patients.
One-on-one interviews reveal trauma, gratitude.
In the next phase of our research, we hope to conduct one-on-one interviews with at least 40 mothers/birthing individuals—a lofty goal for qualitative research, but one we feel is within reach.
We've noted some reluctance from Black mothers who've completed our survey to participate in interviews. Retelling traumatic events are complex, and we surmise that some of this lower response rate is due to the ongoing effects of generational traumas in Black communities due to past unethical medical research.
To reduce maternal harm, researchers, providers, and health administrators must build meaningful relationships so that women and birthing people of color feel comfortable discussing their experiences with bias, discrimination, and traumatic events.
One common theme among all the interviews we've conducted is gratitude. Every mother we spoke with thanked us for listening to them and allowing their stories to be heard. This indicates this work's importance and the good we can do together to help reduce maternal harm.
Working with mothers to help end harm.
Using mothers' voices to guide our work, we'll take actionable steps to help keep more mothers/birthing individuals safer and healthier before, during, and after delivery.

Using the themes revealed during our initial interviews, we're working to develop a complete maternal safety taxonomy. This standardized set of definitions and terms will allow providers and patients to speak the same language regarding unsafe conditions and what constitutes maternal harm.
Next, we'll develop a toolkit based on our work, which will integrate into the D.C. Safe Babies Safe Moms initiative beginning in 2023. This toolkit will help mothers accurately capture information about preventable harms and facts about provider bias and its impacts on care.
Each participant in our research is a partner in helping to solve the maternal mortality and morbidity crisis. As part of this unique partnership, participants will be able to help mothers avoid the traumas they have experienced and make their own stories known.
Future versions of the toolkit will include updates to our understanding. The toolkits will reflect our partnership and shared vision between healthcare providers and mothers/birthing individuals throughout Washington, D.C. We know the best way to solve a big problem is to work together by bringing our strengths and talents to the cause so we can accomplish meaningful change together.
Want more information about this study?
Learn more about eligibility criteria and how to enroll.
Stay up to date and subscribe to our blog