New Ankle Renewed Quality of Life
If you are experiencing a medical emergency, please call 911 or seek care at an emergency room.
 By Emily Turk
At just 54 years old, Brian Wallace was far from ready to shut the door on his active life. But his constant ankle pain was threatening his ability to function. "I would wake up in the middle of the night in excruciating pain," Brian says. "It became so debilitating, and it was difficult to walk."
When multiple trips to the chiropractor and shots of cortisone finally proved useless, Brian asked his uncle, an orthopaedic surgeon in New York, for a referral. "He told me to see Paul Cooper, MD, at MedStar Georgetown University Hospital, and I'm very glad I did," Brian says. "I thought I would have to have a joint fusion. But then Dr. Cooper told me I could have an ankle joint replacement. I didn't even know that was available!"
Dr. Cooper, director of the Foot and Ankle Center at MedStar Georgetown, is one of just a handful of orthopaedists in the region who specializes in foot and ankle disorders.
"Often, patients with ankle pain visit a general orthopaedist and are told that joint fusion is their only option," says Dr. Cooper. "But that's simply not true. Ankle joint replacement is a very good option for patients with end-stage ankle arthritis—the result of trauma, sports injury or deformity."
"We have a generation of healthy, athletic baby boomers whose active lives can cause wear and tear on joints that lead to arthritis," he says. "Cartilage disappears, leaving bone moving against bone, causing significant pain. For patients like Mr. Wallace—who played basketball and football—joint replacement may be necessary to sustain quality of life," Dr. Cooper notes.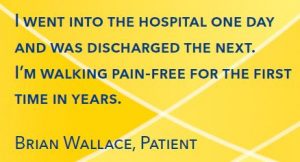 At MedStar Georgetown, nearly all of Dr. Cooper's patients receive the STAR™ joint. Dr. Cooper was the first surgeon in the U.S. to implant this revolutionary joint in a patient. The STAR™ implant more closely mimics the three bones that make up the ankle joint. It is a three-piece, mobile-bearing ankle made of metal and polyethylene—older implants consist of just two parts.
"The parts move independently for increased mobility and movement that is closest to the real ankle," Dr. Cooper adds. "It also wears better and is easier to upgrade."
Fortunately, Brian was an ideal candidate for the implant. During the 45-minute procedure, Dr. Cooper made a three-inch incision at the ankle, cut bone at the joint and inserted the new ankle joint.
Brian has been a model patient at his physical therapy appointments—and his persistence has paid off. "I'm pain-free for the first time in years—walking my dog and planning to replace my roof," he says. "Now when I see people suffering from ankle pain, I enthusiastically tell them to go to Dr. Cooper."
Stay up to date and subscribe to our blog