New Tools Techniques for CTOs Revascularization of a 24-year-old CTO
If you are experiencing a medical emergency, please call 911 or seek care at an emergency room.
Armed with techniques learned in Asia and new devices created in the U.S., two specialists at MedStar Washington Hospital Center are giving hope to a subset of chronic total occlusion (CTO) patients whose condition was previously considered untreatable. They include ones who are not good candidates for surgery or have failed medical therapy.
"We are restoring quality of life to these patients," says interventional cardiologist Robert Gallino, MD, who is now doing two of these hybrid percutaneous coronary interventions (PCI) a week with great results.
A recent case, in particular, stands out. Richard Talley, a 70-year-old St. Leonard, Md., man, had coronary artery bypass in 1991 and a mild stroke in 2011. In 2014, he suffered a heart attack. Deepening fatigue meant he had to give up his passion for sailing. "I hated to admit having no energy," says Talley.
Talley's cardiologist performed an angiogram and found the bypass had closed. He sent him to Dr. Gallino after diagnosing CTO. Dr. Gallino had traveled to Asia and Europe to learn special CTO techniques. "The Japanese had special wires and micro catheters that we just didn't have," Dr. Gallino says.
Success rates are now about 90 percent with the U.S. adaptation of overseas techniques and the new tools that produce shorter, more successful openings of CTOs. Dr. Gallino and Nelson Bernardo, MD, started performing these hybrid CTO PCIs about 18 months ago. Only eight U.S. hospitals are doing more than 50 such heart procedures a year, they say.
Dr. Gallino's goal was to open Talley's original blockage. The challenge was twofold: the duration of the CTO—24 years—and the length of the occlusion— approximately 80 mm.
In this procedure, after failing to cross the CTO from the antegrade approach (1), the retrograde approach (2) through the left anterior descending artery (LAD) was used. The septal perforators from the LAD provided the collateral avenue for the passage of a guide wire into the patent distal RCA segment (3). A hydrophilic guide wire was advanced through a support catheter and used to break the distal cap of the CTO (4). An antegrade balloon was placed into the proximal cap in an attempt to create a membrane with the retrograde wire. This wire was advanced, retrograde, up the total occlusion into the guiding catheter engaged at the ostium of the RCA. The support catheter was then advanced into the guiding catheter establishing access. This allowed the advancement of a 350-cm guide wire from the left coronary guide through the occlusion and into the RCA guiding catheter. The exteriorized guide wire was then used for antegrade advancement of balloon catheters and coronary stents for definitive treatment of the RCA CTO.
"The technique provides an additional opportunity for patients who would otherwise be relegated to medical therapy," says Dr. Bernado.
"Some of these patients, like Mr. Talley, talk about how miserable they were before and how great they feel now," says Dr. Gallino. Talley agrees. "I went from a small six-cylinder to a big V-8 engine! I felt better almost immediately and haven't stopped since."
For more information, please email Dr. Gallino or Dr. Bernardo. 
1) Antegrade approach
2) Retrograde approach3) Retrograde guide wire
4) Breaking through retrograde distal cap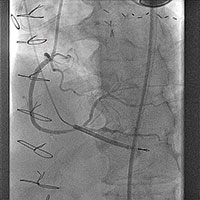 Top right: Right coronary artery before with a chronic total occlusion (CTO) soon after its origin
 Middle: Stent inflated in the right coronary artery
Bottom: Right coronary artery after CTO percutaneous coronary intervention (PCI)
Stay up to date and subscribe to our blog