Tracys Kids Provides Hope and Healing to Pediatric Cancer Patients and Their Families 
If you are experiencing a medical emergency, please call 911 or seek care at an emergency room.
When a child is diagnosed with cancer, a family's entire world is disrupted. Over the past 20 years, Tracy's Kids has committed over $2.1 million to an art therapy program designed to keep things as normal as possible for those being treated at MedStar Georgetown University Hospital.
Tracy's Kids offers patients and their families a therapeutic outlet to identify and process the difficult experiences and feelings that accompany cancer. At MedStar Georgetown, art therapists Tracy Councill, MA, ATR-BC, and Kristin Ramsey, MA, ATR, serve as integrated members of the pediatric oncology team, working in both inpatient and outpatient settings. Tracy's Kids provides free services to approximately 2,000 pediatric cancer patients and their siblings at MedStar Georgetown each year.
The non-profit was established in 1998, when Tracy's Kids founder and President Matt Gerson heard about an art therapy program that Councill had started at the Georgetown Lombardi Comprehensive Cancer Center seven years earlier. Gerson and Councill grew the Lombardi program into Tracy's Kids, now a national organization offering art therapy free of charge to patients at seven locations in five states.
"MedStar Georgetown's core value of cura personalis, or care for the whole person, allowed the program to flourish into what it is today," Councill says.
Gerson also brings a personal perspective to his role, as he was diagnosed with cancer at age 10. "When I was going through cancer treatment, my medical team's focus was on getting my body well. There was much less focus on taking care of me or my sister emotionally," he remembers. "The mission of Tracy's Kids is to ensure that the children we serve are emotionally equipped to fight cancer as actively as possible−and prepared for the time when they are cancer-free."
Gerson has deep ties to the Georgetown community. He and his wife are both graduates of Georgetown Law and their daughter is currently in her first year. "The work that Tracy's Kids is doing at MedStar Georgetown is important to me both because of my memories of being a patient and because of my Hoya pride," he says.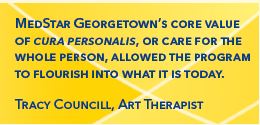 A Hollywood-themed fundraiser, held each February, is one source of the program's operating funds. The event is well attended by Washington, D.C.,'s political community, with members of Congress turning out among the crowd of Tracy's Kids supporters each year. Grants and individual philanthropic investments are also important to sustaining Tracy's Kids' work.
"Tracy's Kids has been a steadfast partner to MedStar Georgetown for two decades. Their extraordinary contributions surpassed $2 million last year," says Pam Maroulis, MedStar Georgetown's vice president of Philanthropy. "The program directs over 80 percent of their budget into art supplies and therapists' salaries—so every philanthropic dollar invested in this program represents a significant impact on the lives of young cancer patients and their families."
"The children we work with are often missing out on fun childhood activities like sports and sleepovers," says Ramsey. "When they are at the art table, they can be kids again. With the help of Matt and other philanthropic investors, Tracy's Kids will be here to help kids get well, both physically and emotionally, for decades more to come."
Stay up to date and subscribe to our blog