Repairing the 'Forgotten' Tricuspid Valve: Breaking New Ground in Minimally Invasive Heart Surgery.
If you are experiencing a medical emergency, please call 911 or seek care at an emergency room.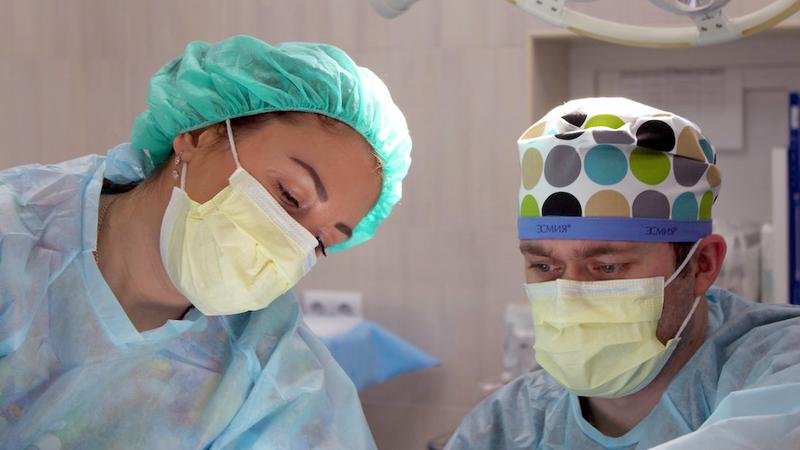 This article was written by Brian Thomas Bethea, MD. Research from the Triluminate study of a novel device to repair the tricuspid valve has shown excellent early results, giving physician-scientists at MedStar Health Research Institute a new opportunity to change the lives of patients with heart disease.
A new investigational device offers life-saving treatment through the TRILUMINATE study to patients with tricuspid regurgitation—a heart valve condition for which there has historically been little hope of recovery.
The transcatheter tricuspid valve repair (TTVr) system developed by Abbott is a percutaneous transcatheter device that repairs the tricuspid valve without open surgery or large incisions, providing swift, significant relief from symptoms. This leading-edge system and the minimally invasive procedure to place it provides MedStar Health patients access to a complete toolkit of interventional cardiac care.
About 1.6 million people in the U.S. have moderate to severe tricuspid regurgitation (TR), in which blood flows backward from the heart's lower ventricle into its upper atrium due to a leak in the valve between its chambers, known as the tricuspid valve. If the tricuspid valve's flaps, or leaflets, fail to close correctly, blood flow backwards, causing the heart to work harder.
The tricuspid valve is sometimes referred to as "the forgotten valve" because early symptoms of TR are difficult to detect, and once severe dysfunction develops, the condition is difficult to treat and often progresses to heart failure.

Symptoms of advanced TR can include:
Abnormal heart rhythm

Enlarged liver

Fatigue

Pulsing in the neck

Shortness of breath

Swelling of the abdomen, legs, or neck
Some patients with severe TR are candidates for tricuspid valve surgery. However, cardiovascular surgeons have been hesitant to perform these procedures because they carry significant risks for patients who are often quite sick. Risks can include renal failure, heart failure and death. When TR surgery is performed, it is usually done at the same time as surgery for other heart conditions.

"The TTVr device has shown significant promise—while TRILUMINATE data are not yet ready for publication, the patient outcomes we're seeing offer reasons to be optimistic" Dr. Bethea.

Minimally invasive, safe, effective treatment.
When we've performed traditional tricuspid surgery, our patients were in for a long haul, as isolated surgical correction results in a hospital stay of 10 to 30 days.
TTVr device implantation is much more streamlined, and most patients can go home the next day. The proceduralist implants one or more V-shaped clips using a tiny tube inserted under the skin and threaded through the right femoral vein until it reaches the defective valve. The clips reinforce the tricuspid valve, reducing backflow and relieving symptoms.
Early studies of the TTVr system have shown that nearly 87% of patients saw a reduction in the severity of their symptoms and a significant improvement in their quality of life.
"Having studied this device extensively, I can report that patients commonly achieve significant relief right away, and they feel even better as time goes on. We need more research into the long-term outlook for patients, especially younger patients, managing long-term tricuspid valve repair" said Dr. Bethea.
Triluminate data will reveal more about the benefits of TTVr, and I am optimistic this device will, when approved, be a game-changer for patients and cardiologists alike.
The future is bright.
The U.S. Food and Drug Administration (FDA) is in the midst of its careful and necessary review process, and the bulk of the research is complete. I am optimistic the TTVR device will soon be making a difference in patients' lives.
Someday soon, science will allow us to replace or repair the tricuspid value with minimally invasive techniques like TTVr. Until then, we are pleased to have access to this remarkable device, allowing us to turn a negative outlook for severe TR into a home-next-day solution for our patients.
At MedStar Health, we are implanting this leading-edge device in qualified patients under a continued access authorization from the FDA. If you have TR, talk with your doctor to find out if you might be a candidate or contact our study coordinator, Keith Moyer, 443-278-9170 x2.
Want more information about this study?
Learn more about eligibility criteria and how to enroll.
Stay up to date and subscribe to our blog