Understanding Prostate Cancer: Comprehensive Care and Advanced Treatments.
If you are experiencing a medical emergency, please call 911 or seek care at an emergency room.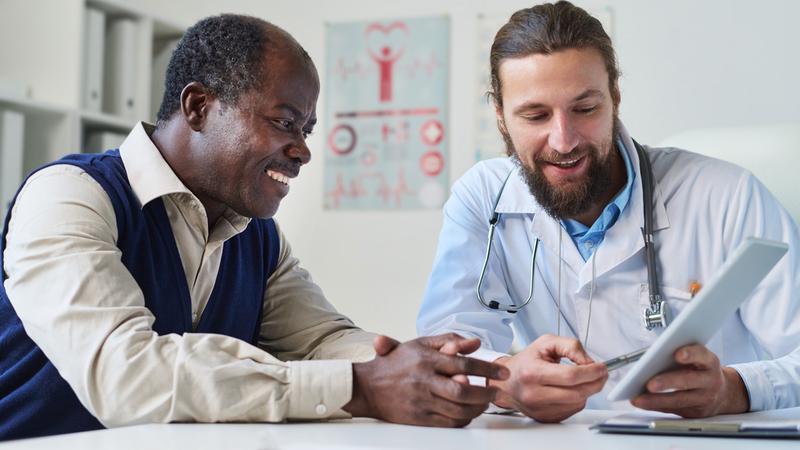 Prostate cancer is one of the most common cancers in men, with approximately one in eight men receiving a diagnosis at some point in their lives. Fortunately, early diagnosis and a broad range of effective treatments have contributed to positive outcomes with fewer long-term side effects. As one of the leading teams in the Washington, D.C. and Maryland region, we at MedStar Health dedicate ourselves to helping patients find the most suitable prostate cancer treatment.
Unparalleled care.
Our team of seasoned experts from various medical specialties is committed to improving prostate cancer outcomes. We offer the latest technology and techniques in robotic and minimally invasive surgery, radiation, and medical oncology, under the stewardship of some of the region's most experienced surgeons and oncologists.
Our multidisciplinary care team also includes nurses, social workers, genetic counselors, and nutritionists, among others, who work in unison to support patients and their families during their journey toward health. Our strategic partnership with Georgetown University's Lombardi Comprehensive Cancer Center, the region's only National Cancer Institute-designated comprehensive cancer center, ensures patients benefit from ground-breaking research and clinical trials, leading to more effective, personalized treatments.
Identifying symptoms and risk factors.
Prostate cancer often remains symptomless in its early stages, growing slowly and silently. As the disease progresses, however, symptoms such as urination problems, frequent pain in the lower back, hips, or upper thighs, difficulty maintaining erections, loss of appetite, and weight can manifest. Importantly, some of these symptoms could be linked to other conditions, such as infection or prostate enlargement. Therefore, it's essential to consult your primary care doctor or urologist promptly if you experience any of these signs. If you do not have a primary care provider or urologist, use our Find a Doctor tool to find a provider.
Understanding your risk factors is also crucial for early detection. If you're over 50, African-American, have a family history of prostate or breast cancer, carry a BRCA gene, or are obese, you may be at a higher risk. Regular screening through a prostate-specific antigen (PSA) test is crucial if you're at high risk.
Screening and prevention.
Prostate cancer screening is not a one-size-fits-all approach. Some men will develop prostate cancer in their lifetime, but the disease affects every man differently, and often, it doesn't become life-threatening. Therefore, understanding the importance of early detection is key, as it offers more treatment options.
At MedStar Health, we use various methods for prostate cancer screening, including a blood test measuring prostate-specific antigen (PSA) levels and a digital rectal examination (DRE). This simple procedure allows your provider to detect any lumps on the prostate. Talk to your primary care provider or urologist to find out if a PSA test is right for you. If you don't have a provider, use our Find a Doctor tool to find one that fits your needs.
Prostate cancer diagnosis.
If your PSA levels are high, we understand this can trigger anxiety. That's why we rely on advanced detection tools to determine if cancer is present and assess its extent quickly. Our diagnostic techniques include prostate biopsy, Gleason scores, biomarker profiling, and PSMA PET imaging. Click here to learn more about prostate cancer diagnosis techniques.
A range of treatments.
We offer comprehensive treatment options tailored to every case of prostate cancer, ranging from watchful waiting for slow-growing cancers to aggressive interventions for faster-growing ones. Our treatments prioritize minimizing and managing possible side effects, using advanced methods such as robotic surgeries and targeted therapies that spare healthy tissue and nerves.
Our treatment plans may include surgery, radiation therapy, chemotherapy, immunotherapy and targeted therapy, hormone therapy, and radiopharmaceutical drugs. All our treatments aim to deliver the highest level of precision and care with the least impact on the patient's quality of life. To learn more about treatment options, click here.
Watch our Facebook Live broadcast below with Dr. Kowalczyk and Dr. Randolph-Jackson to learn more about prostate cancer:

Let us help.
At MedStar Health, we strive to provide expert cancer care that doesn't only focus on the disease but also respects the patient's dignity and compassion. With multiple locations throughout the region, patients have easy access to top-tier cancer specialists and high-quality care. Furthermore, our partnership with the Georgetown University's Lombardi Comprehensive Cancer Center gives our patients access to clinical trials, often leading to breakthroughs in cancer care.
Prostate cancer is a journey, and we're here to ensure you're not walking it alone. We're proud of our unmatched experience, and above all, we're honored to treat you with the dignity, respect, and compassion you deserve.
Are you in need of treatment for prostate cancer?
Click the button below to schedule an appointment or learn more.
Stay up to date and subscribe to our blog