Patient & Visitor Information | MedStar Washington Hospital Center | MedStar Health
ALERT: Visitor restrictions and guidance during COVID-19: MedStar Health has implemented a three-tier Visitor and Patient Support Persons Policy that allows for adjustments based on the number of COVID-19 cases in the community, according to state and county public health data. MedStar Washington Hospital Center currently has GREEN tier visitor restrictions in place.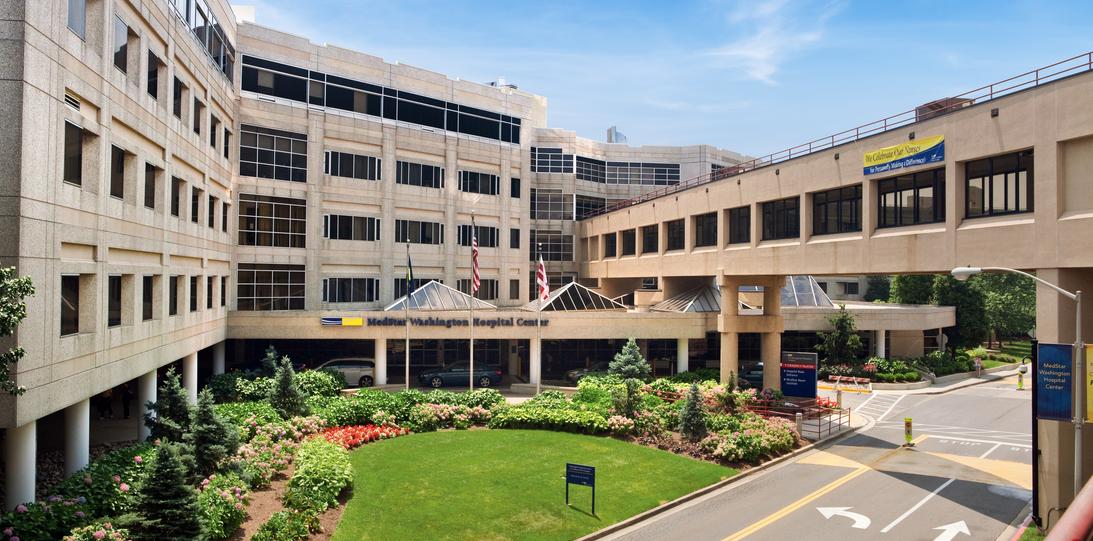 Serving you with expertise, compassion, and innovation
We're a large, academic medical center on a 47-acre campus featuring some of the area's most experienced healthcare professionals.
We strive to provide superior care to you and serve you and your family with dignity and respect. There is a healing relationship between our patients and caregivers.
Our doctors listen to their patients and partner with them to improve their health.
Our staff always puts patients first.
Welcome to our center
Visitors are important to our patients' recovery, and we invite you to visit with your friend or loved one. The entire staff at MedStar Washington Hospital Center will make your visit as pleasant and comfortable as possible.
Patient and Guest Services operates a Welcome Center in the main lobby to meet your needs. They provide the following services:
Taxi information
Patient information
Addressing concerns and compliments
Information about our hospital or the Washington, D.C., region
Information and directions to area services and locations
Lobby gift shop
Lori's Gifts is located in the main lobby. The gift shop stocks newspapers, magazines, paperback books, toiletry articles, candy, toys, flowers, plants, balloons, greeting cards, and a large gift assortment.
The gift shop is open Monday through Friday, 10 a.m. to 8 p.m. and Saturday and Sunday from 10 a.m. to 6 p.m. For more information, call 202-877-5894.
Free Wi-Fi
We are pleased to offer free Internet services to patients, visitors, and guests
Please note
If headphones are not used, all sound features and webcams must be turned off at all times.
Users must consult with caregivers prior to plugging a laptop into an outlet.
MedStar Washington does not provide laptops and is not responsible for the security of personal laptops or other wireless devices.
Contact us
For assistance in connecting to the Internet, contact the MedStar Health Wireless Help Desk at 866-833-1463.
Visiting hours and policies
A patient- and family-centered approach to care
MedStar Washington promotes and supports a patient- and family-centered approach to care. We understand how important family and friendly relationships are to our patients.
That's why all hospitalized patients have the right to have visitors of their choice during their stay, unless visitation interferes with the well-being, rights, or safety of others, or is not medically indicated in the patient's care.
Since the safety of our patients, staff, and visitors will always be our top priority, these policies may be subject to change. We are following the guidance of the U.S. Centers for Disease Control and Prevention (CDC) so that patients affected by COVID-19 will be able to get the care they need while protecting the health and safety of our associates and the community at large.
We will not deny visitation privileges based on race, religion, ethnicity, language, culture, size, gender, sexual orientation, gender identity or expression, socioeconomic status, or physical or mental ability or disability. Patients will be informed of these rights upon admission to the hospital.
General information
Due to the ongoing global health emergency, this information may change depending on hospital policy or current CDC recommendations and guidelines.
All visitors must display the hospital-provided identification badge at all times while visiting anywhere within the hospital.
Badges are available at the information desk.
Visitors are welcome from 6 a.m. to 8:30 p.m. on most general nursing units.
There are open visitation hours on Labor and Delivery, NICU (Neonatal Intensive Care Unit), and Intensive Care Units.

Visiting hours vary based on the level of care, the type of unit, and physicians' instructions.
Ask a member of the nursing staff if there are exceptions to visiting hours on your unit.

Due to the limited amount of space in the patient rooms and waiting areas, only two people may visit a patient at one time.
If you are visiting a patient in a semi-private room, please be courteous and considerate of both patients.
Intensive care and intermediate care units
Visitors in intensive care and intermediate care units are generally limited to members of the immediate family or same-sex partner, and are allowed at the discretion of the nursing staff.
Flowers and plants are not permitted in intensive care units or intermediate care units on 1E and 2E, as well as the ER One Bridge.
Children
Children under 12 years of age are not permitted in the medical/surgical patient care areas, but they are welcome in waiting areas. Maternity patients may arrange through their nurses for older siblings to visit mom and the new baby.
Special arrangements in other clinical areas may be made on a case-by-case basis through the head nurse or clinical supervisor.
Surgical visitation
Family members and same-sex partners may stay with patients immediately before surgery, even if this is outside visiting hours. During surgery, visitors may wait in the surgical waiting rooms where the surgeons and/or nurses will talk with them following surgery.
Visitors are not permitted in the operating rooms at any time. Family members and same-sex partners may visit patients in the Post Anesthesia Care Unit (PACU) for brief periods of time.
Dining options
Our cafeteria
The Center Café, our large, full-service cafeteria, is located on the ground floor of the main hospital building. Follow the fork and knife signs on the ground floor to the cafeteria.
Breakfast, lunch, dinner, and snacks are available
Open every day from 6:15 a.m. to 8:00 p.m.
Due to the COVID-19 pandemic, our cafeteria is currently closed to patients and visitors. You may visit Panera Bread (open 24 hours). We apologize for any inconvenience.
Panera Bread®
Panera Bread is located in the Samet Atrium beside the elevators for the Physicians Office Building South on the first floor.
A variety of meals and snacks are available
Open 24 hours
Gourmet meals
Our gourmet meals program combines elegant food and service with optimal nutrition for your health and well-being. Gourmet evening meals are prepared by our experienced staff and delivered to your room. Your nurse should make reservations by noon and a hospitality assistant will bring you a menu and take your order between 3:00 and 3:30 p.m.
There is a charge of $36.90 for a gourmet lunch or dinner.
This charge will be added to your patient bill.
Our staff will be happy to accommodate special diet requests.
Pro Health Dining (PHD) options are identified on the menu.
Hotels and accommodations
Preferred rates
For your convenience, we have negotiated with the following hotels for preferred rates for our patients and their families who need accommodations while being treated at the hospital. Ask for a referral letter from one of our information desks located at the entrances of the hospital. If you have questions, please call 202-877-4968.
Hampton Inn
501 New York Ave NE Suite A
Washington, D.C., 20002
Reservations: 1-202-393-1001
www.hilton.com/en/hotels/dcanyhx-hampton-washington-dc-noma-union-station

Holiday Inn Central
1501 Rhode Island Avenue, NW
Washington, D.C., 20005
Reservations: 202-483-2000,1-800-248-0016
E-mail: rays@inndc.com
Rate: $159 and up + tax, based upon availability
www.inndc.com

Holiday Inn Express, National Arboretum
1917 Bladensburg Rd., NE
Washington, D.C., 20002
Reservations: 202-266-9000
Rate: $129 and up + tax, based upon availability
www.dchotelrooms.com

Transportation: Shuttle available for MedStar Washington patients and family members from 6:30 a.m. to 9:30 a.m., noon to 1:00 p.m., and 5:30 a.m. to 9:30 p.m.

Fairfield Inn and Suites by Marriott—Washington
2305 New York Avenue, NE
Washington, D.C., 20002
Reservations: 202-266-3000
Rate: $129 and up + tax, based upon availability
www.dchotelrooms.com

Transportation: Shuttle available for MedStar Washington patients and family members from 6:30 a.m. to 9:30 a.m., noon to 1:00 p.m., and 5:30 a.m. to 9:30 p.m.

Courtyard Washington, D.C./U.S. Capitol
1325 2nd Street NE
Washington, D.C., 20002
www.marriott.com/wasus
Reservations: 202-898-4000
Rates
Weekday (Sunday to Thursday night) $179 and up + tax
Weekend (Friday to Saturday night) $109 and up + tax
All rates based on availability.

To book these special rates online, please enter code MZ1 under Corporate/Promotional codes when booking through the Marriott website (www.marriott.com).

Four Seasons, Washington, D.C.
2800 Pennsylvania Avenue, NW
Washington, D.C., 20007
www.fourseasons.com/washington

Four Seasons offers two restaurants, bars, and a 24/7 fitness center.
Reservations: 202-944-2068, ting.gong@fourseasons.com
Rates: Discounted rates are based on availability. Please reference MedStar Washington Hospital Center when calling to receive discounted rates.

Transportation: Complimentary use of House Car on a first-come, first-serve basis from 8 a.m. to 8 p.m. Monday to Friday and from 6 a.m. to 10 p.m. Saturday to Sunday.

The Canopy by Hilton Washington, D.C. Embassy Row
1600 Rhode Island Avenue, NW
Washington, D.C., 20036
Reservations: 202-293-0000
www.washingtondcembassyrow.canopybyhilton.com
Rate: 15% off lowest published rate

The Hay Adams Hotel
800 16th Street, NW
Washington, D.C., 20006
Reservations: 202-638-6600
Rates:
Standard room—$335 and up
Executive studio—$375 and up
Deluxe view room—$405 and up
All rates based upon availability.
www.hayadams.com

Suite America
Fully furnished corporate apartments throughout MD, DC, and VA
Reservations: tiffany@suiteamerica.com ,1-877-827-8483, ext. 118 or Kim Dunbar at dunbar@suiteamerica.com, 703-690-2030.
Please reference MedStar Washington Hospital Center to receive discounted rates.
Rates:
One bedroom—$110 to $150 and up + tax
Two bedroom—$130-$175 and up + tax
All rates based upon availability.
Suite America

Crowne Plaza Crystal City—Washington, D.C.
1480 Crystal Drive
Arlington, VA 22202
https://www.ihg.com/crowneplaza/hotels/us/en/arlington/wasna/hoteldetail

The Embassy Row Hotel
2015 Massachusetts Avenue, NW
Washington, D.C., 20036
Reservations: 1-855-336-2900 or at www.embassyrowhotel.com
Please enter the code (WHC)
Rates:
March to July—$179 and up + tax
August—$119 and up + tax
September to November 14—$179 and up + tax
November 15 to February—$119 and up + tax
All rates based upon availability.

Bridgestreet Residences, Serviced Apartments and Suites
BridgeStreet provides fully furnished apartments in the Washington, D.C., region, Maryland, and Virginia.
Rates:
Studio and one-bedroom apartments—$100 and up per day
Two-bedroom apartments—$130 and up per day
There is no minimum stay.
Please call direct to office 703-208-9110 or email request to Washington.sales@bridgestreet.com.

Attache Corporate Housing

Our unique furnished apartments, condos, and townhouses in Washington, D.C., feature great locations with easy access to MedStar Washington and the local metro stops. Since no two furnished properties are alike, we can help you find the one that best fits your specific needs and budget.

We are based in Washington, D.C., and are locally owned and operated. We are committed to making your stay as convenient as possible. Plus, the hospital's free shuttle is available to most of our properties.

Reservations/Information: 800-957-8321 or 202-787-1885 or info@StayAttache.com
Rates (starting at): Studios—$2,300+/month
One bedrooms—$2,600 to $3,900/month
Two bedrooms—$3,500+/month
Three and four bedrooms—Call for pricing.

Rates are based on a 30-day stay and based on availability. Be sure to mention you are coming in to visit MedStar Washington Hospital Center when you call.

Churchill Living, Fully Furnished/Serviced Apartments and Furniture Rental

Churchill Living provides fully furnished apartments in Washington, D.C., region; Maryland; Virginia; and nationwide.

Rates (starting at):
1-bedroom apartments—$129 per day and up per day
2-bedroom apartments—$159 per day and up per day
3 night minimum stay. Metro accessible to MedStar Washington. Please call Dawn Rana at 571-262-1674 or email Dawnr@ChurchillLivng.com for rates and availability.

Just Like Home Apartments

We offer fully furnished, expertly decorated studio; one-, two-, and three-bedroom apartments located near Metro, shopping, restaurants, and bars in the DC Metro area. Prices start at $130/night and include amenities, monthly cleaning, and utilities.
Reference MedStar Washington Hospital Center for special considerations and price specials.
Learn more: https://justlikehomeapartments.com
Call now: (202) 718-5521
Contact Ruth Roman, Business Development
Manager: rroman@justlikehomeapartments.com

Weichert Furnished Housing

One- and two-bedroom fully furnished apartments easily accessible to MedStar Washington.
Available for a three-night minimum stay.
Reduced rates for visitors to MedStar Washington (10% discount off market rates).
Parking available at all properties and full-service buildings.
24-hour customer service.

Reserve your furnished apartment today! (Please mention you are affiliated with MedStar Washington Hospital Center to receive reduced rates!)

Locations
Washington,
D.C.: http://www.weichertcorporatehousing.com/locations/dc/furnished-apartments-washington-dc

Arlington,
VA: http://www.weichertcorporatehousing.com/locations/va/arlington

Tyson's Corner,
VA: http://www.weichertcorporatehousing.com/locations/va/mclean

Silver Spring,
MD: http://www.weichertcorporatehousing.com/locations/md/silver-spring

For additional locations, please contact us at www.weichertcorporatehousing.com

Pricing starting at $149/night in Washington, D.C., and $129/night in Virginia and Maryland.

Included in each reservation:

All furniture, housewares, and linens
All utilities
Local calling, wireless telephone, BluRay player
Expanded cable with flat screen LCD TVs in living room and primary bedroom
Wi-Fi Internet
All appliances, washer and dryer in unit
24-hour customer service
Pull-out sleeper sofa in living room
Access to all complimentary building amenities
Pet friendly (additional fee)
Parking available (additional fee)

Contact Information:
Craig Wowkanyn
Director of Business Development
P 571-341-2501
C 301-325-7194
E cwowkanyn@WeichertCH.com
www.weichertcorporatehousing.com