According to the American Stroke Association, "a stroke occurs when a blood vessel that carries oxygen and nutrients to the brain is either blocked by a clot or bursts." The part of the brain fed by that blood vessel can no longer get the oxygen it needs, and the cells begin to die as a result. If a person having a stroke receives rapid treatment, that individual stands a good chance of recovering. But time lost is brain lost.
Every minute the brain is deprived of blood flow, more brain cells die. The earlier the blood flow is restored, the less likely a stroke sufferer will have permanent damage. It is essential to receive intensive care that assures the control of blood pressure, breathing, and heart function.
Warning signs
If you think you or a loved one may be having a stroke, do not wait. Call 911 right away. A stroke happens when blood flow to part of the brain is cut off because a blood vessel becomes blocked or bursts. According to the American Stroke Association, stroke is the leading cause of long-term disability in the United States and the third leading cause of death. The Maryland Stroke Alliance encourages everyone to know the warning signs of stroke. These vary according to the part of the brain being affected but can include:
Sudden numbness or weakness of the face, arm, or leg, especially on one side of the body
Sudden confusion, trouble speaking, or difficulty understanding speech
Sudden vision problems in one or both eyes
Sudden trouble walking, dizziness, or loss of balance/coordination
A sudden, severe headache
If you suspect that a loved one may be having a stroke, conduct the "Be F.A.S.T." quick check:
B - Balance: Watch for a sudden loss of balance.
E - Eyes: Is there a sudden loss of vision in one or both eyes? Or double vision?
F- Face: Ask the person to smile. Does the face droop?
A- Arm: Ask the person to raise both arms. Does one arm drift downward?
S- Speech: Ask the person to repeat a simple phrase. Does the speech sound slurred or strange?
T- Time: If you observe any of these signs, then it's time to call 911.
Stopping a stroke in its tracks
Our center is equipped to respond quickly and effectively to an evolving stroke. When a patient with a possible stroke comes in, the emergency department physician activates the stroke team and begins a battery of tests that will determine the patient's course of treatment. Our team, which will work with patients from the ER through rehabilitation, conducts CT scans, X-rays, EKGs, blood tests, and neurological exams within minutes to assess what type of stroke is occurring and what treatment options are available. Patients are admitted directly into our center from the emergency department in order to receive treatment as soon as possible.
Treatments
Not only is it important to diagnose if someone has just had a stroke, physicians must also determine the type of stroke. The treatment is different, based on whether it is a hemorrhagic stroke or an ischemic stroke. Depending on the type and severity of the stroke, treatment options will vary, and may include surgery.
Immediate treatment
Our specialists will order a variety of diagnostic tests to determine the location and extent of brain injury, as well as evaluate the condition of the arteries in your heart and neck that supply blood to your brain.
Ischemic stroke: The most effective medicine for the treatment of ischemic stroke is the FDA-approved drug, t-PA (tissue plasminogen activator). Taken intravenously, it works with your body's enzymes to dissolve blood clots. This highly-effective treatment must be given within three hours of the onset of stroke so it is imperative to seek medical care without delay.
Hemorrhagic stroke: The best and safest way to remove blood from the brain after a hemorrhage, and minimize damage to the brain, include surgical removal of the clot, clot busting medication to dissolve the clot, and medications to minimize swelling caused by the clot. For hemorrhages caused by aneurysms and arteriovenous malformations, a skilled neuroradiologists or neurosurgeon can repair or block the vessels to prevent further bleeding. Many of these procedures can be performed through a minimally invasive technique.
Advanced endovascular treatment
Beyond providing the highest level of emergency stroke intervention, MedStar Health specialists are also helping to shape new standards of care for cerebrovascular patients through interventional neuroradiology. These nonsurgical treatments of strokes, aneurysms and AVMs include:
Acute stroke thrombectomy: new technology that allows removal of clots in the brain through small catheters, or tubes

Brain aneurysm treatment: using coils, stents or flow-diverters (such as the pipeline embolization device)

Brain arteriovenous malformation/fistula (AVM/F) treatment: using liquid embolic agents (such as Onyx or n-BCA)

Tumor embolization: using polyvinyl alcohol (PVA) particles

Carotid (or intra-cranial) stenosis treatment: using micro-balloons and stents



Neurovascular intervention for stroke
The neurointerventional team at MedStar Health treats vascular diseases affecting blood vessels in the head and neck. Each of our interventional neuroradiologists is board certified and has undergone additional fellowship training in their areas of expertise.
Our specialized interventional neuroradiologists diagnose and treat patients with the full range of neurovascular diseases, including stroke
Our neurointerventional team uses high-resolution imaging technology, including ultrasound (sounds waves), CT scans (a series of X-ray images), magnetic resonance angiography (a powerful magnetic field and radio waves), and angiograms (an X-ray test) to diagnose complex neurovascular disorders.
Our interventional neuroradiologists work hand-in-hand with the world-class neurologists and neurosurgeons on staff to determine the best treatment strategy for you. These specialists use highly developed and innovative techniques, including endovascular procedures (inside the blood vessels). Acute stroke thrombectomy is a treatment that is used to remove blood clots in the brain through small tubes.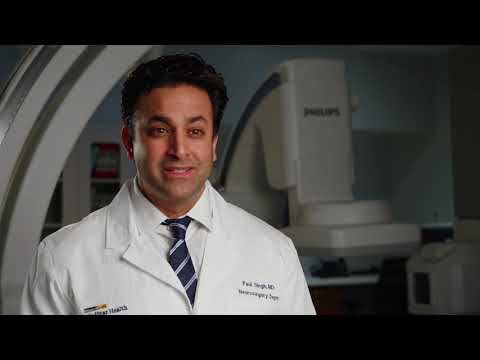 Surgical treatment
Certain strokes originating from carotid artery disease, brain aneurysms, AVMs, and hypertensive hemorrhages benefit greatly from surgical interventions. Using the most advanced surgical and microsurgical techniques available today, MedStar Health neurosurgeons perform:
Surgical clipping of complex (ruptured and unruptured) brain aneurysms

Surgical resection of arteriovenous malformations/fistulas

CyberKnife radiation, which delivers concentrated beams of radiation from multiple positions while sparing healthy tissue

Carotid stenosis treatment using a surgery to remove the plaque causing the narrowing
Recovery and rehabilitation
Quick intervention in a stroke can save a life, but long-term rehabilitation can give many victims back their quality of life as well. The specialists at MedStar Health include occupational therapists, physical therapists, and case managers who provide guidance and encouragement to help the patients "retrain the brain." Therapy is available on an inpatient and outpatient basis and is customized to each individual's needs.
Expert neurology care
Getting the care you need starts with seeing one of our neurosurgeons.
Our locations
Distance from Change locationEnter your location
7503 Surratts Rd. Clinton, MD 20735
9000 Franklin Square Dr. Baltimore, MD 21237
102 Irving St. NW Washington, D.C., 20010
Facebook Live: Stroke prevention and treatment options