5 Things You May Not Know About Robotic Joint Replacement.
If you are experiencing a medical emergency, please call 911 or seek care at an emergency room.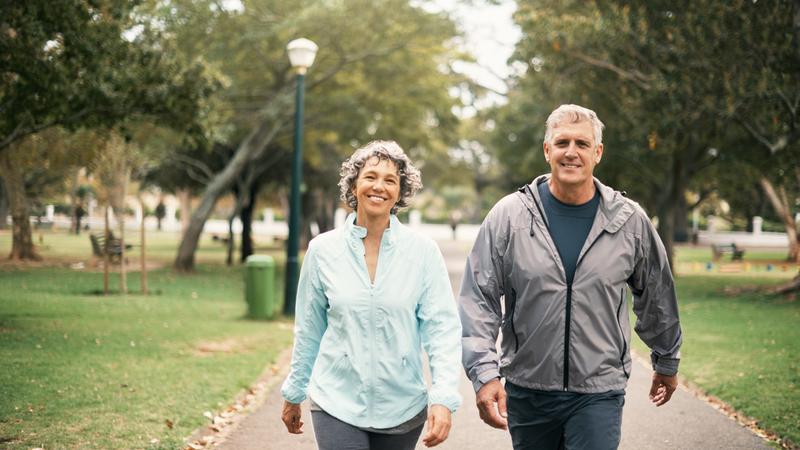 If you have advanced arthritis of the knee or debilitating knee pain that limits your ability to move and perform daily activities, you may benefit from robotic joint replacement surgery. Like a traditional knee replacement, the procedure allows an orthopedic surgeon to replace worn or damaged portions of the knee with customized implants designed to relieve pain and restore strength, mobility, and balance to the knee. Robotic-assisted surgery can also be used to replace hip joints affected by arthritis or osteoporosis.
Unlike traditional joint replacement surgery, robotic surgery involves the use of advanced technology, such as the MAKO robotic arm or a Robotic Surgical Assistant (ROSA), to navigate to the precise location and operate with incredible accuracy under the guidance of an experienced surgeon. Patients benefit from exceptional results that include better precision and often faster recovery times with improved post-operative pain management. Here are five things you may not know about the robotic-assisted procedure that can help you get back to your active life.
If you have debilitating knee pain, #RoboticJointReplacement can help you get back to the things you love. On the #MedStarHealth blog, orthopedic surgeon Dr. Mark Hasenauer shares 5 things you should know about the procedure: https://bit.ly/3ucsNH1.
Click to Tweet
Robotic knee replacement surgery is performed by a skilled surgeon, not a robot.
One of the most common misconceptions about robotic procedures is that a robot is performing the surgery. This is only a myth, as a highly-trained surgeon is in control the entire time, using robotic-assisted technology to perform the surgery with greater accuracy and precision compared to conventional total knee replacements. Your outcomes will only be as good as the surgeon performing the procedure, which is why it's important to find an orthopedic surgeon with extensive experience.
At MedStar Orthopaedic Institute, we use robotic-assisted techniques to perform both partial knee replacements and total knee replacements. Each system allows your surgeon to develop a specialized plan for each patient. Before your procedure, we use state-of-the-art technology and obtain imaging to create a computerized 3D model of your knee. This model helps your surgeon prepare a customized plan for the size and shape of your implant and is later used when your surgeon guides the robotic arm during the procedure. Then, your surgeon will use the robotic arm to safely and accurately perform the knee replacement. Using the robotic arm allows us to implant new, artificial parts in a precise location while making adjustments to fit, ligament tension, and soft tissue balance in real-time. As a result, you leave the procedure with a new joint that feels natural and moves seamlessly.
Most patients who are candidates for a knee replacement are candidates for robotic surgery.
When non-surgical treatments haven't improved or eliminated your knee pain, your doctor may recommend surgery. If you're a good candidate for a traditional knee replacement surgery, then you are most likely well-suited for a robotic knee replacement. With the usage of robotic technology, your surgeon can be more precise in performing a partial or total knee replacement with the use of a robotic arm than they could with the naked eye. Some people may find robotic-assisted surgery especially beneficial, such as patients with prior surgery or abnormal anatomy. Talk to your doctor about whether or not knee replacement surgery may be right for you.
Recovery may be faster than traditional joint replacement.
Because a robotic arm enables better precision and preservation of healthy surrounding tissues, many patients recover faster than those with traditional replacements. In many cases, patients can even go home on the same day as surgery. After robotic surgery, patients are up and moving right away with the help of a physical therapist and an assistive device like a walker or cane.
Robotic knee replacements may lead to a longer-lasting, more comfortable fit.
During knee replacement surgery, our orthopedic surgeons guide the robotic arm to the incision site and throughout the entire operation. By using the robotic arm with its specialized navigation, our highly skilled surgeons can ensure the artificial knee parts are placed as accurately as possible and to fit each patient's unique anatomy. Because robotic-assisted surgery allows the surgeon to place your implant with a high degree of precision, patients often report a more natural fit and better function.
Robotic techniques are fairly new within the past decade, so we're still studying the long-term benefits. However, early findings demonstrate that robotic-assisted techniques are associated with increased accuracy and precision in placement of the knee replacement, better early functional outcomes, and improved limb alignment.
Experience matters when it comes to selecting a robotic knee replacement surgeon.
While technology helps to improve your outcomes after knee replacement surgery, it's critical to have an experienced surgeon planning and guiding the procedure. MedStar Orthopaedic Institute is one of the largest orthopedic robotics programs in the country. In fact, we were the first in Maryland to use MAKO robotic technology for total knee replacements and we continue to perform more robotic-assisted joint replacements than any other hospital in the state.
When it comes to knee replacement, the right fit is critical for eliminating your pain and restoring your ability to participate in the activities you love. Our fellowship-trained orthopedic surgeons combine the highest level of expertise and experience with the latest advances in robotics and technology to ensure you don't have to live with debilitating pain.
Do you have joint pain that isn't getting better?
Find out if robotic joint replacement may be right for you.
Stay up to date and subscribe to our blog