6 Surprising Facts About Radiologic Technology Careers.
If you are experiencing a medical emergency, please call 911 or seek care at an emergency room.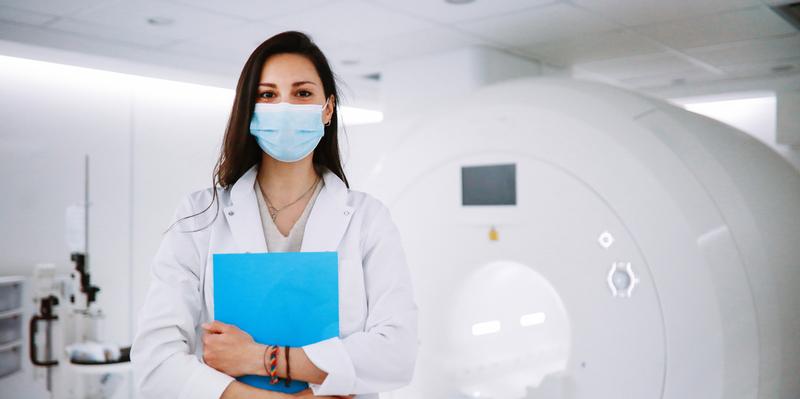 If you're looking for a medical career in which no two days are ever the same, radiologic technology might be the best choice for you. Radiologic technologists are vital in nearly every aspect of medicine.
With an associate's degree and just two years of specialized training at MedStar Health, you can land an in-demand, well-paying allied health career as a radiologic technologist—performing dynamic. real-time, "movie-like" X-rays during fluoroscopic studies, working in the operating room, imaging patients with traumatic injuries, and everything between.
For over 60 years, the Medical Imaging School of Radiography at MedStar Washington Hospital Center has welcomed applicants into our innovative program. Here, you'll get hands-on training with some of the area's top medical experts at one of the largest and busiest hospitals in Washington, D.C. Your training will take you from the classroom to our dedicated, fully digital, energized simulation lab to real patient experiences in our inpatient and outpatient imaging departments, emergency department, and operating room.
The experience you'll get here is unmatched in the Mid-Atlantic. MedStar Washington Hospital Center is a major referral center for treating the most complex cases. Our MedStar Heart and Vascular Institute is nationally recognized by U.S. News & World Report and we are the region's designated Adult Burn Center.
As an academic medical center, we invest in our students' education—you will have access to the latest radiologic technology, including a natural bone, full-body X-ray phantom that we couldn't be more excited about!
Rad tech is a growing, in-demand field—but it's not for everyone. This branch of medicine is a delicate balance of empathy, artistry, and scientific skill. You can't be squeamish—you'll be at patients' bedside in the emergency room and making critical decisions to get the diagnostic information clinicians need to appropriately treat patients. More than anything, you must have a strong desire to help people.
Radiologic technology is one of those fascinating careers that delivers something new every day. In my 17 years as an educator, these are the top six aspects of a career in radiologic technology that students don't always expect—but really enjoy.
1. Your care sets the tone for the patient's experience.
Most patients who come through the hospital receive some type of imaging. In our department alone, we performed 250,000 exams last year. On any given day, depending on your work environment, you might see patients with mild sprains and strains all the way up to traumatic injuries from gunshot wounds or vehicle accidents.

Your demeanor and calming presence in these situations will be just as important as your technical skills—and we will help you refine both skill sets. Throughout your didactic (classroom) and clinical experiences, you will learn to:
Capture precise imaging on X-ray, fluoroscopy, and more

Converse with patients in a calming manner

Collaborate with clinicians

Provide appropriate answers to patient questions

Safely and effectively operate mobile and stationary imaging equipment

MedStar Health faculty have 55 years combined experience. Along with teaching, we assisted clinicians in nearly every department throughout various hospitals in our careers. Students get the depth and breadth of those clinical interactions—your faculty understand the latest imaging innovations, and we bring those skills back to students in the classroom and in practical training.
2. You can go from college to career in just 2 years.
If you have your associate's degree—or are within 6 credits of obtaining it—you are eligible to apply to our program. Just two years later, you can start a fulfilling career, working side-by-side with clinicians in your chosen medical environment.
MedStar Washington Hospital Center's rad tech program is structured as five semesters over 21months:
Fall/spring of the first year: Two semesters of 15 weeks each. In this "first-year" segment, students will focus heavily on the didactic (in the classroom), including patient care skills, proper equipment use, and radiologic safety. Students attend class three full days and in clinic two full days a week.
Summer: One semester of 10 weeks. Students join us three full days and two half-days in clinic and two half-days in class a week. As you pass exams in this segment, you'll start getting more hands-on clinical experience under the supervision of appointed clinical faculty who are full-time practicing registered technologists.
Fall/spring of the second year: Two semesters of 15 weeks each. You will be in the clinic three days a week and spend two in the classroom. This is the home stretch, where most of your clinical experiences will occur—most students have 800-900 patient interactions by the time they graduate from our program.
During clinicals, you'll get a variety of experiences in our operating rooms as well as our emergency and specialized clinics. Students will learn the ins and outs of X-ray, fluoroscopy, functional and real-time studies, and mobile imaging.

From the bedside to the laboratory, you will graduate with advanced skills that can take you anywhere in the world—literally.
Want to learn more about the radiologic technology program?
We'd love to visit with you! Contact us today to discuss your passions and ask questions about the curriculum.
3. Rad tech is an international career option.
Everyone needs health care, and rad tech is one of the most transportable health care degrees. Over my 17 years of teaching radiologic technology, I've taught students who went on to obtain fascinating roles around the world—imaging centers, prestigious hospitals, and even government positions.

We regularly teach military spouses whose partners are stationed in and around Washington, D.C. Upon graduation, these professionals are equipped to work as radiologic technologists essentially anywhere around the country or internationally.
4. You can get hired fast—with a comfortable salary.
It would be an understatement to say that rad tech is a growing field. The U.S. Bureau of Labor & Statistics (USBL) estimates that there were 254,000 available rad tech positions in 2020, and that open roles will grow 9% by 2030—that's about 20,000 jobs annually.
In an "employees' market" for hiring, many centers are offering lucrative sign-on bonuses. USBL reports that the average salary for radiologic technologists is approximately $63,700.
Schedule flexibility is another benefit for rad techs. Depending on where you work, you may be able to choose from a range of full-time, part-time, and on-call shifts. Many hospitals offer a weekend option—you are considered full time, but you're off on weekdays and only work set shifts on the weekend.
According to @BLS_gov, #RadTech careers are expected to grow by 20k jobs annually by 2030. Read more on the #MedStarHealthBlog: https://bit.ly/3hGfyam
Click to Tweet
5. It's an excellent first, second, or third career.
Rad tech is a versatile, flexible career that offers opportunities for professionals of every age and career stage. Graduates of our program come in from diverse career and educational backgrounds, from arts and humanities to veterinary medicine!

There is no age that society deems "too old" to become a radiologic technologist. We have students in their:
20s, working toward their first professional role.

30s-40s, seeking a more satisfying career.

50s-60s, looking for a change.
If you have an interest in science, want to help people, and meet our admissions criteria, you are eligible to apply to our radiologic technologist program.

6. Rad tech is a balance of art and science.
When I started college, I wanted to become a doctor. But I didn't enjoy the curriculum—then a friend suggested I look into radiologic technology. The first time I saw an image taken with contrast dye, I couldn't get over how beautiful it was. I fell in love with the idea of taking a holistic set of images from various angles. From that point on, I knew I'd found my niche in health care.

Rad techs are anatomy artists, patient caregivers, and behind-the-scenes scientists. We do much more than take pictures of bones. We image soft tissues, start IVs, inject barium and contrast dyes, and help patients feel at ease during these exams. And we must do all this while getting just the right imaging angles to help the clinical team determine the next steps in the patient's care.
Exciting technology investments!
As an academic medical system, MedStar Health is investing in the most innovative training facilities for our rad tech students. We are in the process of building dedicated radiologic technology simulation labs where students can access the latest rad tech training technology.
One piece I'm most excited about is the Erler Zimmer Natural Bone Full Body X-Ray Phantom – 7200. This novel training device is made from a real human skeleton encased in materials that simulate soft tissues. Our students can practice positioning and imaging on this lifelike model, providing even more hands-on experience prior to working with patients in the clinic.
If you're seeking your niche in health care, radiologic technology may be a great fit for you. It's a flexible, satisfying career that requires an intricate balance of art, empathy, and science. Plus, you'll never have a dull day on a rad tech team!
Licensed by D.C. Education Licensure Commission
Accreditated by the Joint Review Committee on Education in Radiologic Technology
To access the annual program effectiveness data, refer to the JRCERT website at: https://portal.jrcertaccreditation.org/accredited-educational-programs/search.

Ready to apply?
Applications are accepted Jan. 1 – Apr. 1 every year, with sessions starting in August.
Stay up to date and subscribe to our blog