Celebrated Physician Andrew Y Lee MD
If you are experiencing a medical emergency, please call 911 or seek care at an emergency room.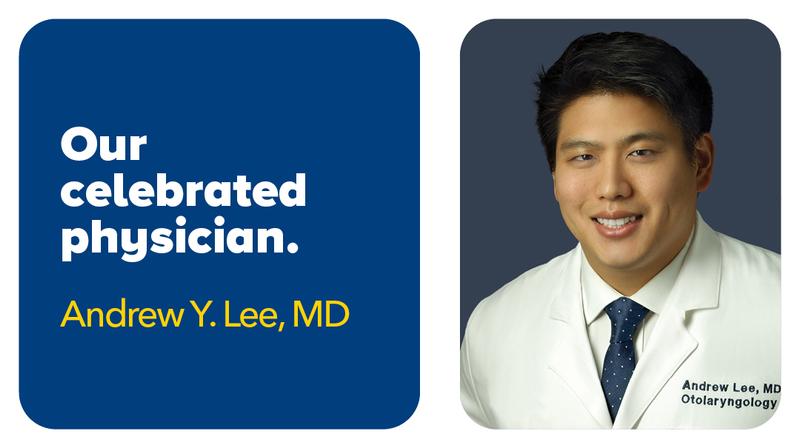 The complex anatomy of the head and neck has long fascinated Andrew Lee, MD, an otolaryngologist at MedStar Washington Hospital Center and MedStar Southern Maryland Hospital Center. Part of the reason could be that it appeals to the Chicago native's longstanding parallel interests in both medicine and engineering, which he was able to combine as a bioengineering major at the University of Illinois.
Medicine eventually won out. Dr. Lee moved to New York City to continue his education at Albert Einstein College of Medicine, and complete his residency at the school's Montefiore Medical Center. Family influenced Dr. Lee's decision to join MedStar Health, as his wife is originally from the Washington, D.C., area. But he also found a new one waiting for him within the MedStar system.
"I love the collegiality of the department," he says. "The support from other physicians has been a great way to transition from residency to practice."
Dr. Lee also enjoys the opportunity to work with a variety of patients and treat conditions ranging from sinus and allergy-related disorders to hearing loss, obstructive sleep apnea, voice disorders, and head and neck cancers.
"On any given day, you can be doing something relatively simple, or something very complex, such as an open-neck procedure," he says. "Fortunately, otolaryngologists have a growing range of tools and technologies that allow us to address many complex conditions using minimally invasive procedures, which is much safer and comfortable for patients."
Although Dr. Lee is currently focused on building his practice, he hopes eventually to pursue research that allows him to apply his bioengineering background.
"There are so many areas in this field to explore, such as sinus surgery and sleep apnea," he says. "We're learning about their relationship to other conditions, such as heart disease, diabetes, and obesity."
Away from work, the main focus for Dr. Lee and his wife is their 8-month-old daughter. "Once the pandemic is over, we hope to get back to doing other things, such as discovering new restaurants and travel," he adds.
An avid college football fan, Dr. Lee will also have to find new ways to spend his Saturdays, now that the season is over.
"With my daughter, that shouldn't be too difficult," he says with a laugh.
Ear, nose or throat issues?
Schedule an appointment with Dr. Lee
Stay up to date and subscribe to our blog