Once a Patient, Now an Associate: Lynel's Story
If you are experiencing a medical emergency, please call 911 or seek care at an emergency room.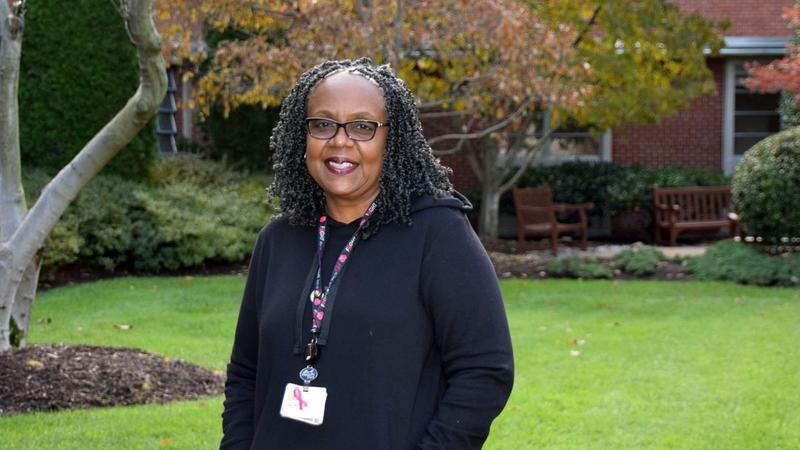 Seven years ago, Lynel McFadden was diagnosed with stage one, triple negative breast cancer, and she was understandably scared. She had been referred to another healthcare organization and that left her feeling worse. There, they gave her business cards for a plastic surgeon, social worker and oncologist and sent her on her way to do her own research and make appointments.
"I did not feel this other place had my best interests at heart," said Lynel. "Here, it was a totally different experience. I was referred to Dr. Marc Boisvert, who talked to my husband and me like he was in this fight with us. He made sure we understood everything, and I felt like I was going to be alright. After a multi-disciplinary team was put together, they met with my husband and me, answered our questions and listened to us. We felt like were truly a part of this well-organized and highly-experienced medical care team. They did everything for me. I knew this was the right place for me. I wouldn't go anyplace else."
With this team in place, Lynel underwent a mastectomy in December of 2013 that she credits with saving her life. She had chemotherapy from January to May, and said she had the best navigator she could have asked for in Glenda Cousar.
"I have had friends who have needed care. I direct them to providers here. My pastor knows I love MedStar Washington Hospital Center," said Lynel. "He directs women diagnosed with breast cancer to me, and I direct them to Dr. Boisvert because I know he will take care excellent of them."
A Life-Changing Experience
Lynel felt such affection for the Hospital Center after her treatment, she returned here, to the place she was born, to begin working. She had retired after almost four decades of government work and says she knew she had been saved for a reason. She joined the Hospital Center as a Community Navigator for the Get2Breast Care and Colorectal Cancer Prevention in the Neighborhood teams, finding it rewarding to bring education, awareness and screenings to others.
"If I did not get that mammogram, things could have been different for me," said Lynel. "I thought, maybe this is why I'm still here. We know early detection is the key. I was 53 and had normal mammograms for 13 years. What if I had decided, 'Well, I have not had a problem in 13 years, I can take a few years off from getting a mammogram?' I want people to understand the importance of regular screenings. MedStar Washington Hospital Center is the best place to have them done. But the Hospital Center is not just for cancer screenings. Do you have a broken toe? Heart issues? Anything? I will refer everyone here."
Due for a mammogram?
Schedule your appointment today.
Stay up to date and subscribe to our blog