Collaborative Research Aims to Improve Care by Revealing the Mysteries of Heart Disease.
If you are experiencing a medical emergency, please call 911 or seek care at an emergency room.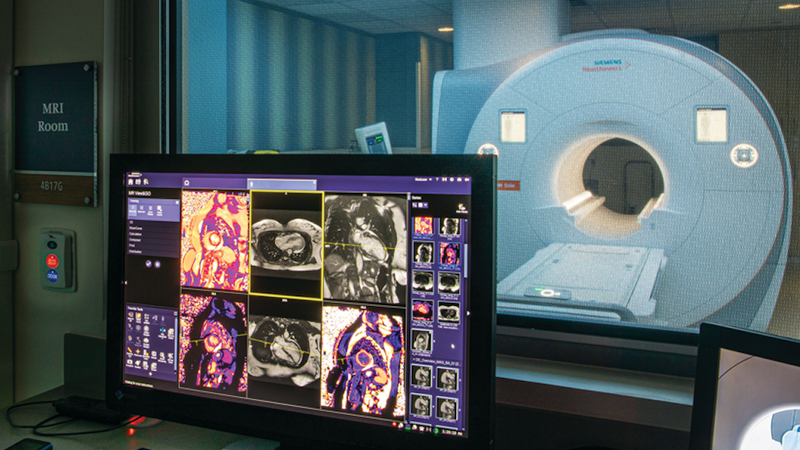 Scientists from MedStar Health Research Institute and the National Institutes of Health are studying new ways to use MRI to better understand common cardiovascular diseases and improve treatment options.
A new observational research project, "Technical Development of Cardiovascular MRI," is a step toward developing better treatments for diseases of the heart and its blood vessels.
This research collaboration between MedStar Health Research Institute, MedStar Washington Hospital Center, and the NIH's National Heart, Lung, and Blood Institute aims to use magnetic resonance imaging (MRI) in new ways to learn more about the heart.
In the U.S., cardiovascular disease is the leading cause of death. A person dies every 34 seconds from heart disease in the U.S., totaling nearly 700,000 people in 2020. The cost of the disease is substantial—$229 billion in healthcare, medicine, and lost productivity from 2017-2018, according to the Centers for Disease Control.
To help reduce the burden of cardiovascular disease, researchers are using cardiac MRI to explore the heart by producing images of its structure and blood flows through novel imaging sequences.
We are among the few places in the world that are able to investigate the effects of exercise on heart function, using a stepper located inside the MRI to observe how the heart functions during exercise. Each MRI sequence interacts with specific body tissues at different intensities, producing distinct images that show inflammation, blockages, and other markers of cardiovascular disease.
Our goal is to bring the techniques of functional cardiac MRI—imaging changes in blood flow in and around the heart— closer to patients so we can begin to answer longstanding questions about cardiovascular disease. Observing the early indications of disease will enable clinicians to make a diagnosis sooner and develop better treatments for deadly conditions like heart failure, cardiomyopathy, coronary artery disease, and more.
A powerful scientific collaboration.
After many years in the planning, this research collaboration leverages the strengths of the scientists involved:

Scans take place at the MedStar Washington Hospital Center, using the Cardiac MRI Laboratory's dedicated imaging equipment.

Researchers from the NHLBI help perform the MRI scans. As the nation's medical research team, these NIH scholars focus on achieving the best science possible.

They collaborate with the MWHC cardiology and radiology teams and MedStar's powerful research team to produce cutting-edge science that is always focused on improving patient outcomes.
This research benefits from MedStar Health's imperative to help patients achieve their best health. The patient population is diverse in age, background, ethnicity, and health, which allows research teams to study a broadly representative cohort of healthy volunteers and patients with cardiovascular disease.
In late September 2022, this research achieved two milestones: one year of successful collaboration since the first patient enrolled and a high interest from patients with the enrollment of the 250th patient with an MRI scan included under our research protocol. Both markers of success indicate that this study is on its way to achieving actionable results.
These 250 subjects have represented a broadly diverse population of participants, 56% of whom were female, and 46% of whom were African Americans—both groups that are traditionally underrepresented in cardiovascular research.
Answering questions about heart disease.
A central theme of our study is answering questions about the feasibility of our new approach to MRI sequencing:

Can we improve upon existing imaging techniques in diagnosing heart failure and other forms of heart disease?
Can we use MRI technology in a new way to better understand the progression of heart disease?
How can MRI help us better identify and intervene in the processes that lead to heart failure?
We're learning that these new sequences can provide unique information about the cardiovascular system. For example, we're learning more about conditions we can't always observe with other techniques, such as inflammation in the heart, which can lead to heart failure and coronary heart disease.

In our most visionary moments, we imagine using novel sequences to perform interventions with the cardiac MRI. While this sort of breakthrough is a long way off, research like this could be the first step in significant changes to how we heal the heart.
We're also learning more about the differences between how a healthy heart function compared to an organ with disease. Understanding the differences can help us spot changes earlier and intervene more effectively. We have enrolled healthy volunteers to provide reference standards for comparison.
Most participants with cardiovascular disease have already had traditional cardiac MRI scans as part of their care. Our study gives patients cutting-edge care and even greater insights into their cardiovascular disease.
Participant enrollment is ongoing.
We are grateful to have seen an enthusiastic response among study participants, who are eager to be involved.
Many healthy volunteers are excited to learn about the health of their hearts through an MRI. While our research doesn't generate reports about an individual volunteer's heart health, we will note any problems we detect in our scan for provider follow-up.
Patients with cardiovascular disease should discuss participation with their doctor, who can refer those who meet enrollment criteria to our study team.
Cardiovascular disease kills. Only when we understand the problem can we develop the most effective treatments for our patients. This research, in collaboration with the top medical scientists in the nation, is helping us get closer to understanding the cardiovascular system and identifying the earliest signs of heart disease.
Want more information about this study?
Learn more about eligibility criteria and how to enroll.
Stay up to date and subscribe to our blog