Growing From Within: Che M. Brown, Jr.
If you are experiencing a medical emergency, please call 911 or seek care at an emergency room.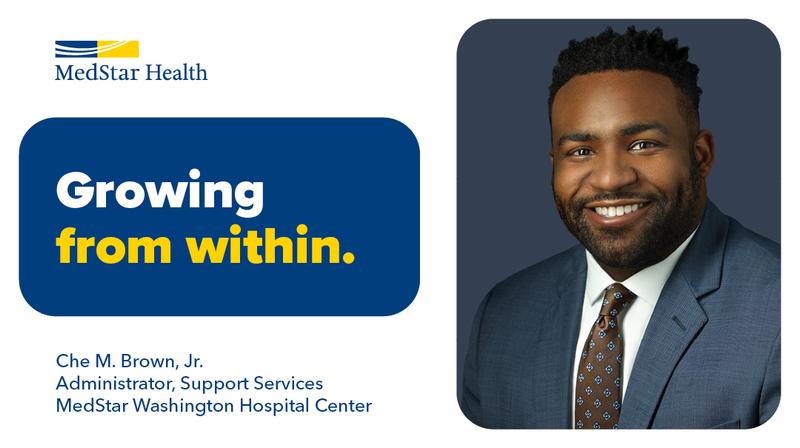 Che Brown has had a rich and varied career within the walls of MedStar Washington Hospital Center, traversing several departments before settling into his latest role. In his current position as administrator of Support Services and Operations, Che monitors multiple departments and expedites resources to support the hospital during off-shift hours. Che is also a part of several committees, including Environment of Care, Drug Diversion, Waste/Recycle, and Operations/Support Services Safety.
Che began his career in 2013 in an entry-level position with Central Patient Transport (CPT), where he excelled, keeping patients entertained and using the communication skills he learned teaching life skills with another organization. Within one year, Che was promoted to supervisor, a position he held for a year.
During his time in CPT, Che caught the eye of Kevin Knight, Director of Environmental Health & Safety. Che took an interest in the mission of Knight's department and became a member of this team in 2015.
"It was here where I gained my purpose," said Che. "I worked as a life safety specialist for three years and learned so much about safety, as well as things like learning the hospital's full layout, how the hospital gets revenue, and how to effectively partner with nursing leaders to educate about patient safety.
Che made the effort to learn as much as he could and he began to seek out Kenyetta Keys, Assistant Vice President of Support Services, and Tiffany Northern, Vice President of Hospital Operations, for guidance. They noticed his efforts working nights and weekends, and they handpicked him for his next role: Administrator of Support Services.
"I'm glad there are mentors here who could see I was knowledgeable about the hospital, dedicated to the hospital goals, and knew the hospital intimately," said Che. "Working under Kenyetta's management has been an eye-opening experience and it has taken my work efforts to a new level. Working with Kenyetta is like playing for (former NBA coach) Phil Jackson. She coaches hard for your benefit, expects your best effort and ideas, and wants to help guide your growth in MedStar."
Che believes going above and beyond in your current position gets you to the next level. He also recommends keeping eyes and ears open for learning opportunities and ways to improve.
"This hospital gives you the opportunity to learn and grow and explore other career opportunities," said Che. "You never know. I could be in (President) Dr. Argyros's position someday, because life has no limitations, except the ones you make."
Looking for a new career opportunity?
Join our team.
Stay up to date and subscribe to our blog