Study Demonstrates Costs of Antibiotic-Resistant UTIs and the Power of Partnership.
If you are experiencing a medical emergency, please call 911 or seek care at an emergency room.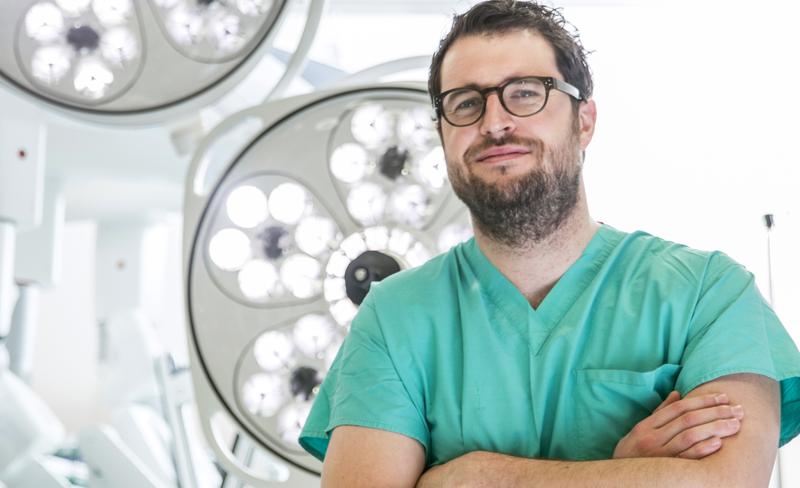 New research by MedStar Health Research Institute has identified opportunities to relieve the financial burden of uncomplicated antibiotic-resistant urinary tract infections.
Urinary tract infections (UTIs) are the most common outpatient infections in the U.S., according to CDC data. They are usually caused when bacteria from the skin or rectum enter the urethra. Symptoms include a painful burning sensation while urinating, bloody urine, and more.
As many as 60% of women will experience a UTI in their lifetime. Studies have shown more than 92% of bacteria that cause a UTI are resistant to at least one common antibiotic, and almost 80% are resistant to at least two.
Half of all women will experience a UTI by their 35th birthday, and UTIs are an annual occurrence for around 20% of women between ages 18 and 24. UTIs account for about 7 million doctor visits, 1 million emergency department visits, and more than 100,000 hospitalizations in the U.S. each year, with an associated cost of about $1.6 billion.
To help reduce the burden of UTIs on women and the economy, and reduce resistance to antibiotics, it is imperative that healthcare providers and patients collaborate to address UTIs with precise treatments.
In that spirit of partnership, MedStar Health Research Institute connected with Precision Medicine Group (an integrated team of experts in fields from science and research to marketing) and GSK (formerly GlaxoSmithKline) in a new study published in Antimicrobial Resistance & Infection Control to determine the economic costs of antibiotic resistant, uncomplicated UTIs—in which the patient is healthy, not pregnant, and the urinary tract is functional.
This powerful partnership and research process mirrored the efficiency we seek to create in UTI care—each collaborator brought a new perspective and skillset to analyze, report, and push forward the data to find actionable outcomes.
As many as 60% of women will have a #UTI in their lifetime, and many bacteria are antibiotic-resistant. New collaborative #research from @MedStarResearch reveals opportunities to reduce the cost of effective treatment: https://bit.ly/3bUjKnR.
Click to Tweet
The high costs of antibiotic resistance.
We studied data collected from the de-identified electronic medical records of 2,565 patients who we diagnosed with an uncomplicated urinary tract infection from 2016 to 2020.
We found that patients whose UTIs were caused by antibiotic-resistant bacteria had higher healthcare costs and significantly higher pharmacy costs. In fact, patients had 16.4% higher total medical costs related to the treatment of their UTI, and 10% higher bills at the pharmacy.
We also found they were more likely to be admitted to the hospital and more than twice as likely to develop a complicated UTI, leading to even higher costs and more treatment. These costs include:

Additional clinic visits

Greater likelihood of hospitalization

More prescription medications

Weeks of treatment instead of days
These findings underscore the importance of precise treatment for UTIs. Patients whose doctors prescribe the correct antibiotic heal faster and spend less money in the process. It is critical to correctly identify the appropriate medication for each patient's infection, considering their medical history, symptoms, severity, and lab results—which aren't always instantly available.
Partnership can overcome timing challenges.
When confronted with a painful UTI, patients are understandably eager to clear up their symptoms. Yet prescribing the most effective antibiotic requires laboratory testing that can take 3-4 days. This lag can lead to well-meaning doctors prescribing a broad-based antibiotic in hopes of providing quick relief.
To overcome this challenge, partnership between providers and patients is key. Patients should expect to leave a urine sample for testing, even if they receive a prescription antibiotic. If symptoms do not improve within 72 hours after starting the drug, they should contact their doctor to start a different medication—by that time, lab results likely will be available.
Working together, we can reduce the burdensome symptoms of UTI, lower treatment costs, and improve outcomes for all patients with this common condition.
The future of UTI treatment.
In the future, universal point-of-care testing for UTIs could improve outcomes by decreasing time to precise diagnosis, allowing doctors to choose the best antibiotic from the start and reducing the volume of samples that require lab analysis. Increasing our accuracy could also reduce prescription of broad-spectrum antibiotics, helping to reduce antibiotic resistance.
Our research was made possible by a team of diverse experts uniting their unique skills. For example, the MedStar Health research team led by Maria E. Ruiz, MD contextualized the data, such as susceptibility testing panels, and ensured the work was rooted in patient care best practices. Our colleagues at Precision Medicine were experts in medical writing and data visualization, distilling the study recommendations into easy-to-read displays.
This collaborative approach is similar to how we approach patient care at MedStar Health. Clinicians work as multidisciplinary teams to provide the precise, optimal outcomes for our patients. It was rewarding to see this approach translate into our research and culminate in actionable outcomes.
Are you or a loved one experiencing symptoms of urinary tract infection?
Our experts are here to help.
Call 202-877-DOCS (3627)
Stay up to date and subscribe to our blog