Researchers at Curtis National Hand Center Compare Effectiveness of New Surgical Approach to Treat Painful Neuromas
If you are experiencing a medical emergency, please call 911 or seek care at an emergency room.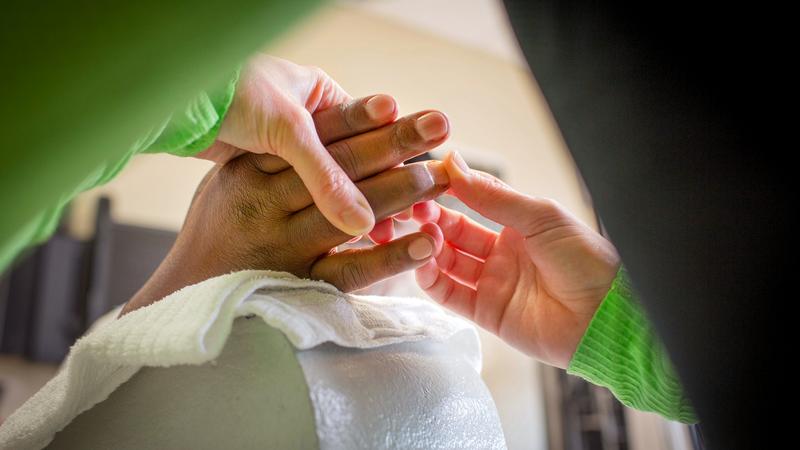 MedStar Health is leading a randomized study sponsored by the Department of Defense to compare the effectiveness of a surgical approach known as regenerative peripheral nerve interface (RPNI) for the treatment of chronic, painful neuromas compared to the regular standard surgery for neuromas. The study "Regenerative Peripheral Nerve Interfaces to Treat Painful Digit and Hand Neuromas After Amputation" is led by Dr. Aviram M. Giladi, research director and upper extremity surgeon at the Curtis National Hand Center at MedStar Union Memorial Hospital.
A neuroma is a ball of scar tissue at the end of a nerve that can form after any cut, crush, or amputation injury. Traumatic amputations of the fingers and hand damage multiple highly sensitive nerves. These damaged nerves attempt to heal, but because of the trauma there are no "other ends" to heal to, and instead each nerve grows into a ball-like growth of nerve cells (neuroma).
Neuromas have the potential to be so painful that they can be debilitating to a person and even limit their normal daily activities. As a result, psychological conditions, such as anxiety and depression, often co-occur with these chronic pain conditions, and for many hand trauma patients are a strong predictor of prolonged pain, disability, and opioid overuse. This study also aims to analyze the mental health component associated with chronic finger and hand injuries.
Hand surgeons at Curtis National Hand Center have found promise in applying regenerative peripheral nerve interfaces (RPNIs), muscle grafts placed on the injured nerve that serve as targets for the regenerating nerves, as a means to promote healthy more natural nerve regrowth and avoid neuromas. In doing so, this can reduce the debilitating physical consequence of the injury, and potentially provide substantial mental health improvements as well. While non-surgical treatments of neuromas are available such as desensitization therapy or injections of local anesthetics or steroids, surgical intervention is associated with the greatest chance of success.
Patients involved in the study will be randomized to undergo one of two different surgical approaches, with subsequent monitoring for pain, disability, and mental health post-operatively. This study is unique in that it combines surgical outcomes, pain, and other mental health components to truly understand the full experience of the patient suffering from a post-amputation neuroma and associated chronic pain and stress.
Chronic hand pain severely limits function of the upper extremity, delays rehabilitation, and reduces or completely prevents ability to return to work or duty. This study will confirm the effectives of regenerative peripheral nerve interface surgery for treating pain, reducing pain-related conditions, and improving hand function for a quicker return to work and everyday activities. Additionally, this study will seek to reduce the negative mental health impacts of neuroma pain with post-operative improvements in depression, anxiety, and post-traumatic stress disorder symptoms.
Individuals suffering with symptomatic neuromas are encouraged to call the research team CurtisResearch@Medstar.net, to see if participating in this study is an option for them.
Stay up to date and subscribe to our blog