Research Explores a Next-Gen Blood Screening to Find Multiple Cancer Types Earlier.
If you are experiencing a medical emergency, please call 911 or seek care at an emergency room.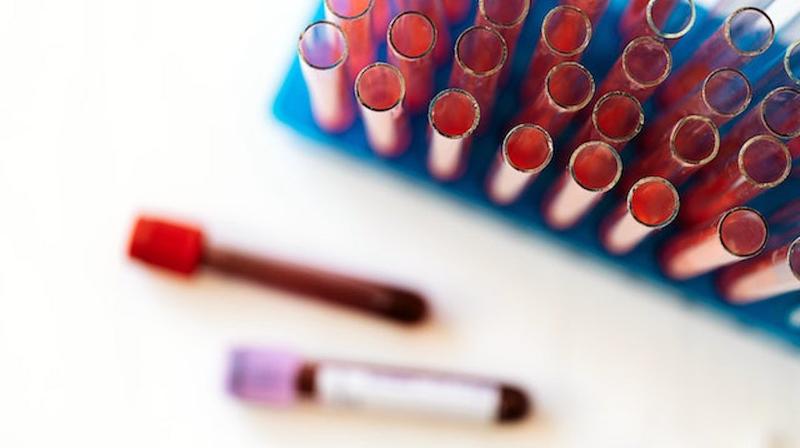 A new study is investigating a blood test that can detect many types of cancer—some of which have no routine screenings—earlier, potentially saving lives.
Collaborative research about to begin at MedStar Washington Hospital Center will explore the benefits of Galleri, a new blood test designed to detect early signs of cancer.
Developed by California-based healthcare company GRAIL, the Galleri multi-cancer early detection blood test looks for genome changes called methylation. These biomarkers can be an early signal that a patient might develop cancer.
Galleri is intended for people who are not in cancer treatment or have been in remission for at least three years. Results from an earlier study found that Galleri detected cancers for which there are no routine screenings, such as cancers of the pancreas, liver, bone, uterus, and small intestine.
While Galleri cannot detect specific cancer, positive results narrow the potential site to allow providers to conduct further testing. This broad-based test to screen for more than 50 types can truly be the next generation of cancer screening.
For most cancer types, early detection saves lives, and screening recommendations are in place for some specific classes. In the U.S., mammograms prevent 12,000 deaths from cancer each year, and proper colorectal cancer screening can save up to 33,000 lives annually
. Early cancer detection has helped lower the cervical cancer death rate by almost 50% in recent decades.
While many cancers currently have no early screening procedures, Galleri could allow clinicians to screen for dozens more cancers with a simple blood draw.
A study at @MedStarResearch is investigating a new blood test to screen for more than 50 types of #cancer, saving lives through #EarlyDetection: https://bit.ly/3I13mPD.
Click to Tweet
Screening for many types of cancer.
Results from Pathfinder I, the first study of Galleri, were released in September 2022. Researchers found the test detected more cancers than all other recommended single-cancer screening tools combined. Notably, this included early Stage I cancers of the liver, small intestine, and uterus and Stage II cancers of the pancreas, bones, and mouth.

MedStar Washington Hospital Center is now one of several sites nationwide to study the clinical application of the blood test in Pathfinder II.
The study is intended for patients older than 50 who have never been diagnosed with cancer or been cancer-free for at least three years. When screened, participants will receive results of "cancer signal detected" or "cancer signal not detected."
Cancer signal detected: Participants will undergo additional tests based on where the cancer signal originates. If cancer is diagnosed, other specific information will be collected.
Cancer signal not detected: Participants will be notified of the results and reminded that "signal not detected" is not the same as "no cancer," and they should continue to undergo all recommended cancer screenings.
All participants will be monitored for three years to assess their ongoing cancer status, provide additional screening, and collect additional data.

No screening is 100% accurate; results from any screening require detailed follow-up from a doctor. Our research will help answer lingering questions about applying Galleri in a clinical setting, and we're glad to make this exciting science available to our patients in Washington, DC.
Working together for equitable healthcare.
MedStar Health works to make leading science available to our patients, many of whom come from underserved communities that historically haven't been included in clinical trials.
One of the goals of the Pathfinder II study of Galleri is to understand how the test detects cancer among historically minoritized participant populations, including people of color and women. The participation of our patients will help the study achieve these goals.
I'm thrilled to be working on this research with my colleagues in the oncology department, particularly Dr. Christopher Gallagher, who has been instrumental in helping get the Pathfinder II study up and running.
Multidisciplinary research helps us better understand new science, and team-based care helps our patients achieve their best health outcomes. It's how we do medicine and stay at the forefront of the latest medical knowledge.
The Pathfinder II study will soon be enrolling participants. If you'd like to be involved, talk with a doctor about whether you are a candidate.
Want more information about this study?
Learn more about eligibility criteria and how to enroll.
Stay up to date and subscribe to our blog