Getting Better Day by Day Inpatient Rehabilitation Helps Patients Get Their Lives Back
If you are experiencing a medical emergency, please call 911 or seek care at an emergency room.
It started out as a normal day for Deborah Neal Wall. "The date was Sept. 15, 2016. I got up and took my walk, and came home and did some sewing," she says. "Then my neighbor called and said she was stopping by. We had lunch in the living room and I went into the kitchen to get a towel. When I came back my neighbor asked me what was wrong and I said I don't know. That's all I remember."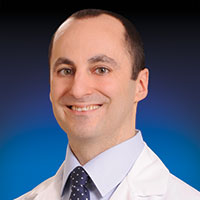 Wall was rushed to the Emergency department at MedStar Union Memorial Hospital where tests revealed a stroke had occurred in the thalamus on the right side of the brain, which causes the left side of the body to be affected. "Deborah had a significant stroke resulting in deficits in her functional mobility," explains Scott Lepre, MD, chair of Physical Medicine and Rehabilitation at MedStar Good Samaritan Hospital and associate medical director of Regional Physiatry for the Baltimore region of MedStar Health.
She was admitted to the Comprehensive Integrated Inpatient Rehabilitation Program at MedStar Good Samaritan where patients who have experienced a life-changing illness or event, like a stroke, can receive the expert, specialized attention they need in a nurturing environment. There she was cared for by Dr. Lepre and a dedicated team of specialists including rehabilitation physicians, nurses, physical and occupational therapists, speech-language pathologists, case managers, and other clinical providers.
"Most hospitals offer a wide range of care to stabilize patients by treating apparent conditions and addressing primary needs on a short-term basis. But not every patient recovers in five days or even two weeks." Dr. Lepre says. "Through our inpatient rehabilitation program, a partnership between MedStar Good Samaritan and the MedStar National Rehabilitation Network, we are able to provide patients with acute care and rehabilitation services all under one roof—right within our hospital building," he points out. "Our many services are focused on improving the lives and medical conditions of patients who need acute care for a longer period of time in order to fully recover."
As a result of her stroke, Wall was unable to move the left side of her body. "When I first got to MedStar Good Samaritan, I was sad. I am very independent and I couldn't bathe myself, I couldn't lift my left side. I felt very restricted," she says. "But then I realized that they were going to teach me how to be me again." MedStar Good Samaritan's inpatient rehabilitation program has provided compassionate, evidence-based, multidisciplinary rehabilitation for an estimated 40,000 patients whose lives have been altered by stroke, amputations, spinal cord injuries, and more. The program, established in 1971, is accredited by the Commission on Accreditation of Rehabilitation Facilities (CARF) and has earned a specialty designation from CARF for the care it provides to stroke patients.
"We use a team approach in caring for patients. Our treatment team focuses on a patient's capabilities rather than disabilities to develop individualized plans of care. This positive approach allows our rehabilitation professionals to help patients return to their highest levels of independence," Dr. Lepre notes. "But the participation of the patient is crucial to a successful recovery." For the next two months, Wall worked hard. "The first time I took a step, I cried," she says. "That's when I knew it was going to work. Day-by-day, I saw me coming back … every day was getting better."
Today, at age 67, Wall is still making progress. "There is some slight paralysis and I still use a cane, but I have had no other health issues. I want to be 100 percent me and I'm almost at 75 percent," she notes. Now back at home, where she lives with her son, she is sewing again, taking care of her plants and cooking. She even took a trip by train to New York—by herself—to visit her daughter, four grandchildren and two great grandchildren. Her goal is to be able to stand without her cane so she can go dancing to celebrate her birthday in December.
While she is currently continuing her rehabilitation at home, she still gets to MedStar Good Samaritan regularly to see her primary care physician, Mohammed Khan, MD, and to visit Dr. Lepre. MedStar Visiting Nurse Association also checks up on her weekly. "I have a lot of caring people that I would like to thank," Wall says.
Did You Know?
The Comprehensive Integrated Inpatient Rehabilitation Program at MedStar Good Samaritan Hospital emphasizes:
Providing the highest level of medical and nursing care

Helping patients regain independence by teaching them new ways to do 'self-supportive' tasks such as laundry, cooking and cleaning

Teaching patients the 'activities of daily living', such as bathing and dressing to help them return to normal life

Assisting with communication skills

Providing patient and family education, counseling and training

 Dealing with the psychosocial issues that frequently occur after illness or injury
This article appeared in the fall 2017 issue of Destination: Good Health. Read more articles from this issue.
Learn More About Inpatient Rehabilitation
Watch the video below or click to learn more about the types of care provided by our Inpatient Rehabilitation team. You can also call  443-444-4701 to speak with one of our admissions liaisons
Location Information
MedStar Good Samaritan Hospital
2nd Floor, Main Hospital Building
5601 Loch Raven Blvd.
Baltimore, MD 21239
Stay up to date and subscribe to our blog