How to Celebrate Halloween Safely in 2021.
If you are experiencing a medical emergency, please call 911 or seek care at an emergency room.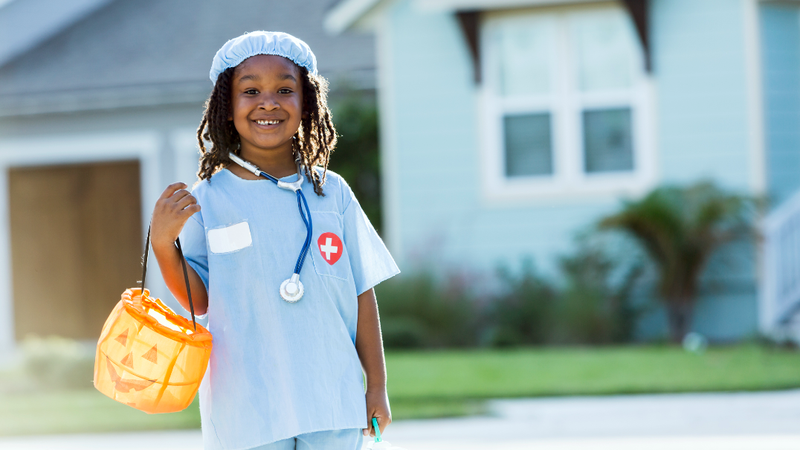 In 2020, families had to get creative while celebrating Halloween amidst the COVID-19 pandemic. Whether your children participated in a virtual Halloween costume contest or stayed at home for a family scary movie night, most families didn't celebrate the fall holiday with traditional trick-or-treating.
This year isn't quite as scary when it comes to the risks associated with getting COVID as vaccination rates continue to rise. This is good news for costume-lovers, but it's still wise to take some precautions, especially if you have young children who are ineligible for the COVID-19 vaccine.
Is trick-or-treating canceled this year?
While COVID continues to affect communities nationwide, cases are decreasing and the Centers for Disease Control and Prevention (CDC) say trick-or-treating is not canceled this year. Still, the decision to go trick-or-treating is a personal one that depends on a variety of factors, including:
Your family's vaccination status

Your proximity to others who are at a high risk of complications from COVID-19

The transmission rate in your community
As a family, you'll need to decide which risks are worth taking when it comes to participating in the October holiday. However you chose to celebrate, make sure it's something the whole family can do so that no one feels left out. Thankfully, trick-or-treating and other Halloween festivities typically take place outside where fresh air mitigates some COVID-19 risks.
#TrickOrTreating isn't canceled this year! On the #LiveWellHealthy blog, infectious disease expert Dr. Ruth Kanthula shares how to celebrate #Halloween safely: https://bit.ly/3mjGdgg.
Click to Tweet
Here are a few other considerations that can help keep your family safe if you trick-or-treat.
COVID-19 guidelines for trick-or-treating safely.
Experts recommend trick-or-treating in small groups, such as just your own household. While the risk of COVID-19 transmission is much lower than it was this time last year, it's still wise to spread out and practice social distancing among other trick or treaters. That means you should try to avoid congregating with other groups on doorsteps.
Vaccinated individuals don't need to wear masks while outdoors. But, family members with a greater risk of complications associated with COVID-19 or kids under 12 may want to consider wearing cloth masks that match their costumes. If you live in an apartment complex that offers trick-or-treating indoors, all family members should wear a face mask regardless of vaccination status, as indoor activities don't offer the same benefit of ventilation as the outdoors.
Is it safe to hand out or eat Halloween candy?
It's perfectly fine to hand out Halloween candy, but this isn't the year to make tasty homemade treats for neighbors stopping by. Instead, individually wrapped and store-bought candy is the safest way to go. Consider how you can distribute candy in a contact-free way, like laying out candy on a table for kids to pick up candy without touching pieces that will go home with other trick-or-treaters. If you are handing out candy, you may also want to set out some hand sanitizer so that kids can wash their hands before selecting their candy.
When your children come home with candy that they can't wait to eat, everyone should wash their hands before handling the candy. There's no need to wipe down each wrapped candy, as surface transmission isn't a high concern. But it's still not a bad idea to be cautious about how you unwrap and eat each Halloween treat. As an infectious disease expert, I always err on the side of caution. To safely enjoy your Halloween candy, I recommend unwrapping what you want to eat, leaving it on a table while you throw away the wrapper, and then washing your hands before eating the candy.
Additional Halloween safety considerations.
In addition to COVID-19 precautions, the American Academy of Pediatrics offers a few tips to keep your loved ones safe during Halloween, such as:
Always accompany young children
Only go to lit-up porches
Avoid sharp costume accessories
Ration treats in the weeks after Halloween
Visit HealthyChildren.org to learn more.



Other low-risk fall activities.
Public health and pediatric experts still encourage families to avoid large groups at indoor gatherings. Instead of attending a crowded Halloween party, plan to celebrate fall and Halloween at a safe distance from other small groups outdoors. From a neighborhood Halloween scavenger hunt to visiting pumpkin patches where your kids can carve pumpkins or take tractor rides, there are lots of low-risk options for your family to celebrate safely.
Here are a few suggestions for seasonal outdoor festivities in the Maryland region:
Stay safe but enjoy Halloween!
Parents still have a lot of questions when it comes to caring for their children during a pandemic. "Should my kids still get the flu shot?" "Should my children attend school in person?" "Should my older kids get vaccinated?" And now, "Is it safe to celebrate Halloween?" A pediatrician or family medicine provider can help to answer those questions based on the individual needs of your family.
No activity is zero risk, but in general, it's safe to celebrate Halloween in 2021 provided you take precautions to protect your family. Stay in a small group, visit outdoor gatherings, and enjoy the holiday.
Are you looking for compassionate pediatric care nearby?
Click below to find a MedStar Health pediatrician close to where you live, work, and play.
Stay up to date and subscribe to our blog