I Am Nursing - March 2016
If you are experiencing a medical emergency, please call 911 or seek care at an emergency room.
Celebrating Nursing
A professional rugby player, a former ballet dancer and a volunteer who works with the homeless – all are also MedStar Washington Hospital Center nurses. Learn more about their unique stories, what inspires them and why they are committed to helping others heal in our I am Nursing series.
Patrick Mirabella, MSN, RN, NE-BC: A Nurse Who Lives for the Unexpected
Patrick Mirabella never thought about nursing as a career during high school in Seattle. A football player with an interest in science and math, Mirabella was focused on becoming a pilot. During his freshman year in college at an aeronautical school, however, it became clear that becoming a pilot wasn't on his horizon.
"It just wasn't what I wanted to do," he explains. "So I started looking for careers that involved science and math, that would have me dealing with people and on my feet, and where I could come to work not knowing what to expect every day."
He transferred to a nursing program and found it matched his goals. He also missed the team sports atmosphere of football, so when an ultimate Frisbee teammate suggested he join the rugby team, Mirabella joined – even though he didn't really know the sport. Mirabella hasn't looked back. He completed his nursing degree, and has played rugby ever since.
He discovered MedStar Washington Hospital Center through the eye surgeon he worked with, and came to the Hospital Center to work in the outpatient Family Health Center. While there, he completed a master's in Nursing Administration. Today he's the nursing director for ambulatory surgical services, running the clinical operations in 16 outpatient clinics – some of them at the Hospital Center, and others in Washington, D.C., and Maryland. With health care's increasing emphasis on preventive care, Mirabella says, outpatient services are growing so quickly that it fits perfectly with his interest in improvement and innovation.
"It's continuous process improvement," he says. "Nothing is static. You implement one new system and then another one needs attention. I am doing what I always wanted to do."
Hillary Elliott, RN, BSN, CNOR, RNFA: Offering a Passion for the Arts that Translates to Nursing
Hillary Elliott heard that Edward Woo, MD, Paul Corso, MD and the talented team of surgeons they had assembled for MedStar Heart & Vascular Institute at MedStar Washington Hospital Center were looking for a nurse manager. She recalls thinking that it would be worth moving to work with these world-renowned cardiac and vascular surgeons.
"The vascular and cardiac world is a very small community," she says." These surgeons are some of the most respected professionals in the country."
So when a recruiter contacted her about working at the Hospital Center, she was on board. That was more than a year ago.
Today, the Texas native runs the cardiac, vascular, thoracic and endocrine surgery programs in the Hospital Center operating room. In addition to working with staff scheduling and overseeing the progress on more than 65 procedures a day, she manages supplies and instruments for theses intricate surgeries. "l'll even scrub in to help out if needed," she notes. "It's never boring."
Although her mother was a nurse practitioner, "As a teenager, you never want to do what your parents do," Elliott laughs. So she threw herself into dance, and in her teen years was dancing with the Joffrey Ballet and other companies. "After a number of years, l realized it was only going to take me so far. Eventually, eventually my body would give out." That's when she moved into nursing.
Elliott believes nursing requires the same passion as dance. "Nursing is an art. It takes years and years to master your art form. In both nursing and dance, you stretch your abilities beyond what you think you can do. It takes that same dedication."
The payoff: "You're giving back to the community. There's nothing like it."
Learn more about some of our talented nurses at MedStar Washington Hospital center below.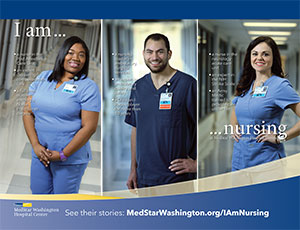 Have any questions?
We are here to help! If you have any questions about nursing at MedStar Washington Hospital Center visit our nursing career page here or contact Human Resources at 202-877-7441.
Stay up to date and subscribe to our blog