I Am Nursing - August 2016
If you are experiencing a medical emergency, please call 911 or seek care at an emergency room.
Celebrating Nursing
Each of our nursing associates at MedStar Washington Hospital Center has a unique story about what drew them to nursing and what keeps them calling the Hospital Center home. In our I am Nursing series, we meet these amazing people, learn more about who they are and what inspires them, and celebrate their commitment to helping others heal.
For MedStar Washington Hospital Center float nurse Tasha Zochert, nursing is a calling, not a job. Zochert knows something about callings. She has a few of them.
You can see one of them – her passion for photography – on display at the Galesville MD, River Gallery show dedicated to the Maryland Blue Crab opening this weekend (Sept. 3).
Through a close family friend, Zochert was able to meet a crabbing boat at the dock in Chesapeake Beach and photograph them hauling in bushels of blue crabs. Despite taking more than 300 photographs, only two could be submitted for the gallery show. The result: a photographic study of Maryland blue crabs, one of the Chesapeake's renowned treasures.
The photography, says Zochert, is something she happened upon after finishing her nursing degree.
"I took an elective photography class and my final project was on flowers," she says. Encouraged by her family, teacher, and classmates, she began looking for an art gallery that would be willing to take on a novice photographer.
"As luck would have it, a local gallery's next show was dedicated to flowers, so I framed two images, and sent them in," she says. "When my flower photographs actually sold I realized, 'I just became a professional photographer!'"
Zochert joined the Maryland Federation of Art and her photographs have been in galleries across the state. While still "a far cry from Ansel Adams," the photography she says, "isn't about fame or money. But then,neither is nursing."
Zochert's call to nursing came almost as serendipitously as her photography. While living abroad with her family, (her mother was a clinical laboratory scientist on active duty with the military in Germany), Zochert began a paramedic program. When she returned to the U.S., her credits would not transfer.
"I didn't want to have to start from scratch," she recalls. On her way home from volunteering for an ambulance service she heard an ad on the radio that a hospital was hiring nurses. "I thought, 'I could become a nurse and work in the emergency department!'"
She enrolled in a local community college nursing program, and during her critical care rotation "a light bulb went off," she says. "I thought, 'This is where I'm supposed to be.' I love the intensity and detail of critical care." She graduated top of her class, went directly into critical care, and now has nearly a decade of experience.
Zochert also loves the simple act of helping people. She jokingly calls her approach to patient care "Tasha's ICU and Day Spa," because she is known for doing manicures, washing, combing and braiding hair, shaving and trimming beards, etc. "Sometimes there are so many machines required to care for the critically ill that it's frightening for families to see. I always try to keep my patients clean, so the families can recognize their loved one beneath all the tubes and wires." Zochert is passionate about ensuring the fundamental dignity of each of her patients.
In October 2014, Zochert came to MedStar Washington Hospital Center's float pool, where nurses move from unit to unit to fill in where needed. The uncertainty and challenge of not knowing anyone and the moving between different patients on surgical, burn and neurological units demanded flexibility. Her critical care nursing skills were widely appreciated, and she was recently honored with the "Chief Nursing Executive Award for Patient Care."
Zochert says she bases her patient advocacy on one question: 'Would I want me to be my nurse?'"
Today, Zochert is capitalizing on the schedule flexibility afforded by the float pool to earn her BSN. Zochert considers herself a "life-long student" and has future aspirations of teaching or becoming an advanced practice nurse. It won't happen right away, she notes. "I'm not ready to give up being at the bedside."
Zochert's photography is on view at the River Gallery at 1000 Main Street, Galesville, MD from September 3 through October 30, 2016.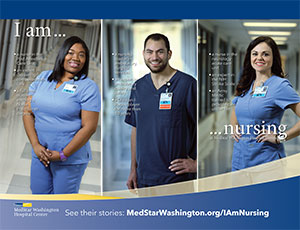 Have any questions?
We are here to help! If you have any questions about nursing at MedStar Washington Hospital Center visit our nursing career page here or contact Human Resources at 202-877-7441.
Stay up to date and subscribe to our blog